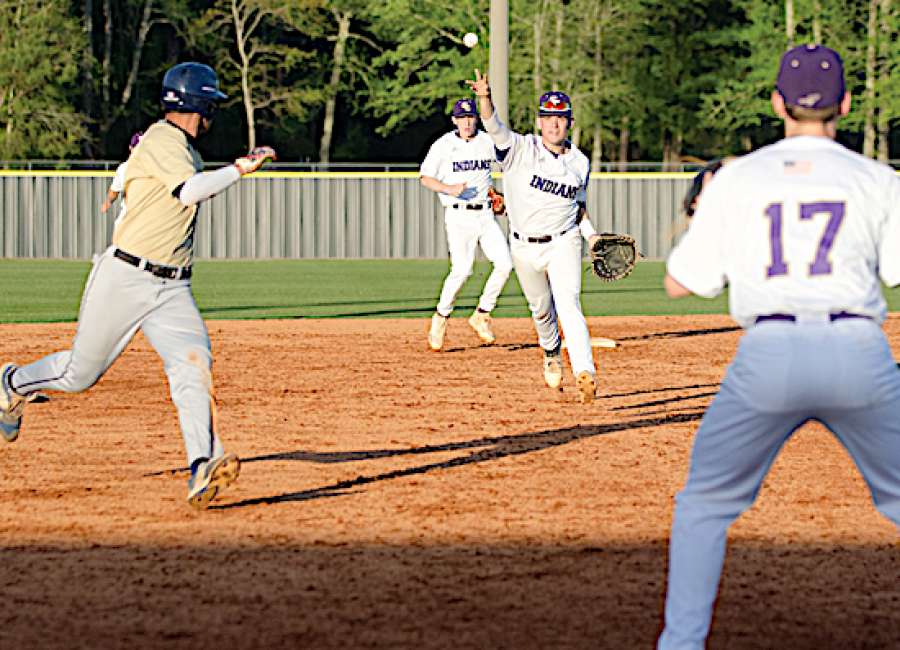 By CHRIS GOLTERMANN, CowetaScore.com
Following the first baseball game between East Coweta and Wheeler this season, there seemed to be no way that Tuesday's rematch could live up to its predecessor.
Following last month's wild extra-inning victory by the Indians in Marietta, East Coweta again came through on Senior Day with a 6-4 win at home that wasn't quite as thrilling or sharp as the first between Region 2-7A opponents.
East Coweta, which defeated Wheeler last month 12-11 after rallying from a 9-3 deficit in a game that spawned a viral video when Brayden Carey was
hit by a pitch outside the batter's box after calling timeout, improved to 18-9 overall and 12-2 in the region having already clinched second place to open this week.
Wheeler, which will finish third in the region, fell to 16-11-1 overall and 7-7 against 2-7A opponents.
Both teams capitalized Tuesday for seven of the game's 10 runs in the first inning, starting with three by Wheeler in the top of the first on four hits.
But East Coweta countered with four runs against Wildcats starting pitcher Ashton Landell, who made history this season as the first female pitcher to start a varsity game for a Cobb County school.
Lansdell opened the game with two quick outs, but got into trouble after an intentional walk to standout Indians junior catcher Ryan Dyal.
After surrendering two more to William Kelley and Jeff Sangster, a balk plated East Coweta's first run, followed by a two-run single by senior Dooley Bunn that tied the game.
Sophomore shortstop Caleb Cashion then put the Indians ahead with an RBI double.
Dyal added an two-run double in the fourth on a misplayed ball in center that dropped in, while providing insurance in the fourth. He reached base in three of four plate appearances while joining William Kelley and Jeff Sangster with a pair of walks in the win.
Both teams had miscues on the basepaths while each caught twice in stolen- base attempts. Lineups also combined to strand 13 runners.
East Coweta, which made the most of a four-hit effort at the plate, helped itself twice to prevent Wheeler baserunners from scoring.
The latter came in the sixth with an inning-ending double play off a sacrifice fly to Kelley in right.
Kelley came up firing well in time to Dyal at the plate. With Wheeler's lead runner caught in the basepath, East Coweta's catcher threw a strike to third baseman Jeff Sangster for a tag as he attempted to dive back to the bag.
Earlier in the third inning, Dyal successfully picked off a Wheeler runner at third with the bases loaded and two outs on three walks and a fielder's choice.
Peyton Ramey closed out two scoreless innings of relief, allowing Daniel Smith to pick up the win.
Smith came on for starter J.J. Freed, who struck out the side in the second before Wheeler coaxed three walks to load the bases in the third.