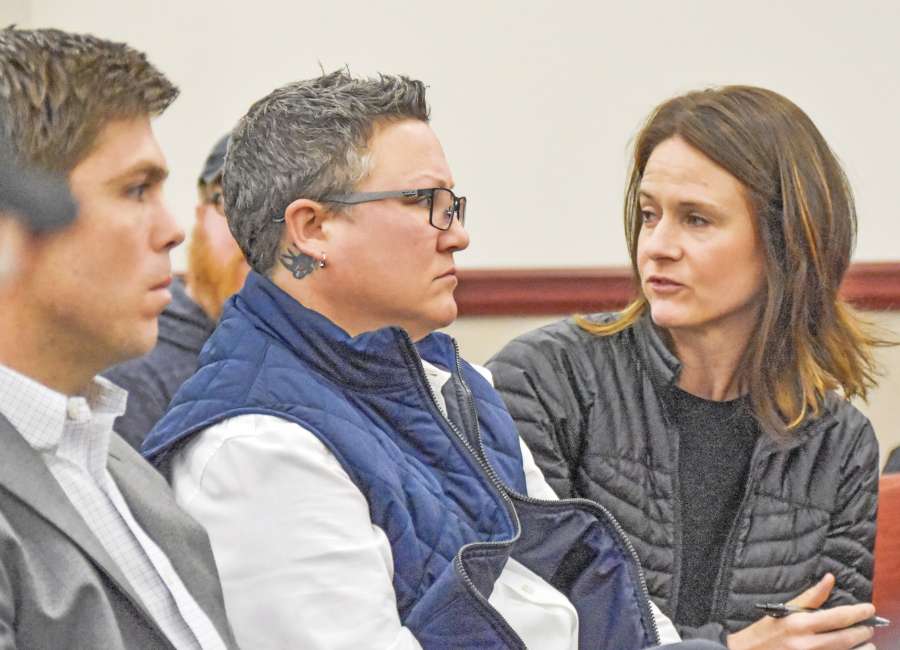 Tuesday morning, downtown Newnan business owners gathered at the Newnan Police Department for a Q&A with city officials regarding the upcoming white supremacy rally slated for April 21.

Since the announcement of the rally last week, a question has been looming –  will downtown be open that day, or shut their doors?
Police Chief Douglas "Buster" Meadows opened the session by breaking down the plan for keeping the peace during a rally often accompanied by conflict.
"The safety of our citizens and their property is our No. 1 goal," Meadows said.
Traffic control plans were discussed, including the implementation of routes commonly used while filming is in town.
With an initial roadblock starting at Spence Avenue, Greenville Street residents will be able to access their property prior to the solid roadblock at the Coweta County Justice Center.
With roadblocks beginning at 10:30 a.m., police are encouraging people to avoid the area entirely.
"These people want an audience, and we don't want to give them one," Meadows said.
With several events planned in downtown Newnan on the 21st, police will maintain a heavy presence throughout the day, Meadows said. Once the NSM rally begins at 3 p.m., members from over two dozen agencies will be on hand to assist and monitor the rally.
"We have 400 additional officers coming in to assist, and we're still looking for more," Meadows said. "We will remain on scene until we know the groups are gone from our area."
Police requested all downtown business owners remove any objects outside their businesses that could possibly be picked up or thrown. However, the decision to remain open rests squarely on the shoulders of the business owners themselves.
"Staying open is a decision you'll have to make," Meadows said.
The question of issuing the permit to the group was posed by a member of the audience. City Attorney Brad Seers explained the position the city took. By allowing the group a permit to gather in the park, it gave the city more control over the situation.
"Everyone has a First Amendment right, whether you agree with them or not," he said. "The 11th Circuit of Federal Court of Appeals has ruled it's an expense that has to be born by the community, not the individual who is participating."
Seers said the city also reached out to several constitutional lawyers who came to the same conclusion.
"It's a permissible activity under the Constitution and the First Amendment," he said, and addressed the argument of "incitement" being an exception to freedom of speech laws.
"Until that (incitement) happens, you can't presuppose," Seers said. "We have procedures in place for officers to direct individuals who exhibit those activities and conduct to be arrested immediately and removed from the scene."
Officials have been in contact with other cities who have hosted the NSM recently and determined the violence primarily originated from counter-protesters, according to Seers.
Following the meeting, several business owners discussed their plans for the 21st.
Mark Knox, owner of Knox Furniture, said he won't be closing his doors, but will be monitoring the situation intently. His business sits only a few hundred yards from the park, and hosts a potentially desirable parking lot. Anyone who isn't doing business with him will be towed, he said.
"I don't think I'll do much business that day anyway, but I hate to bow down to these people and close my doors," he said.
Downtown restauranteurs Casey Smith, Margaret Sanders and Amy Murphy also declined to close their doors preemptively.
"The message is this is our town and everyone deserves the right to come to work every day, and we control our downtown narrative," Murphy said. "At the end of the day, our city is taking measures to ensure our safety and we support them, just like they support us."
Smith said he'll be conducting business as usual. If things slow down, he might send servers home and close early. However, he says his restaurant is open to anyone who is hungry or thirsty.
"As long as they behave, I don't care who comes inside," he said.
Local craft beer proveyor Jason Kanner said he'll be running Ace Growlers by himself that day and allowing his employees to stay home. He'll be closing his doors during the rally, but will be reopening that evening.
"We have an obligation to this community to not serve alcohol if it's going to harm someone," he said. "If someone is hot under the collar or could be already be under the influence, we have the right to refuse service to anyone."
Kanner believes law enforcement has the situation fully under control. His message to protesters?
"Don't tread on Newnan," he said. "These outsiders are poking a bigger bear than they realize."
However, several other businesses are closing their doors that day. Jenny Jones said Corner Arts Gallery won't open that day, citing safety concerns for her artists.
For Phyllis Graham at Let Them Eat Toffee, the decision to close was not made out of fear, but due to being out of town that weekend and not wanting to leave employees in the way of any variables that could arise.
Meadows thanked local business owners for their engagement with the process and reiterated an open line of communication between everyone will be the key to success in an event like this.
"We realize your concerns and we're taking every precaution to eliminate any violence," he said. "We won't tolerate any misconduct whatsoever."