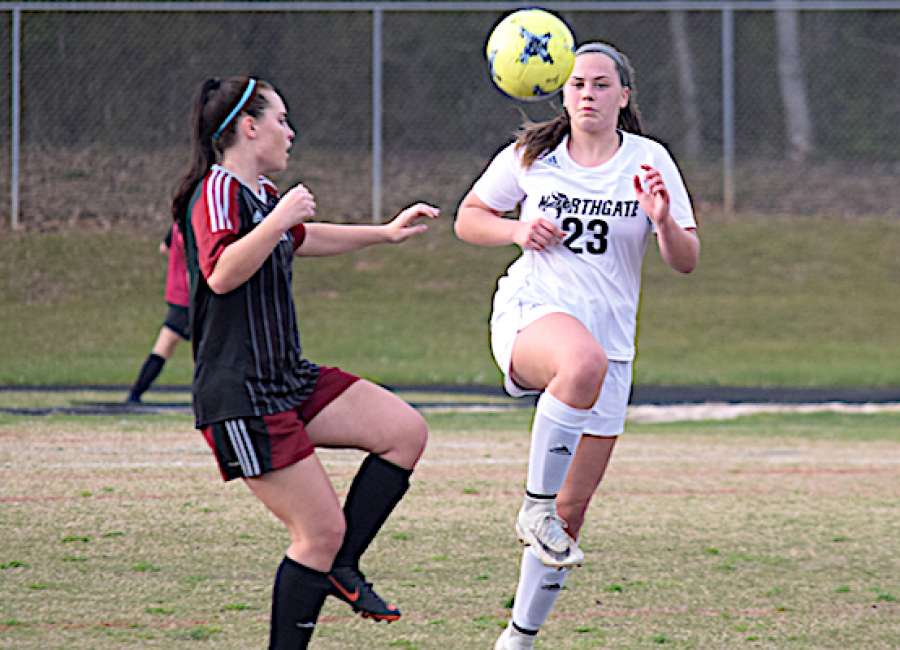 The Northgate boys and girls soccer teams stepped out of Region 5-6 A competition Wednesday night and were swept by visiting Whitewater.

Northgate fell to 10-11-1 in boys action, while the girls fell to 9-8-3.
Whitewater 4, Northgate 1 (boys): Whitewater grabbed a 2-0 lead at the end of the first half and then held off a determined Northgate team.
The Vikings' backline cleared several Whitewater scoring chances.
Senior goaltender Kyle McLaren turned away several Wildcat shot attempts.
The Wildcats lit up their side of the scoreboard with two late goals in the first half.
Whitewater took a 1-0 on a goal from Jon Bloch midway through the first half.
The Wildcats then increased the lead to 2-0 when Alejandro Naranjo put the ball in the back of the net right before the end of the first half.
Northgate had some scoring chances early in the second half on breakaways, but the Vikings were whistled for offsides three times.
The Vikings cut the the lead to 2-1 with 23:30 left in the game when Josh Burks scored off a corner kick.
Northgate's momentum didn't last long as the Wildcats scored 10 seconds later to go up 3-1.
The Wildcats added one last goal with just over seven minutes left in the game.
Whitewater 3, Northgate 1 (girls): The Lady Vikings and Whitewater Lady Wildcats battled to a 1-all tie in the first half.
However, Whitewater scored three times in the second stanza to win the non-region contest between the long-time soccer rivals.
Hannah Swenson scored the only goal of the game for the Lady Vikings, who fell to 9-8-3.
Despite the loss in Wednesday's non-region game with the Lady Wildcats, the Lady Vikings have already clinched the top seed in Region 5-6A action after finishing league play with an 8-0 record.
The Lady Vikings still have two non-region games left before turning their attention to the playoffs.
Northgate plays at Callaway on Tuesday and then host East Coweta Thursday in a the final game of the Coweta Cup.
Northgate and East Coweta were scheduled to play before spring break, but the game was rained out.