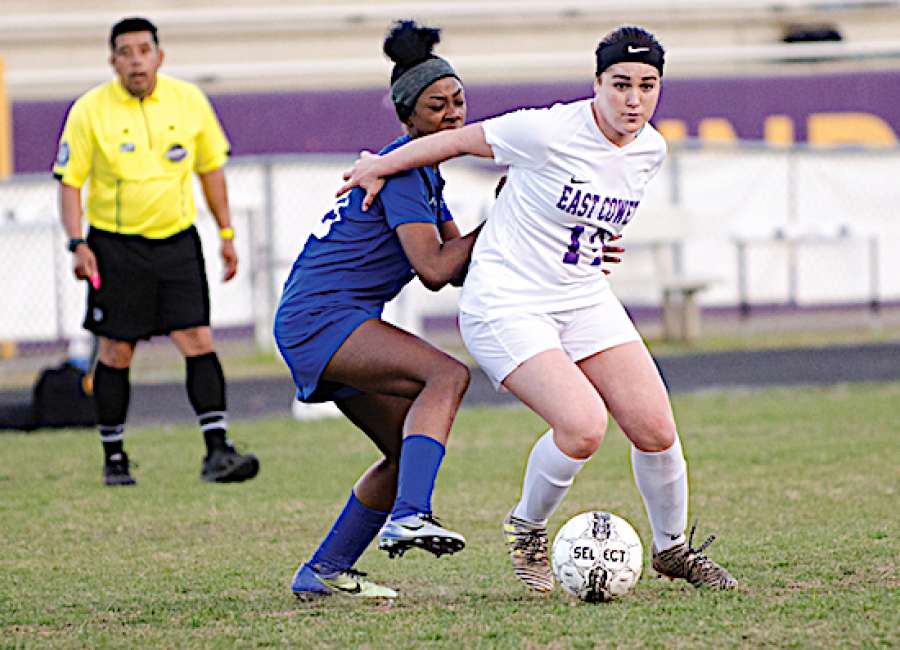 By CHRIS GOLTERMANN, CowetaScore.com
Goals essentially win soccer matches. But without defense and goaltending, victories are an uphill climb.
That might have as much been the theme of a pair of shutout wins by East Coweta over Westlake that closed out respective Region 2-7A regular season schedules.
Neither came relatively easy, with county lineups able to hold on to one-goal leads at halftime.
Despite struggling to find a scoring touch in Tuesday's match by Westlake, the Lady Indians slammed the door defensively in a slim 2-0 win behind a solid performance both from their back line and in goal by Abby Chaves.
The win finished a perfect record in region play for East Coweta's girls.  The Lady Indians (10-3-1, 5-0) repeated as 2-7A champions this spring while again taking a No. 1 seed into the GHSA state tournament beginning April 24.
The Indians followed by equally standing tall in their own end while peppering Westlake's defensive zone with waves of scoring chances throughout 80 minutes en route to a 3-0 win.
Senior Baylor Asher and Matthew Allen each finished with a goal and an assist while Sam Briggs made six saves in goal.
It was the fifth straight victory for East Coweta's boys (8-4-1, 3-2)..
Westlake's boys needed an effort of more than a dozen saves in goal to stay within range before goals from Francisco Duarte and Asher in the second half allowed East Coweta to pull away.
There was less breathing room for the Lady Indians.
Brittany Dunnavant, Hailey Cox and Hailey Davis helped lead rushes on goal for East Coweta. Kaitlyn Novak finally put the Lady Indians ahead in the 19th minute on a shot off Megan Rainey's serve during the team's only corner kick opportunity before halftime.
The Lady Lions' scoring opportunities included four corner kicks in the first half along with a shot that connected with the crossbar.
Chaves continued to be tested, however, popping an outside shot over the bar that resulted in Westlake's final corner of the opening half.
An early surge by the Lady Indians in the second half produced scoring chances by both junior co-captain Ellie Watson and Rainey, the latter on a free kick that clanged off the crossbar and back into play with the 1-0 lead still intact with 25 minutes left in regulation.
Watson, fighting a stomach bug during the game, returned in time with just over 10  to play, finding enough of an opportunity to launch a 20-yard blast that deflected off the gloves of Westlake's keeper and into the net, clinching the victory and a perfect region record.
The Indians, meanwhile, entered Tuesday's match knowing that a second tiebreaker had them finishing fourth among playoff seeding.
Pebblebrook vaulted back into second place in the 2-7A boys standings prior to spring break with 2-0 wins over Campbell and Wheeler.
Wheeler's win over East Coweta decided the tiebreaker for the No. 3 seed.
It didn't stop the Indians from keeping their win streak alive, putting  pressure on Westlake immediately.
The persistence finally paid off in the closing minutes on another free kick by Asher, just outside the box. This time, the senior's well-placed shot toward the right corner produced a deflection that came right to Allen in front of an open net.
East Coweta continued to push play after halftime, quickly producing a goal when Allen used his instep to thread a perfect pass to Francisco Duarte in stride as he reached the 18-yard box.
With Westlake's keeper charging, Duarte lifted a shot that tucked itself just underneath the crossbar to push the Indians ahead 2-0 in the 49th minute.
Briggs kept the shutout alive by smothering a Westlake free kick with 20 minutes remaining. Asher then put the game away, trapping a loose ball dow with 7:30 to play.
In other soccer action Tuesday:
Newnan boys 5, Chapel Hill 1: The Cougars shook off tough losses in this year's Coweta Cup while making a push for the program's first 10-win season since 2013.
Newnan matched last year's nine victories with the effort in non-region play. A pair of wins by Pebblebrook prior to spring break along with a tough loss to rival East Coweta knocked the Cougars out of postseason contention in Region 2-7A.
Trinity Christian girls 12, Dominion Christian 0: The Lady Lions added their second straight 12-0 victory this week against a current GISA Region 1-AAA opponent on the heels of a rout at home on Monday against future region rival Our Lady of Mercy in the GHSA.
Trinity stayed unbeaten and moved to 13-0 overall and 9-0 in region play.
Newnan girls 4, Chapel Hill 4: On the road, the Lady Cougars moved their overall record to 9-2-2, while continue to prepare for the upcoming Class 7A state playoffs beginning on April 24.