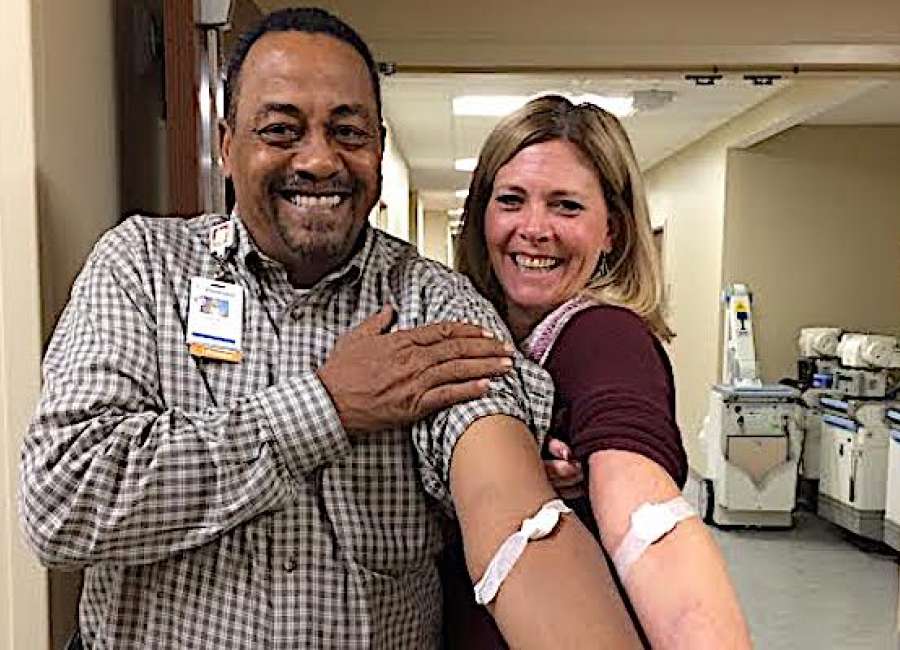 (Reporter's Note: This article is the first in a series of stories on organ donation.)

Reginald Ackie's days were numbered by November of 2015.
The then-55 year-old-man was in the last stages of chronic kidney disease, a disorder that had plagued him since he was 5 years old.
In 2013, Ackie, the zone security manager for Piedmont Newnan and Piedmont Fayette hospitals, had a standard blood test under the advice of an emergency room physician.
The results were anything but routine.
More tests showed Ackie's kidneys were only functioning at 13 percent.
"I was numb," Ackie said. "It was much later when the news finally sunk in."
He was immediately placed on the Georgia transplant list.
Unfortunately, none of Ackie's family was compatible enough to donate a kidney.  
It would be two years before the Piedmont employee would find a match – and it would come from a surprising source.
Organ transplants: Waiting on a miracle
Every 10 minutes someone is added to the national transplant waiting list, according to the United Network for Organ Sharing (UNOS).
As of Friday, more than 114,800 people across the nation were on that list.
On average, patients may wait 3-5 years before finding a match, said Katie Payne, clinical manager for the kidney and pancreas transplant unit of the Piedmont Transplant Institute, based in Atlanta.
She and her colleagues are working hard to reduce the wait time for patients who need a kidney.
"We noticed the wait times were getting longer. Not too long ago, people were waiting 9-10 years for a kidney," Payne said. "The likelihood patients would live that long were slim. A lot of people who came off the transplant list died waiting for a donor."
According to Payne, when she and her colleagues looked at the numbers, they noticed there were more people on the waiting list than five years ago.
"Our goal is always to get really great kidneys and have really great outcomes, but we noticed we were 'cherry picking' organs too often and waiting only for a young person's organs," she said.
The hospital joined the "paired kidney exchange" system, also known as "kidney swaps."
Transplant recipients who have willing live donors essentially swap donor organs, according to the Columbia University Department of Surgery.  
The strategy allows people who need a kidney to receive an organ that is a better match to his or her blood type and antibodies than their own donor could provide.
"A person may not be able to donate to their loved one, but can donate to another person. That person can then donate their kidney back to the original recipient, so it creates a chain of donors," said Payne.
A computer algorithm helps find patients and living donors across the nation that would benefit from the paired kidney exchange, she added.   
The Piedmont Transplant Institute also assists kidney patients in sharing  their stories through avenues, such as social media, in the hopes of finding a living donor.
Currently, there are 1,400 patients waiting for a kidney transplant through the Piedmont Transplant Institute, said Payne.
That number does not include people on waiting lists for other organs, or other transplant centers around the state.
"That's a lot of people waiting for someone to save their life," Payne said.
For almost two years, Ackie was on Piedmont's transplant list.
Divine intervention brought him a living donor named Cheryl Coe.
At that time, her office was located across the hall from Ackie's, inside Piedmont Newnan Hospital.
The tie that binds
Five years ago, Cheryl Coe was the patient access supervisor at Piedmont Newnan.
She and Ackie were not only coworkers, but friends who would often have lunch together.  
Coe knew about Ackie's condition – and saw his health rapidly decline from 2013-2015.
Without hesitation, Coe went for testing, in the hopes of giving Ackie one of her kidneys.
But she didn't tell Ackie.
According to Coe, she endured three days of physical and mental testing at the Piedmont Transplant Institute that included CT scans, a cardiac examination, blood and urine tests, and a meeting with a psychiatrist.
The assessment also included filling out a questionnaire.
"There was a question that asked, 'Why do you want to be a donor?' I left it blank," Coe said. "I couldn't explain why, it was just in my heart to give him one of my kidneys. Something told me, 'We need to keep this man alive and around.'  
"There was no thinking about it," she added. "There was no fear and no questioning my decision. I feel like this might be what I was put on this Earth to do."
Coe passed all the physical and mental evaluations, but the case still had to be approved by the Piedmont transplant committee.
During the fall of 2015, both Coe and Ackie received the news they had been waiting for: Coe was a match and Ackie would finally receive a new kidney, though he had no idea who the organ donor was.
"I told the transplant coordinator, 'Get us on the schedule as soon as you can," Coe said.
The life-saving surgery was scheduled for two weeks later.
Matching bandages and a special bond
Ackie and Coe both endured another round of blood tests shortly before the operation.
They sat next to each other in the lab inside Piedmont Newnan.
As they were leaving, Ackie noticed the same pink bandage around Coe's arm.
"It suddenly clicked and she just smiled at me," Ackie remembered with tears in his eyes. "This girl is something else … For God to bless you and show you favor from someone who had no vested interest in your life is very humbling."
The moment was also documented by Piedmont Newnan's Public Relations Representative Nicole Dillon, whom just happened to be passing by when Ackie learned Coe was the donor.
Friday the 13th may be a superstitious day for some, but Friday, November 13, 2015 is a blessing for Ackie and Coe, they say.
The pair endured a seven-hour surgery at the Piedmont Transplant Institute as Coe donated a healthy kidney to her friend and coworker, giving Ackie a second chance at life.
Surprisingly, Coe went home two days later.
Ackie stayed in the hospital for weeks. The results of the transplant were almost immediate, he said.
"I weighed 227 pounds before the surgery and 190 pounds after it," Ackie remembered. "I lost 30 pounds within 24 hours because my body was just retaining water."  
He returned to work 90 days later.
Coe began her new job as the patient access supervisor at Piedmont Atlanta Hospital a few weeks after the surgery.
While the pair don't work in the same building anymore, they still remain close and celebrate the anniversary of the transplant every year.
"Our families are blended now. We are all one," said Ackie, his voice full of emotion. "She saved my life. I could be dead or disabled right now. I have grandkids now that I might not have ever met."
Ackie will remain on anti-rejection medications for the rest of his life and goes in for regular testing to make sure the kidney is still functioning properly.
"The functionality is good and everything is looking fantastic," he said.
"He always calls me with an update and tells me what his blood pressure numbers are," Coe said with a smile.
She also said she has no regrets giving Ackie her kidney.
"People die every day waiting for a donor," Coe stated. "You've got two kidneys for a reason. There's a spare. We could help more patients and keep them off dialysis if more people decided to become living donors."  
For more information on becoming a living donor and the Piedmont Transplant Institute in Atlanta, visit www.piedmont.org/kidneydonor or call 888-605-5888.