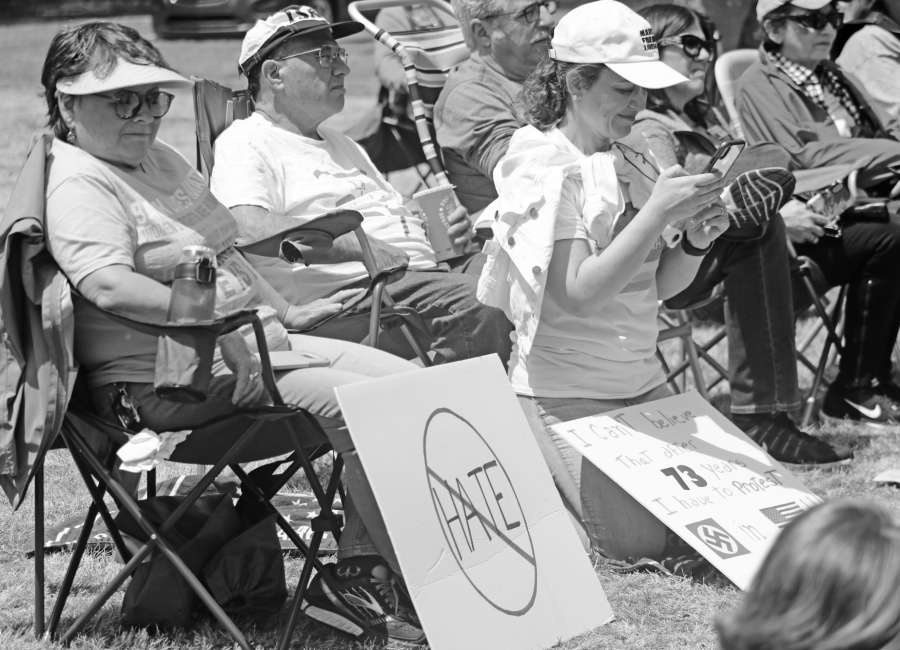 A number of people gathered in Willie Lynch Park only hours before the Neo-Nazi protest in an effort to set a standard of thinking.
The rally, featuring several religious leaders, was intended for positivity, understanding and acceptance. At times, the rally was filled with laughter and togetherness.
"We appreciate you coming to the city of Newnan," said Keith Brady, mayor of Newnan. "We wish you would come back on a different day, a different time."
Brady also spoke about the events that took place on the night prior.
On Friday, local residents made it a point to patronize the businesses in downtown Newnan. Children also painted positive notes and drawings on Greenville Street Park, the location where the Nazis rallied Saturday afternoon, in colorful chalk.
"Whether anyone with a heart that is full of hate can read those messages or not and see the light," said Brady about the chalk drawings, "we don't know, but the opportunity is there because of the children of Newnan who went there last night and provided the opportunity."
Brady urged everyone at the gathering to not attend the white supremacy rally, but to instead go home.
While talking about where fear and hate is rooted Al Smith, chairman of the Coweta County Commission, offered a solution.
"I want you to channel your anger and mark your calendar for May 22 and Nov. 6. Don't be mad today. Be mad on May 22 and Nov. 6. And channel all your anger on election day. Be mad, be anger but don't sin. Be concerned, but hold that, mark your calendars. So that when it's time for you to unleash all your anger and disgust, you'll have somewhere to channel it."
Rabbi David Spinrad was one of the religious leaders that spoke at the Interfaith, stating that he is the first born grandson of Holocaust survivors.
Spinrad spoke to how no one person, gender or race is better than the other and challenged the motto "Make America Great Again," bringing up the genocide of Native Americans and African slaves. At one point, he said, "America is not great yet, but it can be.
"Do not leave this interfaith rally against hate today self-satisfied, because this rally is not the work," said Spinrad. "The rally is almost never the work. The work will not be completed in our lifetime because our task in the present is to undo the past to create a future worth passing on to our children."
Nabile Safdar of the Muslim community also spoke Saturday afternoon.
"I proud to be a Muslim American standing here today with Christian Americans, with Jewish Americans, with Hindus, Buddhists, people of faith and people of no faith at all," said Safdar.
Safdar expressed joy about people of different backgrounds getting together to celebrate peace. Safdar also spoke about how hate, extremism and racism is taught.
Nadine Winter, event coordinator, also read excerpts from a holocaust memorial service.