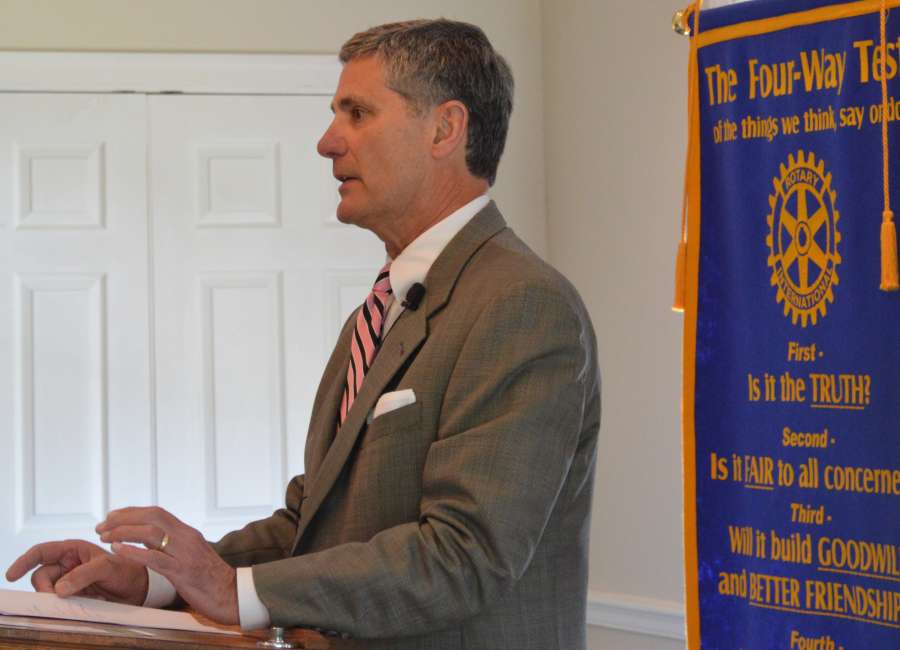 Newnan Mayor Keith Brady has called for Coweta County and its cities to consider a sales tax for road projects.
"I'm requesting that Coweta County government call for a vote" on a transportation Special Purpose Local Option Sales Tax, Brady said at Friday's meeting of the Newnan Rotary Club.
Brady gave a broad presentation about many city projects, and specifically mentioned needed improvements to Lower Fayetteville Road and the LINC multi-use trail. Though  the city has allocated money from its portion of the 2019 SPLOST for those projects, it's not nearly enough to fully fund them.
A TSPLOST "would create a funding mechanism for these and other projects," Brady said.
State law allows counties to put in place a fractional TSPLOST, which can be from 0.2 percent to 1 percent, and lasts five years. A TSPLOST can be in addition to the regular SPLOST, which funds a variety of projects. Coweta County typically uses the vast majority of SPLOST money to fund road and bridge projects, primarily maintenance work.
The single-county TSPLOST is different from the regional TSPLOST plan that was introduced in 2011. That plan required regions to work together on a project plan, and only certain projects were eligible for funding. Voters in the Three Rivers Region, which includes Coweta, rejected that plan overwhelmingly in 2012. The regional "no" vote was 69 percent, and the "no" vote in Coweta was 77.5 percent.
The Georgia General Assembly passed changes to the regional TSPLOST in 2017, and this year, the legislature has approved a new transit funding bill that allows 13 metro Atlanta counties, including Coweta, to pass fractional sales taxes for transit projects, and also gives Fulton, Cobb and Gwinnett county new options for joining the MARTA system.
The county's SPLOST, which is shared with the cities, has been repeatedly approved for many years. The school system also has an education SPLOST.
"We hope, if we put the plan together correctly, it would be well received by the citizens of Coweta County," Brady said.
Voters in Athens-Clarke County approved their TSPLOST by a vote of nearly 3 to 1 in November, according to The Athens Banner-Herald.
The new transit bill was discussed earlier this week at the meeting of the Coweta County Joint Transportation Coordinating Committee. The committee includes representatives of Coweta County and all of its municipalities, as well as the school system.
Under the bill, which has yet to be signed by Gov. Nathan Deal, transit projects in any of the cities must be approved by a regional transit governance board, which will be called the Atlanta-region Transit Link – aka, The ATL. The tax could last up to 30 years, if that's what the local government wants, according to John Orr, transportation group manager for the Atlanta Regional Commission, which serves as the transportation planning organization for Coweta and other metro-Atlanta counties.
"You can use it to buy buses, vans, whatever, and to pay operational costs – which has been an issue in the past for local communities that maybe wanted to consider doing transit but got scared away," Orr said.
Typically, SPLOST revenues can't be used to pay for operations.
As for the single-county TSPLOST, Orr said he thinks it will be "more and more of a tool" for some communities.
"They did create a little bit better of an avenue… than what the old TSPLOST model was," said Newnan City Manager Cleatus Phillips.
The committee is currently two members short – one citizen member and one business/industry member.