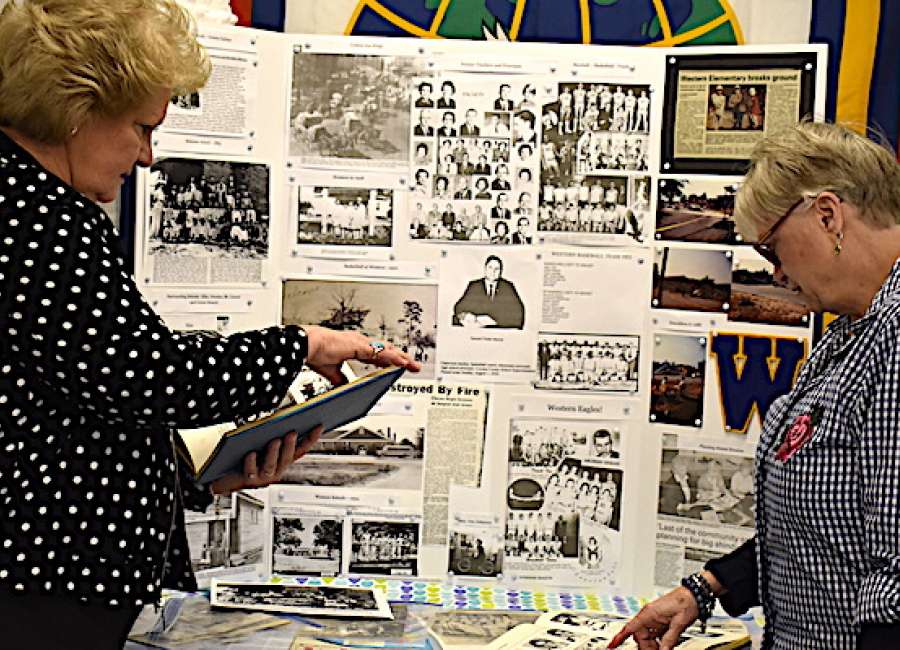 Students and staff at Western Elementary School have been celebrating the school's 125th birthday by traveling back through the decades with dress-up days, history displays and special guests, including former students who buried a time capsule as fifth-graders in 1993.

Built as a one-room schoolhouse in 1893, the then-Welcome School was replaced by a $90,000 brick building in 1934 and renamed Western School. Western School – which consolidated Elim, Midway, Dresden, Mt. Carmel and Handy schools – held classes for grades 1-10 in 13 regular classrooms and a double-sized home economics classroom.
In 1949, the school burned. Classes were held temporarily in barracks brought in from Fort Benning until the school was rebuilt on the same foundation later that year. A second building was added in 1963 to accommodate increased enrollment and in 1973, Western became an elementary-only school, housing grades 4-7.
Today, the modern brick school building remains tucked away on rural Welcome Road. The students who attend pre-K through fifth grade there are greeted each day by the sight of cattle and horses in the pasture across the road from the school. The Western community spirit remains strong, according to those who have been a part of the school family throughout the years.
"My proudest achievement was teaching art there for four years," said Susan Rowe, who graduated from Western School in 1968.
Three generations of Rowe's family attended the school, and she still lives in the Western Community. She worked at Western for 22 years.
All four of Cheryl Bridges Sheppard's siblings graduated from Western, and her family also cycled several generations through the school. She returned to Western in the fall of 1973 to teach and retired in 2000.
"I have always lived in the Western Community and now I teach the 'Soaring Eagles Club' (Bible study) after school every Tuesday," she said.
Former students Jimmy and Pam Beavers returned to Western to speak to two classes of fifth-graders during the 125th birthday celebration. The couple owns many historical mementos from the school, where Jimmy's mother taught for 35 years. They were able to share with students everything from a relative's 1933 diploma, class rings, commencement programs and prom invitations to Jimmy's Blue Horse beanie.
"Jimmy saved blue horses from his notebook paper for two years to get his Blue Horse beanie," said Pam, who encouraged her husband to model the hat during their visit. "The students laughed and laughed."
The couple also shared many photos. One photo of the 1937-38 basketball team, which went to the state finals, included the story of Western's two-point loss in the title game.
"As the buzzer sounded, a Western player had shot the ball, but the rule back then was the basketball had to be in the net when the buzzer sounded and they lost the game," Pam said.
Two of Lynn Dombrowski's daughters went to Western in the 80s and 90s. Dombrowski was actively involved in their school days. Charlotte, her youngest, was part of the class that buried the time capsule in 1993, the contents of which were revealed in a small ceremony last week. One of the time capsule items was the school's first-ever yearbook.
"I took my camera equipment out to the school," said Dombrowski, who was a photographer. "Every kid that wasn't there to get their picture made on picture day or who came in after pictures were made – I made sure they got their picture in the yearbook. That's just the way it was back then."
While some memories of Western are lost to time, some are still fresh in the minds of those who were there not so long ago. Dombrowski said her eldest daughter, Andrea, is still mad about the time her dad, Mike, borrowed a model rocket she had built for a demonstration at her sisters' school without her permission.
Middle sister Valerie had created a science fair project on rocketry, so Mike shot Andrea's rocket to show the other students how they work - only he overshot and the rocket landed in the road, where it was promptly demolished by a truck.
"The kids came running in and saying, 'Mrs. Dombrowski! Andrea's rocket got run over by a BEER truck!'" Dombrowski said. "I don't think she's ever gotten over that and she's 41."
Former principal Earl Coulter, long retired, returned to the school Monday for the time capsule reveal.
"It meant an awful lot to the kids that Mr. Coulter was there the other day," said Dombrowski, who said she remembers Coulter's dedication to his school through a yearly fall festival. He made sure every student attended and had fun. She also remembered his favorite celebratory song, he had played at every school event.
"Don't think anybody who was there in the 80s and 90s can hear Lee Greenwood's 'Proud to Be an American' without thinking about Mr. Coulter," she said.
"Everyone from Coulter, to the cafeteria ladies who fished retainers out of garbage cans, to teachers who served students apple juice and Teddy Grahams during mandatory testing, helped reinforce the Western family dynamic, Dombrowski continued.
"They wanted everybody to do well," she said. "It was always 'we.' They never talked down to kids."
Current students and staff members have dressed up in period costumes from the 1890s as well as the 1950s, 60s, 70s and 80s. The PTO purchased cupcakes to help celebrate the school's birthday. Principal Jan Franks credited teacher Crysti Nix for organizing the celebration and said the current fifth-graders plan to bury a time capsule in honor of Western's 125th birthday.
"We have shared the story of our school and have had many Western alumni share personal stories and read to our classes," Franks said. "Our birthday celebration and the opening the time capsule has been a real life connection to leaving a legacy. Our fifth grade students are in the process of developing a list of items that would best represent them for the capsule as we continue the legacy of such a special school in such a special community."