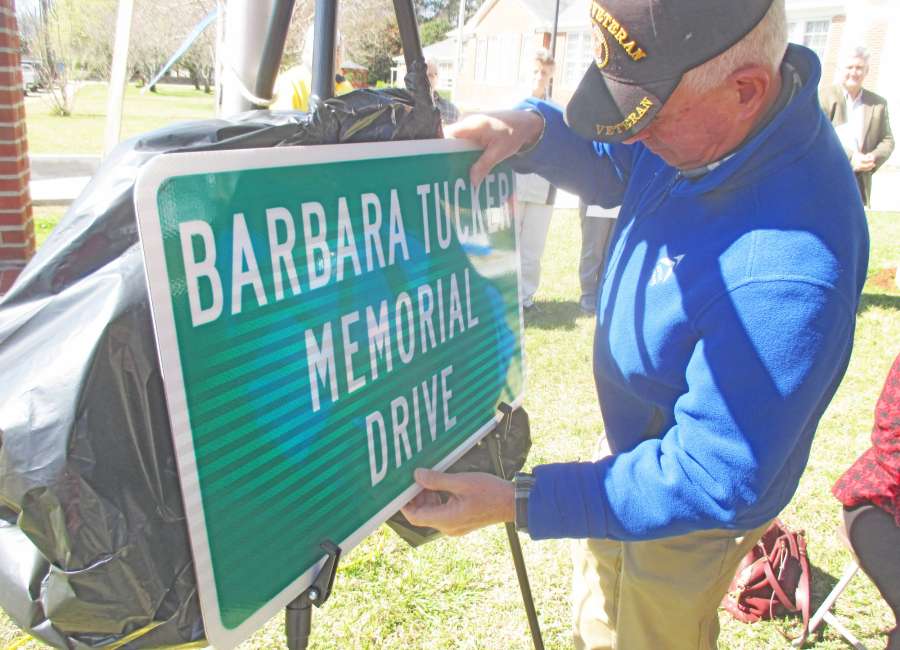 Barbara Tucker was remembered on Thursday as someone who would buy a cola and snack for a sick friend and volunteer to dig in the dirt to make her town look more beautiful.
"She didn't want the glory," Shelly Smith, president of the Grantville Kiwanis Club, said. "She just wanted to serve the community."
"She was always concerned and kind," observed council member Ruby Hines.
About 90 friends and family gathered on the lawn at the Glanton Municipal Complex on Thursday morning for ceremonies dedicating Lagrange Street as Barbara Tucker Memorial Drive. At the end of the program, City Manager Al Grieshaber unveiled signs that will be placed at either end of the street, one of the main thoroughfares in the south Coweta town.
Barbara Ann Wright Tucker, a native of Lone Oak in Meriwether County, died Oct. 5, 2016, in an automobile accident. Efforts to honor her began soon after her death, and city leaders ultimately decided to dedicate Lagrange Street in her memory without actually changing the street's name for address purposes.
The ceremonies were held on Mrs. Tucker's 78th birthday, which was also International Women's Day. City Council member Ruby Hines spoke of the dedication as "this moment in history for this great, lighthouse city."
The Tucker family has had businesses in Grantville since 1973. Barbara Tucker's husband, Billy, is a former mayor of the town. Billy Tucker sat on the front row for the ceremonies with family members including his sons – Tony, Scott and Chris.
Mayor Doug Jewell, Hines, Willie Boyd and Smith shared thoughts about Mrs. Tucker during the ceremonies. Boyd organized the Grantville Kiwanis Club, and Mrs. Tucker was an active member of the club.
Hines said Thursday was "a day of happiness," a time for celebrating what Barbara Tucker meant to the community.
Smith recalled Mrs. Tucker stopping at the Grantville Post Office one day when Kiwanians were planting flowers and shrubs. She immediately wanted to join the club.
Mrs. Tucker later got into the dirt herself to beautify the town. While she was willing to do such humble tasks, she also "could talk and be with the big shots," Boyd remembered.
"We had fun in the Kiwanis Club with Barbara Tucker. We enjoyed her immensely," Boyd said.
"Barbara was more than a Kiwanis member to me. She was a friend," said Smith, who remembered her parents also were friends of Barbara Tucker.
Mrs. Tucker joined Kiwanis "because she was a community-minded person," Smith said. "She wanted people to know what community was."
Smith remembered a club meeting where the program was about hearing loss, and Mrs. Tucker's revelation that she had a family member with limited hearing.
"I did see her compassion when she cried that day," Smith said.
About three weeks before her death, Barbara Tucker stopped by a location where Smith was teaching a general equivalency diploma class. Mrs. Tucker told Smith she had started taking GED classes at one time and that she wanted to get started again.
"She had that ambition," Smith reflected. "Everytime someone comes, enrolls or gets their GED, I think of Barbara Tucker."
Hines also talked about her friendship with Barbara Tucker. The two visited in each other's homes, and Hines treasures the last gift she received from Mrs. Tucker, an Elvis CD.
"She was real and genuine. That's what I loved about her," Hines said. "I don't care where you saw her, she was the same."
"I considered Barbara a friend, spent a lot of time talking to her. I'm proud to be a part of carrying on her memory," Jewell said.
Betty Jean Bowers, a Grantville resident who is pastor at Midway United Methodist Church near LaGrange and Mt Zion United Methodist Church near Franklin, prayed during the ceremonies, which also included the pledge to the American flag. Whitney Scott sang "Amazing Grace," inviting everyone to join her for a verse at the end.
Scott Tucker, a former city councilman in Grantville, spoke briefly. He thanked those who planned the tribute on behalf of the entire Tucker family.
"Barbara Tucker will not be forgotten," Boyd said. "We're going to make sure with this memorial drive." She will be remembered, he said, "every time you ride down the road."