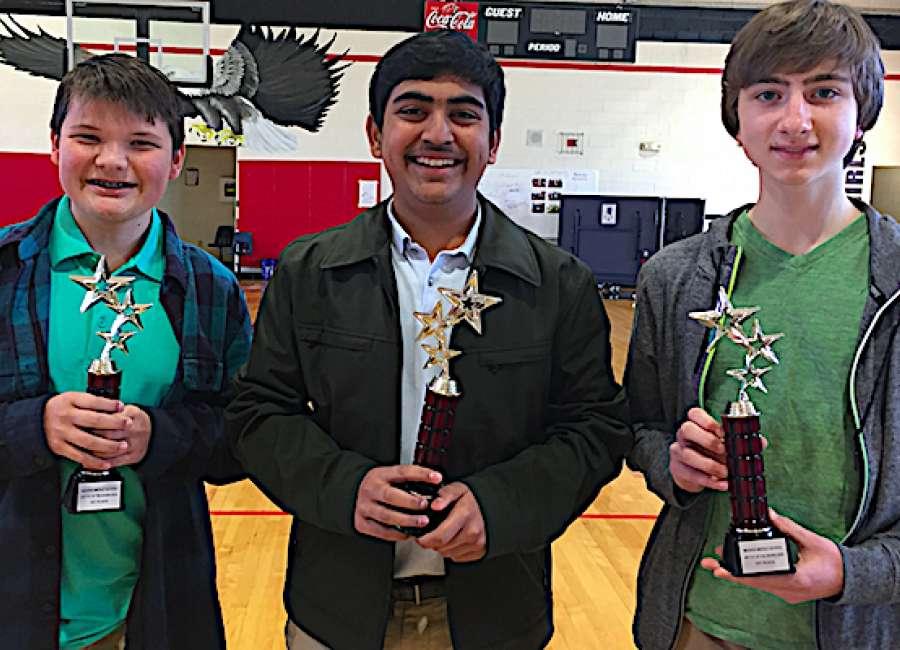 A year-long reading contest came to a thrilling end at Madras Middle School last week as the top three teams – one each from the sixth, seventh and eighth grades – squared off to see who would be crowned Grand Champion.

In the end it was the eighth-graders who prevailed as Amanda Seebode's "Team Tortles," made up of Caleb Sevigny, Krish Patel and Sam Patton, came away with the title. They received trophies and Barnes and Noble gift cards, and will be treated to a pizza party.
"This was a huge event for our school, and we had numerous parent volunteers and teachers help along the way," said Karen Pitts, Madras Middle's media specialist. "This was such an exciting way to promote literacy at our school."
Second place winner was Kelly Benton's seventh grade team, "Super Readers," made up of Cael Jessup, Kayla Hall, Bladen Carroll and Diego Sanchez. In third place was Peggy Davenport's sixth grade team, "Strawberry Jams," made up of Emily Shay, Sara Grote and Skylar Landis.
Battle of the Books is a voluntary reading incentive program open to all Madras students. Participants are given a list of 10 books, and after they read through the books on the list, they demonstrate their abilities and test their knowledge in a trivia-style competition, according to Pitts.
During competition, teams of three to four students are alternately asked questions about reading selections from the list of books. Points are awarded for correct identification of the books from which the selections are taken.
"The objectives of the program are to encourage the pleasure of reading, broaden reading interests, practice cooperative learning, increase reading comprehension and provide opportunities for students to speak in a public forum," Pitts said.
Students chose their own teams, and 58 teams of approximately 230 participating students competed in the first round of competition in late January. Winners advanced to the second round of competition in mid-February. The top team from each grade level advanced to the finals.
Pitts said plans already are in the works for upcoming competition.
"We look forward to next year's Battle of the Books," Pitts said.