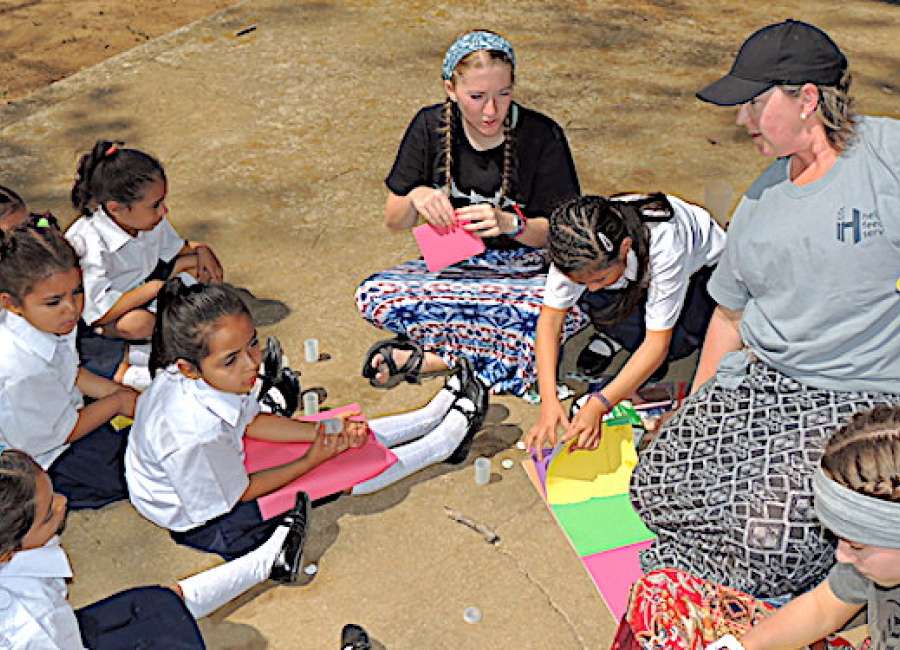 Students from East Coweta, Newnan and Northgate high schools traveled to a school in Nicaragua over winter break as part of Team Hungry's fifth trip to minister to children there.

The group of 15 locals included 11 high-schoolers involved in the faith-based service club, which encourages young people to find their gifts and talents and use them to make a difference, according to faculty sponsor Jeff Flavin of East Coweta High School. 
The group – which included Willis Road Elementary School teacher Michelle Gardiner, who taught a science lesson at the school during the trip – took students shopping for clothes and school supplies using funds raised by the club throughout the year.
"It was pretty awesome," said Flavin, adding that the students who make the trip all are led to work with Spanish-speaking children. "Team Hungry is all student-led – they organize it, they plan it, they do it." 
While the trip had a definite impact on the children served by Team Hungry, students who made the trip said they were affected by their work in Nicaragua as well.
"The week was so amazing for me, playing with the kids, painting benches, and forming unbreakable bonds with the people I met," said Madeline Wall. "My favorite part of the trip was not the kids or the beautiful landscape but it was learning how to see God in all aspects, good and bad. It was watching how accepted love is there and how willing people are to accept your love and feed it back into you. No one truly hates there and everyone is so incredibly grateful for what they have, not longing for what they want. The natives are loving, joyful, grateful, and content with what they have been given."
Emma Robertson, a junior at Northgate, said she learned something new every day she spent in Nicaragua.
"One of the most important things (was) how to find beauty in simplicity, and how to make time to hear God in the quiet," Robertson said. "Nicaragua provided so much time to be still, and to really immerse myself in God's word, and his presence. I am so happy to say that that was something I also got to take home, and that because of the trip I am now getting through school with ease, developing and maintaining healthy relationships, and pursuing God like never before."
Experiencing the unconditional love of children she'd never met before the trip was one of the highlights for Samantha Hudson. 
"The immediate trust and love that they gave me was indescribable," Hudson said. "We go on these trips to give back and pour into others, but we never realize how much more they pour into us and make a difference. They have so much joy, love, and contentment in their lives and it is such a privilege to be able to experience that for even a week with them. Something I have realized is they have an unconditional, childlike love for everybody, just as God does."
Kylee McNutt, a junior at East Coweta, said being involved with Team Hungry has revealed to her a strong passion for the Spanish language and culture. Traveling to Nicaragua reinforced that passion.
"As I loved on precious kids from a run-down elementary school, bought them new school uniforms, and took them on their first trip to the zoo, God revealed many things to me," McNutt said. "Being able to passionately use my knowledge of the Spanish language allowed me to communicate with the kids in ways that I never imagined."
Students who have made the trip with Team Hungry over the years remain devoted to the Nicaraguan children they've met and served, according to Flavin. Flavin said after he reached out to those who have made the trip to Nicaragua in the past, Team Hungry likely will send another team to the school in July to purchase and assemble swing sets for the students there.
Team Hungry plans a Screen on the Green fundraiser May 5 at East Coweta High School's Garland Shoemake Memorial Stadium. Tickets are $5 per person, and festivities will include food trucks and face painting, among other activities. More information will be provided as plans are finalized.