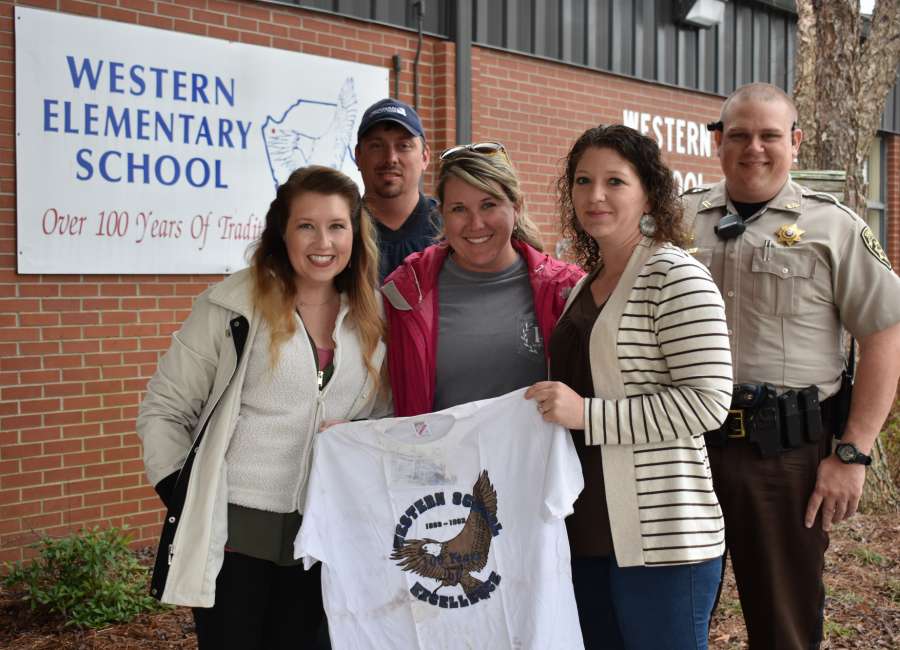 A quarter-century underground in a leaky plastic storage tote doesn't leave a time capsule with much to remember 1993 by.

That didn't keep some of the former Western Elementary School students who buried the capsule from gathering at the school on a rainy Monday afternoon to reminisce, telling stories of their school days amid gales of laughter.
Along with their former classmates, teachers and then-principal Earl Coulter – and the school's current faculty and students – they looked over the items they packed into the tote 25 years ago as Western fifth-graders.
"Opening the time capsule was an opportunity to celebrate the special connection Western Elementary has in our community," said Principal Jan Franks. "To have Mr. Coulter and his former students here and to reveal the contents of the time capsule was a very special reunion."
Sara Dewberry, who organized the time capsule unearthing as a part of Western's 125th anniversary commemoration, recognized a striped pencil as her contribution.
"I remember coming to school and them saying, 'What did you bring to bury?'" she said. "I had forgotten, so I just pulled a pencil out of my book bag."
Dewberry's pencil was on display with the rest of the items on the school's front breezeway. Some items were still recognizable despite extensive water damage – a school yearbook, a couple of T-shirts with Western Elementary printed on them, some coloring pages, pens and pencils. The origin and purpose of a mysterious rabbit's head – possibly shaped from papier-mâché – remain unknown.
"Maybe we buried it around Easter," Dewberry quipped.
The jovial atmosphere wasn't really surprising, especially for an undertaking that began on a somewhat comical note.
With the help of friends, Dewberry began digging for the capsule a couple of days in advance of the schedule reveal.
"I wanted to try to find it before I was standing in front of all those people," she said.
After digging "a bunch" of four-foot holes around the school's grounds failed to turn up the time capsule, Dewberry said she was beginning to panic. Early Monday morning, she said it occurred to her that the capsule might be underneath the Western sign, so she enlisted the help of a friend with a metal detector.
"We lifted up the concrete slab, my friend read the metal detector and sure enough, there it was," she said, adding that it took about two hours to dig up the time capsule.
The top was broken and the tote was full of water, Dewberry said, but enough items were partially to mostly preserved in plastic storage bags to make a decent display and give those attending the ceremony a glimpse of 1993. It was also a good excuse for a mini-reunion for the former students who attended.
"We don't see each other a whole lot now that we're all adults," Dewberry said. "We're all from Newnan, and we still live here, so it was really neat to get together and to see those faces, to be there with our old teachers, and (Coulter), our old principal who was there for many many years. It was really special."
Franks said current Western students plan to bury their own time capsule.
"Our fifth-grade students are in the process of developing a list of items that would best represent them for the capsule as we continue the legacy of such a special school in such a special community," Franks said.