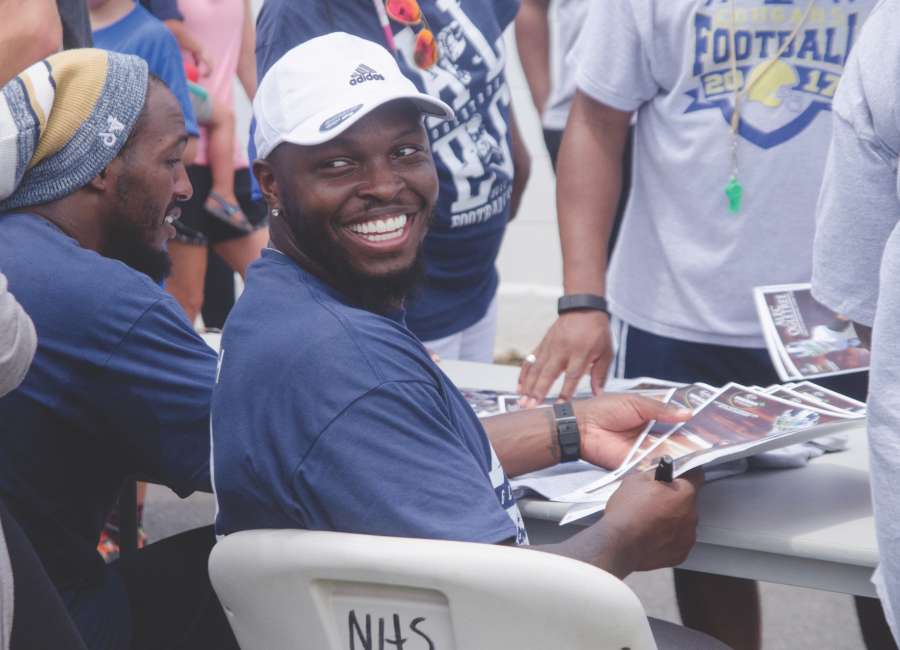 By Chris Goltermann - cowetascore.com
Only four months after signing a contract extension with the Los Angeles Rams, Newnan native Alec Ogletree is about to swap coastal addresses.
The Rams have agreed to a trade that will send the 26-year-old linebacker from L.A. to the New York Giants for a fourth and sixth round draft choice. The trade cannot become official until March 14, the first day of the NFL calendar year.
Ogletree, who was a first-round draft choice of the Rams in 2013 before moving from St. Louis two years ago, heads from the NFC West to the NFC East to a Giants franchise with a rich history of standout linebackers but at a time when the position was neglected by a front office staff that has now gone through turnover, most notably with incoming GM Dave Gettleman.
In turn, the former Cougar All-State star safety who went on to transition to middle linebacker during his collegiate career at Georgia, finds himself going from a playoff contender in L.A., to a Giants team in the midst of a rebuild.
Ogletree reacted to the trade positively on his Twitter account.
"Everything happens for a reason and GOD makes no mistake!! Can't wait to get to the Big [Emoji Apple] and continue my career as NEW YORK FOOTBALL GIANT!! #Blessed #GOGIANTS"
Ogletree, however, becomes a marquee player that New York expects to center its defensive rebuild on, while already locked up under contract for the next four seasons. The Giants have six impending free agents at the position for a defense that allowed a conference worst 388 points in 2017.
A four-year $42 million deal signed two weeks after Ogletree's 26th birthday in September included a $7 million roster bonus that the Rams looked to save while needing to sign defensive lineman Aaron Donald.
Last week, the team agreed to send Robert Quinn — who joined Ogletree at his free summer camp in Newnan last July 1 — to Miami to also create salary-cap space.
The New York Post reported Wednesday that Ogletree's roster bonus will likely be reworked toward a signing bonus to lower the Giants' cap hit.
Ogletree's contract includes $21.3 million that is guaranteed for a top tackler that hasn't missed a game in three years. He played all 16 for the Rams in 2015 and 2016 and then 16 of 17 last fall after being rested in L.A.'s season finale while preparing to play the Falcons in the playoffs.
He finished with 96 tackles last fall after a career-high 136 in 2016 while making the move back to inside linebacker after the Rams parted ways with James Laurinaitis.
Last year, the Rams switched from a 4-3 to a 3-4 under coordinator Wade Phillips.
"It was something I wanted to do. I'm still a young guy and I'm still working at learning the position," Ogletree said last July of finding a comfort zone after starting at outside linebacker in the Rams' previous 4-3 schemes.
He's had plenty of success against the Giants in years past, posting eight tackles and a forced fumble in a 51-17 rout of New York, which hasn't drafted a linebacker in the first round since two-time Super Bowl champion Carl Banks in 1984.
The franchise's rich history at the position is led, of course, by Hall of Famers Sam Huff and Lawrence Taylor, but includes former greats including Banks and Harry Carson.
The trade also creates a family reunion. Ogletree's brother-in-law is Giants safety Andrew Adams, who also was on hand for the former Cougars' summer camp at Drake Stadium.