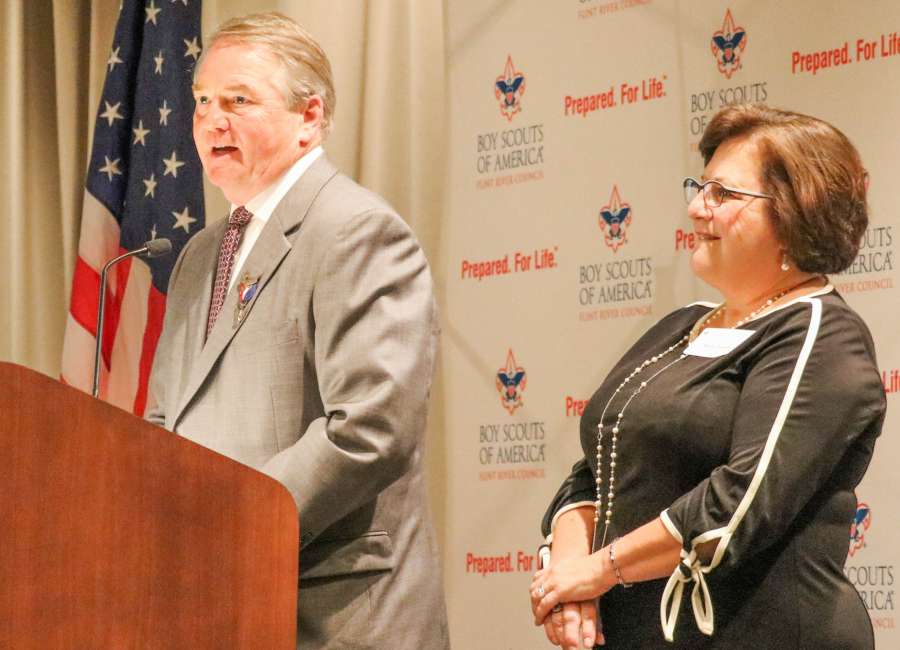 The Flint River Council of the Boy Scouts of America held its annual Golden Eagle awards dinner Tuesday and honored Don and Cathe Nixon and Steve and Marie Swope.

The event was held at the Nixon Centre and had a record number of attendees. At the conclusion of the night, the audience raised $103,000 to benefit the Boy Scouts.
Steve Mader and Mike Sumner, dinner co-chairs, revealed that the original goal was to raise $86,000. They also had a stretch goal of $100,000.
Although the event's agenda included the local scouting report and recognition of leadership teams, sponsors and table hosts, the night focused on the 2018 Golden Eagle Honorees.
Sumner delivered a touching introduction of how the Nixons met, their love story and their journey to Newnan. Sumner acknowledged Cathe's involvement at the Centre while he also acknowledged Don's devotion towards the Centre, which was posthumously named in his honor.
Cathe Nixon received their award.
"It is an honor to be such a recipient,"she said. "The pleasure, the fulfillment and the joy that Don and I have experienced in our many and various communities and our involvement in this wonderful community have been reward enough for the work that we have loved to do."
Father Henry Atem described Steve and Marie Swope as family as he introduced them. The couple "regularly (provides) their time and financial support to local nonprofit groups," he said.
Steve Swope focused his speech on his experiences as an Eagle Scout. Almost everyone in attendance was involved in scouting in one way or another.
"I've tried to apply the lessons I've learned as a scout in my business, my work in the church and my work with charities and my family and throughout my life. But one thing that's for certain is everybody has to have a lot of help," Swope said. "And I've had a tremendous amount of help. I've got a loving wife, who has stuck by me through all the craziness for 40 years."
With Marie by his side, Steve went on to dote on their children. The crowd erupted in laughter when he mistakenly doted on his "great-grandchildren" as well, when he meant "grandchildren."
"That would be a shocker," he said with a laugh.
Dr. Don Mullen, a retired professor of cardiovascular surgery and retired Presbyterian minister, was the keynote speaker of the night. Mullen's medical career and various accomplishments span over 30 years.
"It's now been almost 70 years since I got my eagle badge," said Mullen. "I don't look that old, do I?"
He challenged those in attendance to consider people as either pilgrims or tourists. Pilgrims help the community and learn about their surroundings while tourists are just in the community to see.