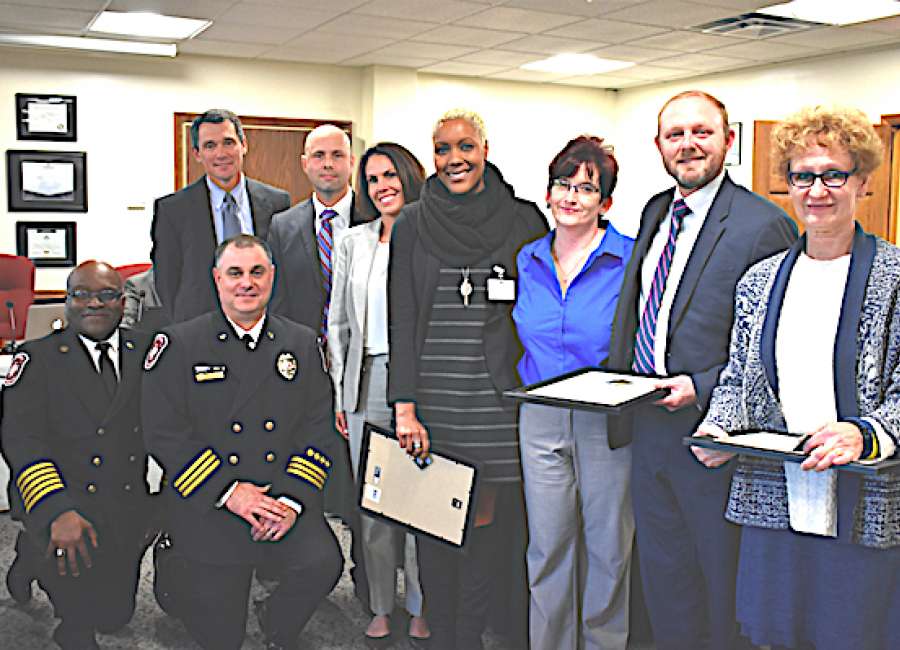 Newnan High School staff members were recognized at the March meeting of the Coweta County Board of Education for their response to a medical emergency at the school on Jan. 25.

The board issued a proclamation honoring Principal Chase Puckett, assistant principals Phyllis Hall and Randy Robbins, lead counselor Pam Lewis and Jenille Edwards of Communities in Schools for their "acts of bravery in responding to a visitor in distress and rendering emergency aid" at Newnan High School.
According to Dean Jackson, public information officer for the Coweta County School System, the grandmother of a student was visiting the with her family to see an NHS drama club performance when she became ill and went into cardiac arrest.
The staff members revived her using the an automated external defibrillator (AED) and resuscitation measures, staying with her until emergency responders arrived, Jackson said. Sadly, she passed away later that evening.
"Our hearts go out to that family," Jackson said, recognizing family members in attendance.
In addition to the certificate of recognition from the school board, the five NHS staffers were honored by Chief Pat Wilson and Deputy Chief Robert Flanagan of Coweta County Fire/Rescue.
Flanagan was at his son's soccer game at Newnan High when he was alerted to an emergency on campus, and he said by the time he reached the front of the school, "the staff was already in action."
"I just wanted to tell people what an awesome job these people did," Flanagan said. "I believe there's not enough positive news on what's actually going on when it happens. I believe educators go above and beyond every day and the citizens of our community don't actually get to hear about it. It was amazing to see this team go into action."
Puckett expressed his sympathy to the bereaved family and his appreciation to Superintendent Steve Barker.
"Dr. Barker, thank you for your relentless commitment to our students and student safety," he said.
Barker reminded board members of the training drills held by the faculty and staff of each Coweta County school.
"These teams train, hold AED drills and tabletop drills and spend time in preparation, and when they're called into action, this is one of those times when here's a great example of when it really does make a difference," he said.
"We're proud of you," Barker said to the Newnan High staffers. "We appreciate what you do for the students of Coweta County every single day."
Lee Middle School teacher wins Georgia VFW award
Bonnie Krider, who has taught chorus at Lee Middle School for seven years, received the Smart/Maher VFW National Citizenship Education Teacher Award. More than 100 teachers across the state were nominated for the award, which honors exemplary teaching of American history, citizenship and patriotism to students through curriculum that focuses on citizenship for at least a half-day in a classroom environment. 
Winners are nominated by their fellow teachers. Krider received $100 and a certificate at both the post and district levels. As the state honoree, she was awarded $200, a plaque, a hotel stay and a meal at the VFW State Conference in Macon.
"It's quite an honor for our school system," said Dean Jackson, public information officer for Coweta County Schools.
Samantha Clark of Arnall Middle School and John Garner of Newnan High School were winners of the award in 2017.
Madras Team Fusion honored by GMSA
Laura Farmer, Eric Mitchell, Natalie Sibley and Phillip Rogers were recognized as a 2017 Georgia Middle School Association Team of the Year, an honor given to the state's top teaching teams. The sixth-grade Madras teachers were honored at the GMSA winter conference in Valdosta in February for their exemplary teaching methods. 
Carroll wins lifetime achievement award
Dr. Maria Carroll, lead psychologist for the Coweta County School system, was awarded the Georgia Association of School Psychologists' 2017 Lifetime Achievement Award. She was recognized and congratulated by members of the Coweta County Board of Education at their February meeting.
Willis Road Elementary talks Lego robotics
During the "Our Core Business" presentation for March, representatives from Willis Road Elementary School's REACH program talked about Lego robotics and computer programming.
After an introduction by Principal Charles Smith, REACH teachers LeAnne Cheatham and Lori Thompson talked about a how a discussion with a student's family member – who works for Georgia Tech – grew into a partnership that allows their students to explore computer coding and engineering with Lego and Scratch.
Students, who are just beginning to work with the WeDo systems, eventually will design and build their own robots using the Lego WeDo kits, and learn to write code with Scratch. Robots designed and built by the students will be judged by a Georgia Tech professor and teaching assistants.
Willis Road fourth-graders Travis Shearer, Kaylee Talmadge, Kyleigh Talmadge and Parker O'Bryan told board members a little about themselves and showed off their kits and how the robots work.
"Our Core Business" allows Coweta County schools to present examples of what they're teaching in the classroom in front of the school board. Principals, teachers and students from one school prepare and present the lesson overview at the board's monthly meeting.