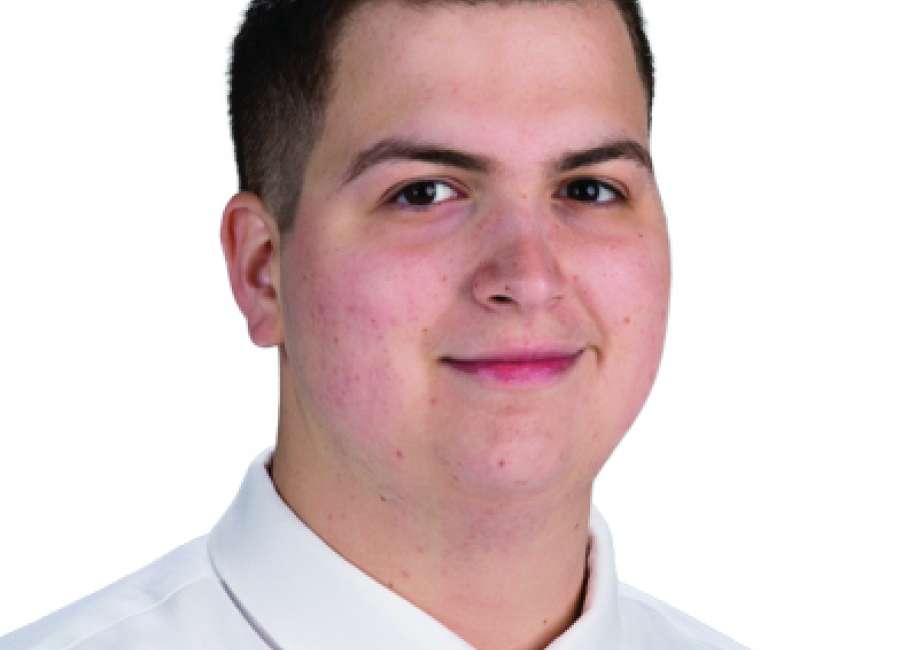 By TAYLOR ROBINS - taylor@newnan.com
Newnan native Jacob Wolf proves that age isn't anything but a number, having made big strides in his career already. Wolf has been working for ESPN since the age of 18.
Wolf is ESPN's youngest hire, first interviewing at 18 and starting his job at 19.
"I would say don't take anything for granted and work really really hard," Wolf said when asked what he would say to people that look up to him. "There's not a moment in my day where I don't think about work in some kind of fashion. It's really hard for me to zone out from a lot of it. I've always kind of just thought about what I can do to make myself better and what can I learn, read and what can I listen to. It's a constant cycle. I think it's really important to focus on yourself like that."
Wolf will turn  21 in March, his two-year anniversary with the major cable and satellite sports television channel comes in April. The ESPN employee works as a staff writer for Esports.
Wolf is also a co-host for the weekly ESPN podcast that is available on iTunes and also ESPN's app and website.
"There's times to have fun," said Wolf. "I don't want to seem like you have to be a boring person to be successful. I think that at some point you have to buckle down and really take what you're doing seriously and put everything you've got into it and that's probably the biggest thing I've done over the last couple of years and the last couple of months is try to educate myself on things that I don't know."
Shortly after turning 18 and graduating from Northgate High, he got his start with the digital media group, The Daily Dot. It wasn't long after that Wolf had the opportunity to interview with ESPN.
Working for his current employer and The Daily Dot  took Wolf from Newnan, to Austin, Texas and now Connecticut and  the ESPN headquarters Bristol.
.According to Wolf,  Bristol, similar to Newnan.
"I miss living in Austin, but I'm very happy with the work I'm doing at ESPN," said Wolf.
Among some the people who Wolf has covered are: Shaquille O'Neal (retired basketball player and sports analyst), Mark Cuban (Owner of the Dallas Mavericks and businessman), Michael Phelps (retired Olympic swimmer) and Karl-Anthony Towns (basketball player for Minnesota Timberwolves).
"I got to speak to him on the phone for an hour a few months ago," said Wolf about speaking with O'Neal. "It was actually really just enjoyable to chat. Even though I didn't play basketball, basketball is probably my favorite traditional sport to watch and to know people in."
A normal day for Wolf includes: waking up and checking his phone, showering, working at the office or from the comfort of his home, talking with leads or coworkers, coming home, playing with his dog, chatting with his girlfriend that lives in Austin, playing video games, reading a book and checking his phone for work before heading to bed.
"I'm a big believer in the 'Do Not Disturb' feature on the iPhone," Wolf jokes. "It's great. Otherwise I'd never go to sleep."
Wolf describes his support system from family, friends and coworkers as good. He even gets some of his inspiration from the people he works with.
Wolf's mother, Becky Wolf, is one of Wolf's biggest and most excited cheerleaders.
"It's kind of funny I laugh," said Wolf as he described his family's background. "My mom went to school for journalism. My grandparents went to school for journalism. I went to school to be an engineer and became a journalist. None of my family ever became journalists even though they had journalism degrees. It was interesting to see that progression."
Having played football in wrestling in high school , Wolf's love for sports came early. He played tee-ball at the age of four.
Going forward, Wolf aspires to become a better writer. He would like to one day write a book.
"It's just journalism for me regardless of platform," Wolf says about his love for journalism. "I love the reporting aspect of it in particular, which is cross-medium. I love talking to people. I love finding out information. I love putting together almost a puzzle. And that's probably my biggest passion in journalism is the information part of it. When it comes to writing or audio or video, I kind of like all of them. They all kind of have their benefits. I started with writing. I would consider myself a pretty OK news-writer. I'm getting a lot better as a long-form writer in the last couple of months. I guess the reporting aspect is my probably my most passionate trait."