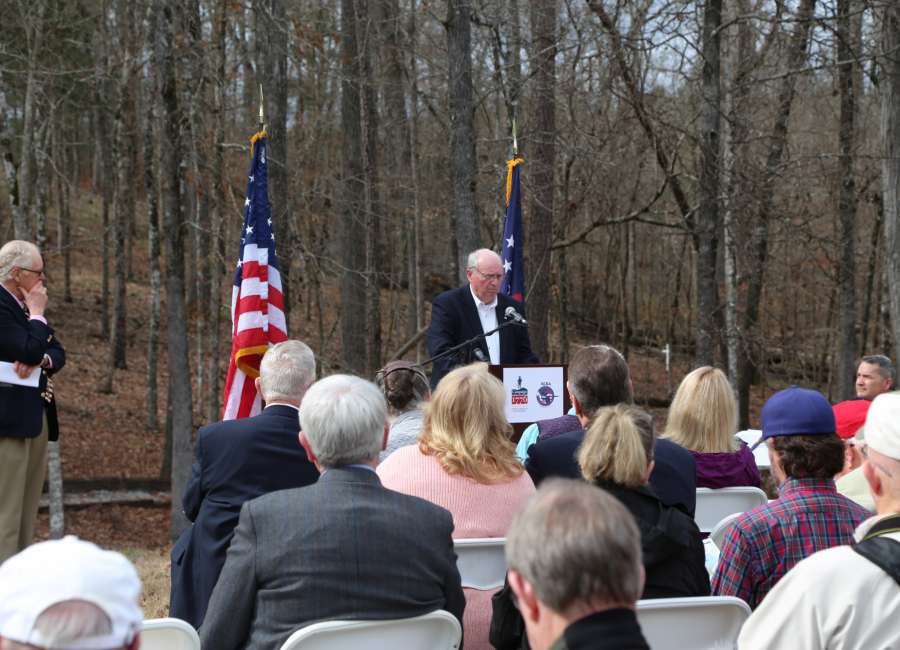 A new book tells the history of the Kettle Creek battlefield in Wilkes County, a spot that was the site of a turning point in the Revolutionary War.

Several Coweta families have ancestors who fought at Kettle Creek, and many early Coweta settlers came from Wilkes and nearby county. Louise "Biddy" Hammett of Columbus said the battle was fought on 450 acres that belonged to James Hammett, the fourth great-grandfather of her late husband, Paul.
James Hammett's son, William Hammett, moved to Troup County. Hammett Road runs from LaGrange through Heard County and into Coweta. Descendants of William Hammett "owned land and lived" in the area, Biddy Hammett said, and William Hammett lived near Harrisonville.
The new book about the Battle of Kettle Creek was presented at Mary Willis Library in Washington on the afternoon of Feb. 9. The 200-page volume details events that happened before, during and after the Feb. 14, 1779 battle.
The new book, "Kettle Creek Events—before—during—after February 14, 1779," is "literally the only text that has ever been complied in one volume that contains all of the known primary material, the best secondary material and the latest archeological findings and scientific studies up through 2016, regarding Kettle Creek battle," Biddy Hammett said.
Biddy Hammett wrote "A Hammett Family in Georgia," which chronicled the Hammett family's role in the Kettle Creek community and battle.
"Paul and I began researching the family and the battle about 1960, then he and I began to write a monologue, 'A Valentine for Georgia,' which he joined me in performing several times," Mrs. Hammett said. She also presented the monologue in the Georgia cities of Washington and Columbus.
The new book "makes it easy for teachers, school children and research historians to easily understand what happened at the battle after reading letters written by Colonel (Andrew) Pickens and John Dooley who led Patriot forces to victory," Biddy Hammett said. "Maps are also included that designate the geographic location."
The newest book was put together by eight professionals. 
Hammetts living in Newnan and in Troup and Heard counties, as well as Columbus and in Alabama and Texas are descendants of James and William Hammett. "Walker Chewning, a native of LaGrange, who grew up only several houses from ours, is also a descendant of James and William Hammett as well as a descendant of Saunders Walker, the famous old Baptist preacher who also fought at Kettle Creek when he was a neighbor," Mrs. Hammett said.
Connie Hammett, Biddy Hammett's daughter, designed the cover for "Kettle Creek Events—before—during—after February 14, 1779." She has been a graphic designer for more than 30 years.
The battlefield park was expanded last month. Chewning was among the speakers at the dedication ceremonies.