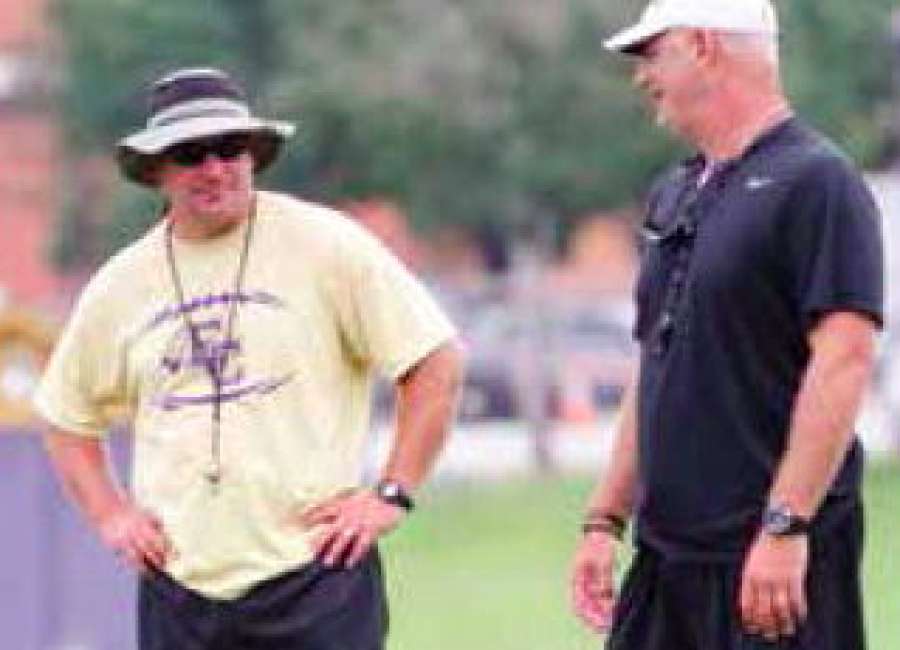 Once a head football coach, always a head football coach.

That might be Mike McDonald's new philosophy when it comes to how he approaches his chosen career and his new gig as head coach at Northgate High School.
It took McDonald about  a year after resigning as head coach at Newnan to realize he still has the passion and desire to run his own program.
So when the Northgate job opened last month, McDonald quickly applied.
He was officially introduced as  the Vikings' new head coach on Tuesday during the Coweta County School Board meeting.
He served as the head coach at Newnan from 2009-2016, leading the Cougars to the playoffs six of eight years and compiling a 55-37 record.
McDonald cut his head coaching teeth at Union Grove in Henry County, turning around a struggling Wolverines' program with two trips to the playoffs during his three-year tenure from 2004-2006.
In 11 years as a head coach at the two schools, McDonald is 75-52.
" He has a great record," said Northgate Principal Ken Kesselring. "He is great with kids and anybody who knows him, knows he is a great guy. He knows football and has won everywhere he has been."
McDonald's decision to step down at Newnan after the 2016 season caught some people off guard, but after spending last season as an assistant coach at rival East Coweta, the Vikings' next head football coach has a new less on life, renewed energy and the desire to get the Vikings back to the playoffs.
"I am excited that we can stay in the area," he said. "Coweta County is home. It's a great place to raise a family. This is a great opportunity. We had some great years at Newnan, and we were treated so well at East Coweta  last year."
The chance to serve as the head coach at Northgate came about when the job opened for the second time in a year when Kesley Dalrymple decided to step down after just one season.
Dalrymple had served as one of former Northgate head coach Tommy Walburn's  long-time assistant coaches and was promoted when Walburn retired after the 2016 season.
Dalrymple finished his only season as a head coach at Northgate with a respectable 6-4 record.
Walburn coached at Northgate from 2009-2016 and led the Vikings to the playoffs four times. Northgate finished with an undefeated regular season in 2011 and ended the year 11-1. In 2015, Northgate went to the final four and finished the year with a 12-2 record.
In his final season as the Vikings' head coach, Northgate finished 9-3.
"There is a lot of tradition here," McDonald said. "Coach Walburn did a really good job of building a program."
It will be a reunion for McDonald and his new boss once he arrives on the Northgate campus.
Before entering administration, Kesselring served as an assistant coach at Newnan starting about the same time McDonald moved his family to Coweta County to take an assistant coaching job with the Cougars on former head coach Bob Herring's staff.
When McDonald was promoted as the Cougars' head coach, Kesselring stayed on the staff, coaching both the offense and defensive line at different times.
Kesselring knows McDonald's coaching record speaks for itself.
"When he took over at Union Grove they went from 3-A to 5-A and they didn't miss a beat," Kesselring said. "When he took over for coach Herring at Newnan, he did a great job."
His close relationship  with Kesselring didn't automatically mean McDonald had the job.
"Actually, as he said, it made the interview process hard," Kesselring said. "Because, you can't come in and blow smoke when the guy across the desk knows football. He knows that I know how his practices are run. He had to come in and sell himself to the the rest of the people on the committee and he did that."
McDonald meet with the returning Vikings football team for the first time on Wednesday and plans to conduct 10 days of spring practice in May
"It will be an important time for us," McDonald said. "It will give us a chance to evaluate talent."