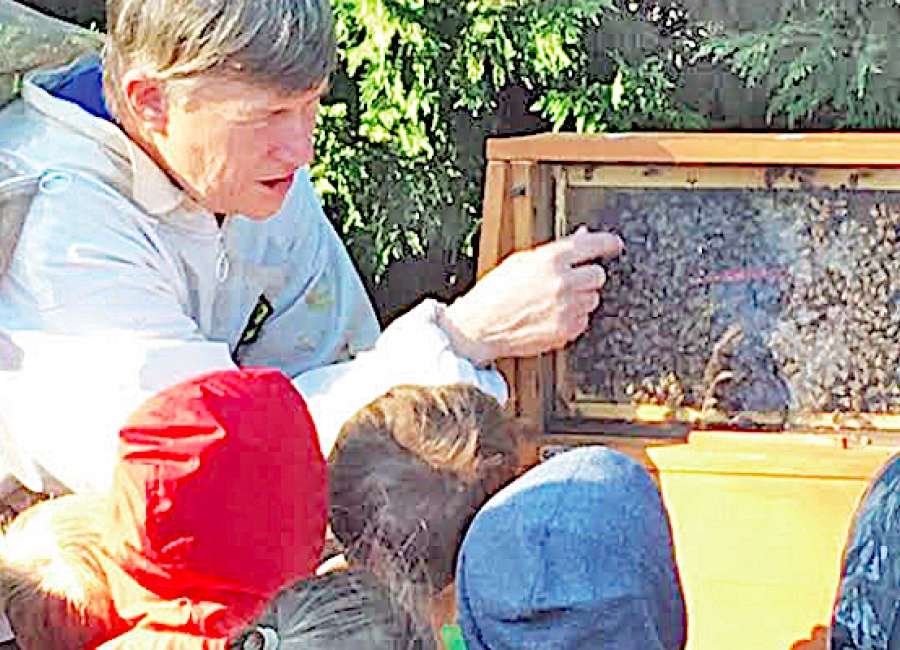 Dan Scales has a unique fan base.

It's not unusual to find the Tyrone resident "swarmed" by hundreds, if not thousands, of his admirers as he attempts to collect honey from their hives. 
Scales is a state-certified beekeeper and the president of the Coweta Beekeepers Association. 
He operates around 115 beehives across Georgia. 
As a beekeeper, Scales collects honey and honeycomb, maintains and protects the hives, sells bees and equipment, plus grafts larvae that will be used to "raise" new queen bees. 
But as head of the Coweta Beekeepers Association, Scales also assumes responsibility for making sure the honeybee population is maintained for years to come. 
"It's all about teaching people benefits of honeybees in our lives," he said. "We hold several workshops and give presentations in as many schools as we can. The next generation is going to be the one who protects the health of honeybee."
The number of honeybees has dwindled, in part, from "Colony Collapse Disorder," where bees failed to return to their hive after foraging for pollen and nectar, according to epa.gov. 
The insects were also found dead near the hives. Officials blamed certain types of pesticides for the declining honeybee population. 
Scales said the flying insects may appear to play a miniscule part in everyday life, but in reality, honeybees perform a major role in keeping humans alive. 
"Honeybees contribute to 20 billion dollars in agriculture each year," he explained. "One in every three bites (of food) you take are in direct response to honeybee pollination. They are responsible for foraging nectar … honeybees are not the only ones who pollinate, but they are the biggest colony."
According to honeybeecentre.com, one-third of the human food supply depends on insect pollination. 
Scales said those items include blueberries, blackberries, cantaloupe, apples, squash, almonds, lentils and lima beans, just to name a few. 
The Tyrone resident has been a beekeeper for 17 years, but his love for bees began when he was a child. 
"When I was 13, my mom didn't let me watch TV and the only internet I had was the Encyclopedia Britannica," he said. "I saw the section on honeybees and read everything I could about them. I told my dad I wanted honeybees."
Scales started off with seven hives, but had to leave them behind when the family moved away. 
Years later, he picked up the hobby again. He enrolled and graduated from a master beekeeping program. 
Scales claimed he and his family use between 5-10 gallons of raw honey a year - roughly 60-120 pounds. 
He said they consume the sweet mixture with foods as a healthy alternative to processed sugar, and utilize the honey for its healing properties. 
"Honey is good for teeth. It has anti-bacterial, anti-viral, anti-inflammatory and anti-fungal properties," Scales explained. "I use it to brush my teeth sometimes. It's incredible.
"I once had a small cut in my eye. I mixed the honey with distilled water to keep my eye lubricated," he continued. "It was 90 percent healed by the time I got in to see the doctor."  
Scales said honey can also be utilized to treat small burns and allergies. 
The master beekeeper will soon be expanding his hive to include a store in Newnan off Highway 154. The shop will specialize in beekeeping supplies, honey and honey-infused items. 
Scales hopes to hold education workshops and conduct agri-tours there as well.  
Until then, Scales will continue to lead the Coweta Beekeepers Association's monthly meetings and its annual seminars.
The Coweta Beekeepers Association meets the second Monday of each month at the County Extension office, located at 255 Pine Road. 
The group holds a mentoring session at 6:30 p.m., and the meetings begin at 7 p.m. 
Anyone wanting more information about the Coweta Beekeepers Association can visit their website, www.cowetabeekeepers.org or contact Dan Scales at 678-232-4793.
•••
FROM HIVE, TO HONEY, TO HOME
Honey Yeast Rolls
Honey Yeast Rolls are a great addition to any dish, and are best served straight from the oven and slathered with sweet honey butter. This old-fashioned, Southern favorite will melt in your mouth.
Ingredients:
• 1/4 cup warm water (100° to 110°)
• 1 (1/4-oz.) envelope active dry yeast
• 1 teaspoon honey
• 1 3/4 cups milk
• 2 large eggs, at room temperature
• 1/2 cup butter, melted and cooled
• 1/3 cup honey
• 3 teaspoons salt
• 6 1/2 cups all-purpose flour, divided
• 1/2 cup butter, softened
• 1/4 cup honey
Recipe:
• Combine ¼ cup warm water, 1 envelope of active yeast and 1 teaspoon of honey in a small bowl, and let stand 5 minutes or until mixture bubbles.
• Meanwhile, heat milk in a saucepan over medium heat for 3 to 5 minutes, or until 100 to 110 degrees.
• Stir together warm milk, eggs, ½ cup butter, ⅓ cup honey and 3 teaspoons of salt in bowl with a heavy-duty electric stand mixer, blending well. Add yeast mixture, stirring to combine. Gradually add 5 cups flour, beating at medium speed, using paddle attachment. Beat 3 minutes. Cover with plastic wrap, and let stand 1 hour.
• Uncover dough, and add remaining 1 1/2 cups flour, beating at medium speed 5 minutes. (Dough will be sticky.)
• Transfer to a lightly greased large mixing bowl. Cover with plastic wrap, and let rise in a warm place (85°), free from drafts, 1 hour or until doubled in bulk.
• Stir together 1/2 cup softened butter and 1/4 cup honey.
• Bake rolls at 400° for 10 to 12 minutes or until golden brown. Brush tops with honey butter. Serve with remaining honey butter.
(Recipe Courtesy: myrecipes.com)
The "Bee's Knees" Cocktail
A chilled, honey-sweetened adult beverage can be the perfect way to end a spring day. This recipe goes one step further by adding a piece of honeycomb as a dainty garnish to the cocktail. Honeycomb can be eaten - making this cocktail the perfect drink / dessert combo.
Ingredients:
• 1/4 cup hot water, divided
• 1 1/2 tablespoons wildflower honey, divided
• 2 cups ice cubes, divided
• 6 ounces (3/4 cup) gin, divided
• 3 ounces (6 Tbsp.) dry vermouth, divided
• 3 ounces (6 Tbsp.) fresh orange juice, divided
• 2 ounces (1/4 cup) fresh lemon juice, divided
• 8 ounces (1 cup) chilled club soda, divided
• 6 (3-in.) orange rind strips, divided
• 6 (3/4-in.) blocks honeycomb, frozen on cocktail picks
Recipe:
• Combine 2 tablespoons hot water and 2 1/4 teaspoons of honey in a cocktail shaker. Add 1 cup ice, 3 ounces gin, 1 1/2 ounces vermouth, 1 1/2 ounces orange juice, and 1 ounce lemon juice. Cover with lid; shake 1 minute.
• Strain into 3 glasses; top each with 1 1/4 ounces club soda.
• Place 1 rind strip in each glass; garnish with honeycomb.
(Recipe Courtesy: myrecipes.com)
Lemon-Honey Drop Cookies
These light, lemony cookies will be a hit at your Easter celebration. Wrap them up in a gift box and place in an Easter basket or arrange the sweet treats on a platter for guests to nibble on.
Ingredients:
• 1/2 cup granulated sugar
• 7 tablespoons butter, softened
• 4 teaspoons grated lemon rind
• 1/3 cup honey
• 1/2 teaspoon lemon extract
• 1 large egg
• 1 3/4 cups all-purpose flour
• 1 teaspoon baking powder
• 1/2 teaspoon salt
• 1/4 cup plain yogurt (can substitute in fat-free yogurt)
• Cooking spray
• 1 cup powdered sugar
• 2 tablespoons fresh lemon juice
Recipe:
• Preheat oven to 350 degrees.
• Beat 1/2 cup granulated sugar, 7 tablespoons of softened butter and only 2 teaspoons of grated lemon rind with a mixer at medium speed until light and fluffy.
• Add honey, extract and egg to the mixture and beat until well-blended.
• Lightly spoon flour into dry measuring cups; level with a knife.
• Combine flour, baking powder and salt; stirring well with a whisk.
• Add flour mixture to sugar mixture alternately with yogurt, beginning and ending with flour mixture.
• Drop dough onto baking sheets coated with cooking spray. Bake at 350° for 12 minutes or until lightly browned.
• Meanwhile, combine powdered sugar and lemon juice in a small bowl; stir with a whisk.
• Brush powdered sugar mixture evenly over hot cookies. Sprinkle with remaining 2 teaspoons of grated lemon rind.
• Remove cookies from pan; cool on wire racks.
(Recipe Courtesy: myrecipes.com)