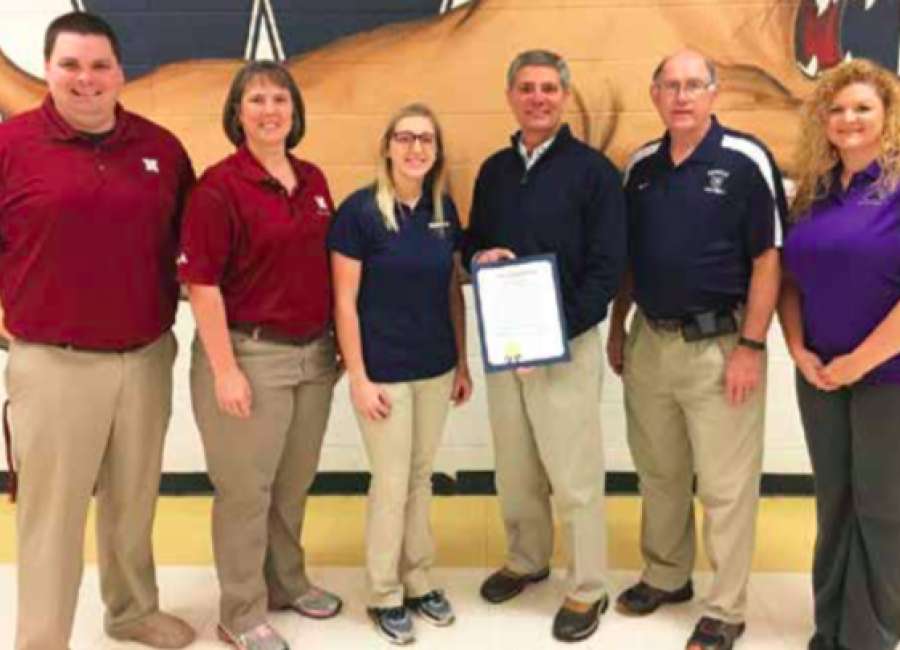 In so many ways, Coweta County has been a pioneer when it comes to making athletic trainers a priority, with one on the sidelines at each of the county's high schools starting in the 1960s with legendary Newnan High head foot- ball coach Max Bass hiring a trainer.
More than 40 years later, five area high schools not only continue to employ designated athletic train- ers, but they include some of the most well-respected in the state.
Newnan Mayor Keith Brady acknowledged both current and former high school athletic trainers in the area while proclaiming March as National Athletic Training Month in Newnan.
The honor hopes to bring attention to the importance of athletic training and those who serve in the capacity of trainers. In 2014, the National Athletic Trainers Association reported that Only 55 percent of athletes at public secondary schools have access to a full-time athletic trainer, according to the National Athletic Trainers' Association, and just 37 percent of public secondary schools have one.
NATA also reported that in 2013, there were 1.24 million emergency room visits for injuries related to the 14 most commonly played sports in children under 19.
In approximately 62-percent of cases, the injuries occur during practice.
Two of the longest serving high school trainers in Coweta County, James "Radar" Brantley of Newnan High and Lloyd Knott of East Coweta have each been inducted in the Hall of Fame for the Georgia Athletic Trainers Association and were joined by the late Dale Krach at the county's three public schools as mainstays on the sidelines.
More recently, Laura Taylor has filled the same invaluable role at North- gate following Krach's passing in 2012, along with assistant trainer and coach Chris Wickstrom. Jordan Kinnard now fills the same capacity at Newnan High that Brantley did during a career that included 350 consecutive football Fridays on the sidelines. Both Heritage School and Trinity Christian also now have athletic trainers, with Jonathan Parker and Heather Miller filling respective positions.
Athletic trainers are often first responders on the field, not just with first aid but emergency situa- tions. They must have, at minimum, a Bachelor's degree in sports medicine, be nationally certified and state licensed.
Last spring at Trinity, Miller quickly attended to a baseball umpire that col- lapsed behind home plate in between innings, using an automated external defibrillator (AED) until paramedics could arrive to transport him to the hospital.
Trainers have established "bumps and bruises" clinics to help evaluate injuries suffered during play while working directly with physicians for diagnosis and treatment of injuries.
A recent study showed that athletic trainers were 92-percent successful in coming to the same diagnosis as doctors.