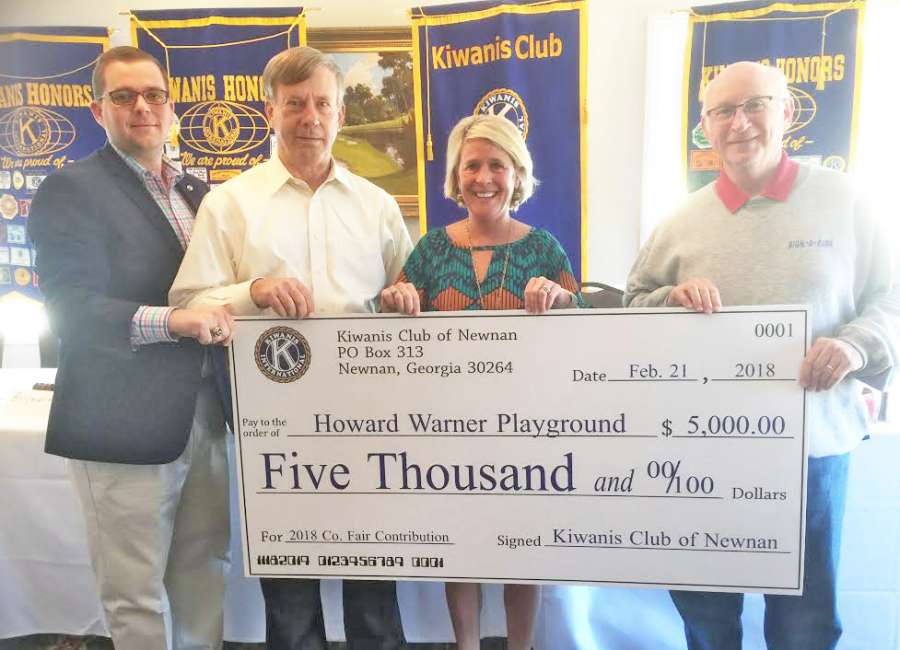 Coweta County children are one step closer to climbing on a jungle gym at the Howard Warner Community Center.

The Newnan Kiwanis Club presented a $5,000 check to the Coweta Community Fund to purchase new playground equipment. The Coweta Community Foundation led the effort to raise money for the Howard Warner Playground Project.
The organization needed at least $70,000 to construct the playground and buy equipment.
Local real estate agent Joy Barnes helped CCF top their goal in December of 2017 during her "Little Black Dress Party" event.
The playground will be constructed in the Chalk Level community of Newnan. The Howard Warner Community Center is located in a retrofitted school which dates to the 1930s.
Anne Josey with the Coweta Community Foundation told The Newnan Times-Herald in an earlier interview there are between 400-600 children in the Chalk Level are who would benefit from the playground.
"There is no playground there and limited after-school programs for children in the neighborhood," Josey said. "There is so much potential in serving a large number of youth."
The community center, off Savannah Street, also serves as a second location for the Boys & Girls Club.
The $70,000 total came from many different sources, including a $15,000 grant from KaBOOM. The organization is a national nonprofit dedicated to bringing balanced and active play into the daily lives of all kids, particularly those growing up in poverty in America.
The Times-Herald mounted a fundraising drive for the project last year, allowing readers to make donations in honor or in memory, and 100 Women Who Care Coweta County donated $5,000 to the project last summer.
Some members of the Newnan Kiwanis Club are also donating their talent and time to the project.
Christopher Gilliam is the project manager and will oversee the construction of the playground. Hugh Taylor is heading up the volunteer team that will prepare the grounds and construct the playground equipment.
The playground equipment will be assembled at the Howard Warner Community Center on Friday, April 27.
The Coweta Community Foundation designated Saturday, April 28, as Community Day. Volunteers will spread mulch, plant flowers and beautify the areas around the new playground.
Anyone wanting more information on the Howard Warner Playground project or make a donation, visit the Coweta Community Foundation website at www.cowetafoundation.org/gift/donate and select "Howard Warner School Playground Fund."