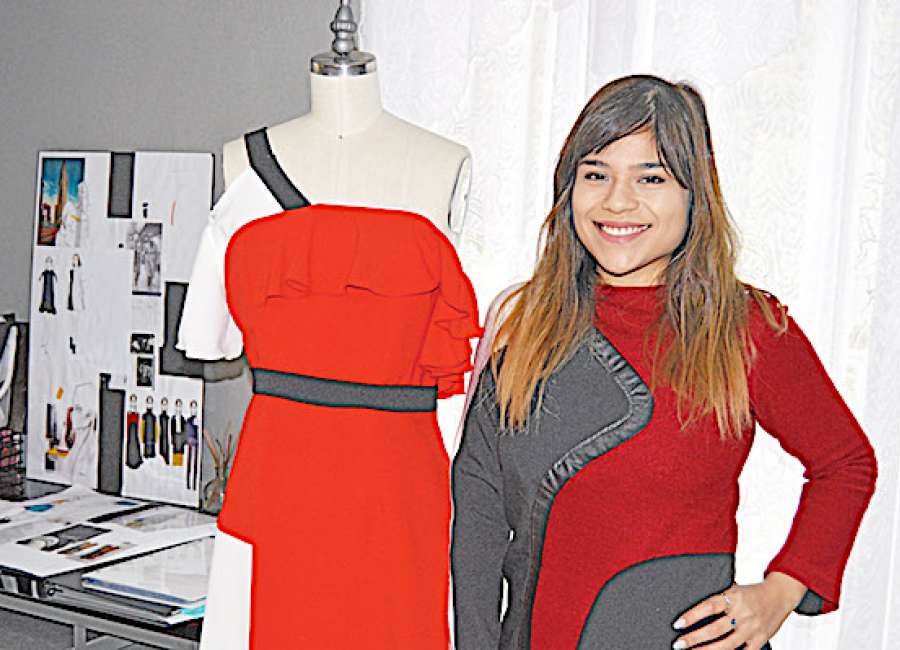 Veronica Ramirez has an eye for fashion.
The 26-year-old Sharpsburg woman is so talented, her sketches and dreams of becoming a fashion designer are coming to life.
The "Veronica Ramirez" clothing collection is now being showcased and sold in select Belk department stores nationwide. Her designs will also be featured and sold online.
The 26-year-old entered the Southern Designer Showcase last year. After presenting her clothing line before a panel of judges, Veronica was chosen as one of five winners from dozens of competitors.
"I couldn't believe it," she said. "I was in shock. I was picturing my name and my clothing in a Belk store and it blew my mind."
The Southern Designer Showcase provides emerging designers the opportunity to refine their designs, learn about production at scale and experience in-store and online merchandising firsthand, according to Leah Rubertino with Edleman Public Relations.
It is a nine-month journey from concept to production and merchandising, Rubertino said.
In addition to the opportunity to showcase her clothing in the store, Veronica won a cash prize and was partnered with a manufacturer to help bring her clothing to life.
It's a far cry from her tiny Sharpsburg studio - formerly her parent's garage. They enclosed and renovated the structure so Veronica could follow her dream of being a fashion designer.
The cozy room is filled with colorful sketches of future designs, and mannequins wearing silk, frilly dresses and tops awaiting the final touches from Veronica.
A sewing machine sits in one corner, covered with fabrics and trims.
Veronica's ambitious goal of becoming a fashion designer started when she was just 14 years old, she said.
That was the same year she designed and made her own dress.
"I made it without a pattern. I just kind of cut the fabric and sewed it altogether," she remembered with a smile on her face.
She drew inspiration from Alexander Wang and Maria Cornejo.
Veronica attended the Savannah College of Art and Design, SCAD, in Atlanta. After graduation, she immediately moved to New York City and interned for one of her favorite designers - Maria Cornejo.
"I learned everything I could. She was so amazing," Veronica said. "She took me under her wing, but pushed me to make my own brand and follow my dream."
It was Corenjo who gave Veronica courage to enter the Southern Designer Showcase.
The Sharpsburg woman moved back home and began to work on her collection.   
"I look at fabrics, trims, start sketching patterns … then I'll do fittings and see how it looks in person. It's a long process," she said.
Veronica's talent and determination paid off months later when she took home top prize.
The "Veronica Ramirez" spring collection debuted on March 22 during a fashion show at the Belk store in Kennesaw.  
Veronica described her clothing line as "fashion forward" and said her favorite piece is a black and ivory ruffled dress.
"It's very modern," she said. "I thought a lot about fit and the clothing being flattering to every woman … I'm conscious of women's figures and my sizes are more true to size than other designers. But the clothing is 'fashion forward' at the same time."
Unfortunately, Veronica's collection will only be sold at the Belk store in Kennesaw, Ga. But the clothing line will launch online next week, said her publicist.
While Veronica has only just established her brand and logo, she's already thinking ahead of ways to expand her clothing line in the future.
The 26-year-old said she is thankful for the head start in a very competitive and demanding career.
"I just want to say 'Thank you' to Belk. They've been very supportive in the whole journey," Veronica added. "Their help has been amazing. My brand will happen because of them. I am so grateful."
To see Veronica's clothing line, visit www.belk.com/shop-by-brand/southern-designers .