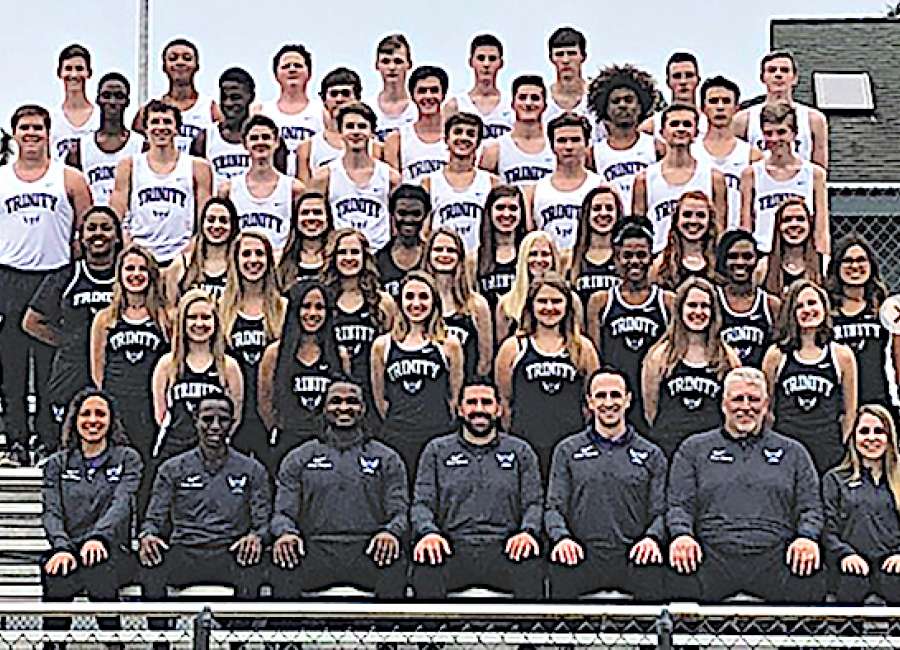 By CHRIS GOLTERMANN/COWETA SCORE
Co-host Trinity Christian swept team titles at Saturday's rain-shortened Lion and Cavalier Relay Invitational, held at Riley Field in Peachtree City.
The Lions led 18 schools with an impressive 126 points to fin- ish well ahead of fellow co-host Crosspointe Christian (81). Bethlehem Christian was third (65) while Rock Springs was a distant fourth (39). Heritage School's boys placed 13th with 10 points among 20 schools in competition.
In girls standings, the Lady Lions also posted a 30-plus point win. Trinity was first with 105 points, followed by Fideles Christian (71), Bethlehem Christian (59), Crosspointe (52) and Dominion Christian (51).
Heritage School's girls finished with three points.
Trinity's boys were led by Hans Troyer's individual victo- ries in the 1,600 and 800 among multiple scorers in both events. The Lions were equally dominat- ing in relay efforts, winning both the 800 and 1,600 sprint medley.
Troyer led four Lions in the top eight in the 1,600, with a winning time of 4:39.18 ahead of teammate Alex DeBoy (4:43.05). Jacob Richardson (5:04.43) and Michael Freeman (5:15.97) were sixth and seventh, respectively.
In the 800, Troyer crossed first in 2:03.48. Freeman and Richardson placed fourth and fifth in 2:08.81 and 2:11.89.
Trinity's Kahea Johnson led a one-two finish in the 400 in a close finish with teammate Kyle McGuire that had the pair posting respective times of 51.20 and 51.58. Adam Granade was eighth in 56.41.
The Lions' 800 sprint medley team of McGuire, Johnson, Jalen Neal and Bartley Truskolaski won the event in 1:38.01, with a 'B' team of Bryan McGuire, Alex Walling, Matthew Sherrod and Granade placing fourth (1:44.64).
Trinity's boys were also first and third in the 1,600 sprint relay, led by Truskolaski, Johnson, Kyle McGuire and Troyer in 3:49.26. A 'B' team of Bryan McGuire, Sawyer Stevens, Freeman and Richardson was third in 3:59.46.
The Lions also had a 'C' team that took seventh in the event.
Individual wins for Trinity's boys also included Jalen Neal in the high jump. Neal and Bryan McGuire were also sixth and ninth in the long jump, while Sherrod and McGuire placed fourth and eighth, respectively, in the triple jump.
Trinity received second-place finishes from Jordan Mitchell in the shot put and Stevens in the 300 hurdles, the latter effort also including a seventh-place finish from Matthew Sherrod.
Walling was third in the 110 hurdles for the Lions.
The Lady Lions earned relay wins in both the 400 and the 800 sprint relay, which included efforts from Anicka Cowan, Claire Carson, Sarah Leyimu and Claire Geerlings.
Geerlings and Leyimu also led individual performances from Trinity's girls with victories. Geerlings placed first in the 300 hurdles in 49.85.
Leyimu and Cowan placed first and third, respectively, in the triple jump with marks of 30-5 and 26-7.
Cowan was also second in the 100 hurdles, with teammate Bree Porter taking sixth.
Cowan equally was part of a third-place 1,600 sprint relay with Carson, Faith Roberson and Reagan Rogers. A foursome of Lauren Daniels, Alexandra Patrick, Bree Porter and Analise Stierwalt was sixth.
The Lady Lions had multiple scorers in the 1,600, 800 and long jump.
Robinson led Trinity in the 1,600, placing third, while Grace Williams and Sami Bourque were fifth and sixth.
Williams led three runners in the 800, placing third ahead of Bourque and Robertson in fifth and sixth.
In the field, Carson and Morgan Ross took sixth and eighth in the long jump. Jordan Boyd was also sixth in the discus.
Heritage School boys were led by fourth-place finishes from Jack Stanley, who had a personal-best of 97-6, and Peter Nell, who ran 54.41 in the 400. 
The Lady Hawks received a sixth-place mark from Emily Walker in the long jump, while Reese Overholt just missed scoring by placing ninth in the triple jump. Senior Kailey Waltermire was 13th in the 400.
Trinity's middle school boys finished second to Strong Rock with 83 points with an effort that included a 400 relay victory by Dwayne Howell, Jack Statzer, Tyson Wall and Bryce Wilcox and an individual win by Howell in the 100 hurdles.
A relay of Sam Granade, Wall, Wilcox and Nicholas Andrews was third in the 1,600 sprint relay.
The Lions also received top-five individual efforts from Andrews (2nd, 800; 3rd, 300 hurdles), Granade (4th, 400; 5th, shot put), Wilcox (2nd, 50; 3rd, long jump) and Wall (3rd, 50).
Heritage's middle school boys were led by Grant Augustine and Eli Fitzgerald, who finished seventh and eighth in the 400. A 400 relay team of Fitzgerald, Wilgus, Markel and Hill was also seventh for the Hawks.
Among middle school girls, Trinity was fourth with 53 points, while Heritage placed eighth with 27.
The Lady Lions were led by a pair of top-two finishes from Bryce Hackworth, who won the 100 hurdles and placed second in the 50 meters. She also joined a winning 800 sprint relay effort with Peyton Brucks, Bree Peavey and Abigale Smith.
Smith was second in the shot put and fourth in the 50. Brucks took second in the 300 hurdles and added fifth and sixth place efforts in the 100 hurdles and the 50.
Heritage's girls were led by scoring efforts from Sister Rhodes and Ella Thornton. Rhodes placed third in the discus and seventh in the shot.
Thornton was sixth in both the shot put and dis- cus and took eighth in the 50.
The Lady Hawks also received fifth-place finishes from Lane Whitley (400) and Celene McLean (50), Lauren Johnson was eighth in the 50.