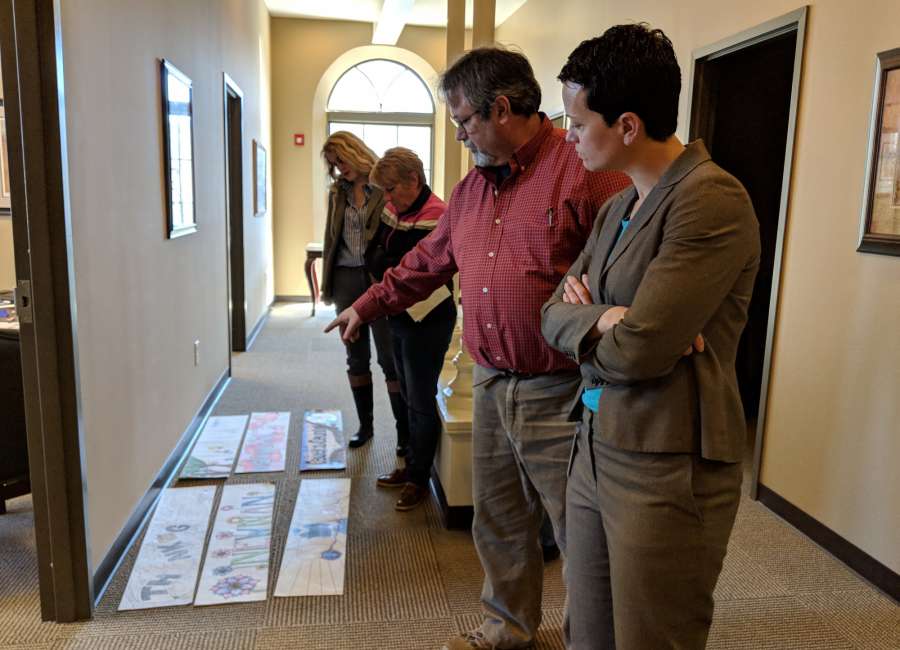 A variety of themes, ideas and designs for a proposed mural along the proposed LINC path were recently submitted by students from Mrs. Jodie Hobbs art class at Newnan High School.
The submissions were part of a contest held by Friends Of The LINC to choose a design for the first tunnel to be constructed on the path, located under Lower Fayetteville Road.
Hapeville-based artist John Christian, founder of Go Georgia Arts Studio, spoke to the group last week. Christian has been commissioned by the group to head up the proposed mural project and create an art master plan for the 26-mile trail.
Christian recently completed work for Meriwether County's "Murals and Monarchs" tourism project that joined historic murals and butterfly gardens across Meriwether County in a project begun in early 2016.
Historic murals were painted by Christian in Warm Springs, Lone Oak and Woodbury, and Greenville.  Now, the Friends Of The LINC are hoping Christian can explore a variety of similar possibilities for the LINC.
For the LINC, Christian suggested a combination of murals, sculpture and interactive art.
"It's not just a mural, but you can incorporate famous people from your area, or even a historic Native American focus," Christian said. "There are great opportunities for tourism and education."
The group will review the 15 submissions from Hobbs' art class and determine which pieces, or pieces,  that best captures the spirit of the project. Christian suggested several submissions could successfully be combined.
The group hopes to begin work on the mural before school is out for the summer and to finish by the time it returns in August. The tunnel will be painted on both sides and lit 24-hours a day. Christian hopes to have up to four student interns to participate in this rare opportunity.
The cost of the mural is expected to run around $12,000, so the group is hoping to secure funding through grants and from community donations. With two more tunnel mural projects on deck, Christian suggested a variety of themes could be chosen for each.
Those interested in more information can visit the group's website at LINCFriends.com .