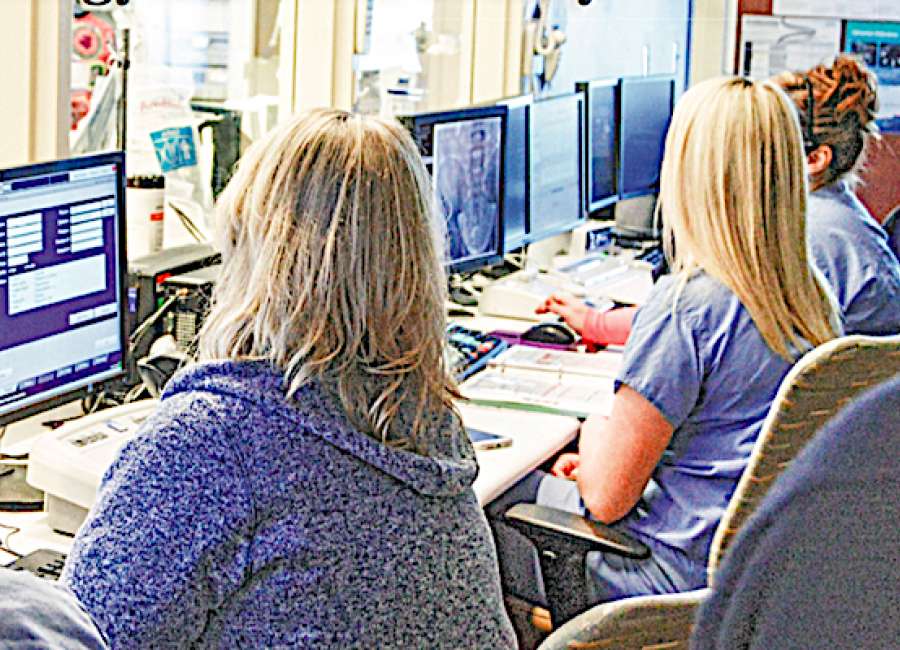 Piedmont Newnan Hospital and the Cancer Treatment Centers of America are continuing to reach new milestones in Coweta County. 

Despite some challenges, both medical facilities expect those positive, upward trends will extend into 2018 - and beyond. 
Piedmont Newnan
The facade inside Piedmont Newnan changed drastically in 2017 as the hospital opened the Percutaneous Coronary Intervention program, or PCI, and the Faye Hendrix-Ware Breast Health Center.  
The latter facility features state-of-the-art Diagnostic Mammograms, 3D mammography, breast ultrasound and advanced MRI. 
With the addition of the PCI program, Piedmont Newnan added two new cardiac catheterization labs - both filled with state-of-the-art equipment. 
The program means the medical center is now equipped to diagnose a heart attack and provide non-surgical life-saving treatment, such as inserting stents into blocked arteries. 
Piedmont Newnan CEO Mike Robertson said the hospital is keeping up with patient demands coming in from around the region. 
"More people are moving into the area and choosing us for health care, which is great," he said. "In the year between 2014 and 2015, two floors of the hospital were still not open … today, we're completely full. 
"I think we always knew that the 'new' hospital would grow," Robertson continued. "But I think how that happened was us working cohesively with the health care team, plus driving up quality and satisfaction scores. That is what's driving people to come here … my team and I worked on hiring great people and growing our speciality base. We hired 16-18 doctors that all work in a variety of medical specialities. With all that comes great growth."
"We're one of the fastest growing counties in Georgia," added Buck Anderson, executive director of Piedmont Newnan Hospital. "With the new programs and additional staff … the perception of our facility continues to change. The more we meet the county's needs, the more word spreads throughout the community. People are wowed and come back here for care."
Both Anderson and Robertson said the "wow factor" will continue in 2018.
The hospital will add another 18 beds to the facility. Thirteen licensed beds will be housed on the fifth floor, in the former administrative wing of the building. The other five will be "observation beds" and added to the hospital's emergency department. 
The estimated cost of the addition was $8.5 million dollars. The beds and new fifth-floor wing is expected to be open in November 2018, according to Anderson.
The hospital is also beginning construction in March on a radiation therapy device called a Linear Accelerator. This will be the second machine for the facility. 
"This cutting-edge technology reduces radiation exposure and will bring our cancer program to the next level, said Anderson. 
"We want to provide a high level of care close to home, so cancer patients don't have to travel," added Robertson. 
Piedmont Newnan is also close to finalizing plans to construct a second medical building on campus, along with a smaller facility that will house conference rooms and a new administrative wing. 
But the biggest change of all won't take place on the hospital's campus. 
Both Robertson and Anderson are planning ahead for the impact of the new exit ramp from Interstate 85 onto Poplar Road, right beside the hospital.  
"There's a lot of potential. Those ambulances will have an easier time getting here," said Robertson. 
The projected growth may mean building a new medical tower on campus and adding more than 100 licensed beds, he added. 
"There's a sense of pride in knowing we're taking care of the community," Robertson said. "It's a sense of pride when you take care of the community in the same sense you take care of your family."
According to Anderson, that means investing in construction to fit the needs of the growing community. "We can to be serve the needs of community by forward thinking ... investing in appropriate construction that fits the needs of the community," explained Anderson. "Those investments include new equipment, new physicians and new space to care for patients. We want to serve Coweta County so they don't feel like they need to go somewhere else for care." 
Cancer Treatment Centers of America
Taking care of patients within their own community is the same goal of the Cancer Treatment Centers of America off Celebrate Life Parkway near the Newnan Crossing Bypass, located just a few miles away. 
The medical center celebrated their five-year anniversary in 2017. 
"Five years in cancer care is a milestone for us - and our patients," said Anne Meisner, CEO of the Cancer Treatment Centers of America Southeast Region. "We celebrated the patients we first saw in 2012 … it was a fantastic, emotional day." 
According to Meisner, CTCA has helped more than 13,000 patients from all over the country during the past five years.
In 2017, the treatment center served close to 2,900 new patients, she added. 
Dr. Alan Yahanda, chief of staff, vice chair of surgery for CTCA and surgical oncologist, said the way they treat cancer also vastly changed in 2017. 
"It was a huge year. There was a paradigm shift in the way we care for cancer," Yahanda said. "The Food and Drug Administration (FDA) approved a drug based on a genetic marker. This is cancer care for the future … treating it genetically, not generically. Now we're getting into precision medicine ..." 
Yahanda said there are currently 19 clinical trials open at CTCA, and more will become available for patients next year.
"We have agreements with four or five companies to provide clinical trials and research," Meisner added. 
Officials with the Cancer Treatment Centers America Southeast Region are also planning for more growth in the future, but not necessarily on the Newnan campus. 
"Our care delivery is not confined to the hospital," Meisner said. "We have to find ways to help our patients at home. We're looking at telemedicine or having outpatient clinics… and provide services in other areas." 
Meisner and Yahanda said the medical center is also researching more about the relationship between obesity and cancer, and they are planning to provide preventative screenings for lung cancer. 
"We want to keep pushing our objective to become the best cancer treatment center here, by continuing to bring in high quality, top notch staff and better, innovative treatments," said Yahanda. 
The Cancer Treatment Centers of America Southeastern Regional Medical Center held their annual Celebrate Life event on Friday. 
Doctors and staff honored more than 300 survivors during a special ceremony on the Newnan campus.