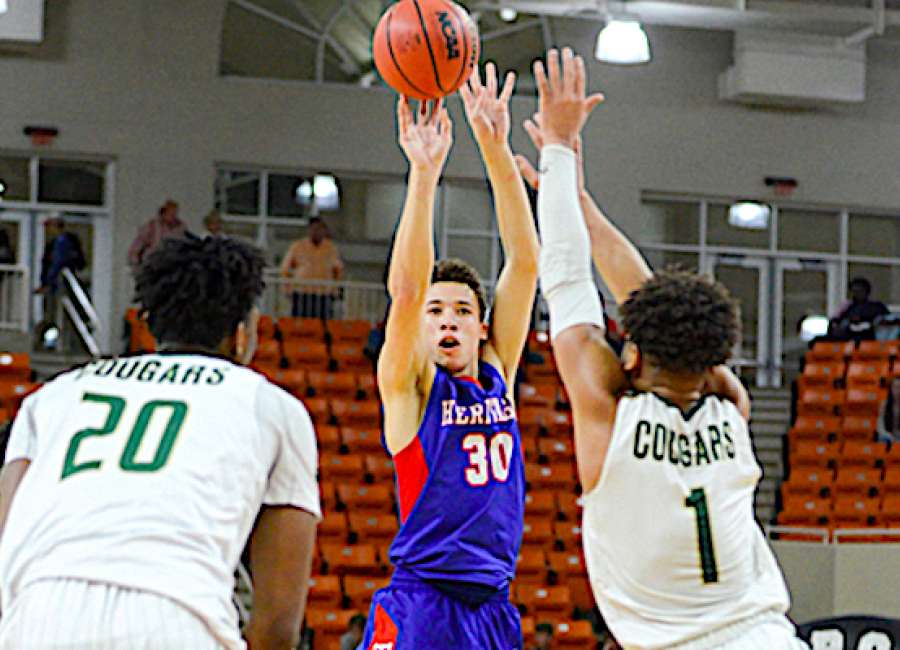 MACON — Sometimes the word dynasty is used too much in sports.

However, it might just fit when it comes to describing the Holy Spirit boys basketball team.
Saturday night the Heritage Hawks learned that lesson the hard way, falling to the Cougars 57-51 at Hawkins Arena on the campus of Mercer University in the GISA Class AAA state title game.
It was Holy Spirit's second straight basketball title after going undefeated against GISA opponents in 2017-18.

It was also the Hawks' fourth loss this season against a Holy Spirit squad loaded with NCAA Division I talent.
"We hit shots early, but we turned the ball over and that was something we focused on. We knew we couldn't  do that," Heritage coach Mark Lieberman said.
The loss put and end to the high school careers of Heritage's senior Jake Canter and Anthony Williams.
"I really hate it for those guys," said Lieberman. "They meant so much to me when I took over the program there years ago."
Canter closed out his career with seven 3-pointers and 21 points.
Junior Lance Terry led the way for the Hawks with 24 points.
Holy Spirits Georgi Maslemika controlled things inside for the Cougars, finishing with 20 points. 
Micha Jermimah added 12 points.
The Hawks set the tone early, building a 17-9 lead at the end of the first quarter.
Canter couldn't miss in the first quarter converting on five 3-point shots.
However, the Hawks' offense went to sleep in the second quarter and the Cougars outscored Heritage 17-5 and took a 26-22 lead at the break.
Holy Spirit's Anthony Edwards, who was held scoreless in the first quarter gave the Cougars their first lead of the game with a dunk to put his team up 18-17.
From there, the Hawks were outscored 8-5 the remainder of the second quarter.
Terry had all five of the Hawks second quarter points, including drilling a 3-point shot and hitting both free throws.
The Hawks made a third-quarter run after Canter again stepped up and hit two 3-point shots.
His second trey tied the game at 30-all.
Minutes later, the Terry gave the Hawks back the lead with a basket to put them up 34-32.
It didn't last long.
Holy Spirit scored the last eight points of the quarter and took a 40-34 lead into the final period.
The Cougars forced several turnovers in the final period and pushed the lead to double digits for the first time.
Maslemika basket inside the paint gave Holy Spirit a 51-40 lead with 3:19 left in the game.
Edward then answered with a dunk to put Holy Spirit up 53-40.
Canter closed the gap to 53-43 with.
The Hawks went on a 8-4 run in the final two minutes, but it wasn't enough.