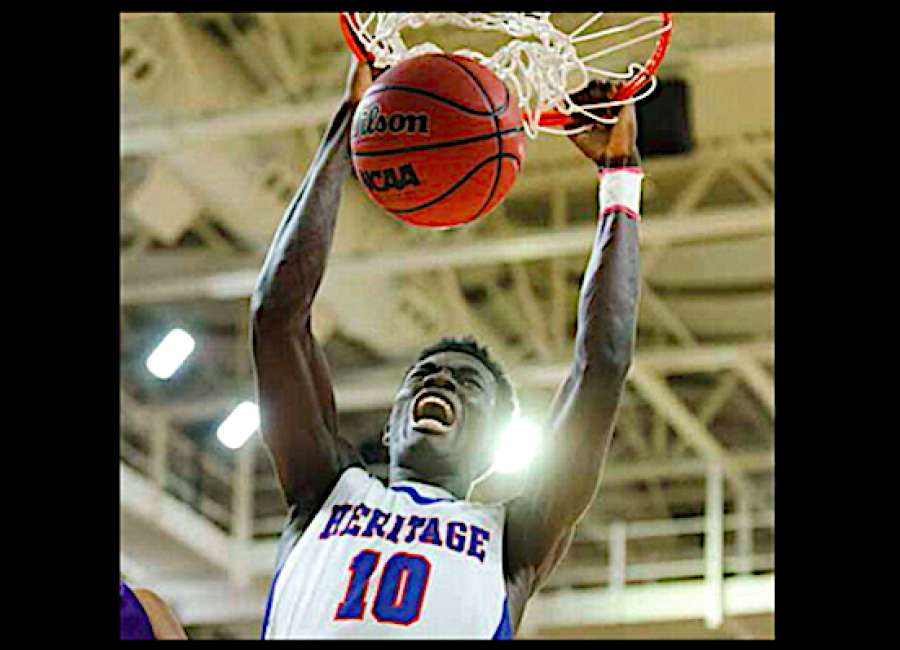 By CHRIS GOLTERMANN, CowetaScore.com 
MACON - At times it felt like the Atlanta Hawks struggling to win a best of seven series with its fourth win against the same opponent in hopes of getting a crack at a championship.
But these Heritage Hawks have found a knack for not panicking in desperate times this season, especially when it comes to denying county rival Trinity Christian an elusive victory.
They did it for a final time with a 53-45 overtime victory in Thursday's GISA Class AAA state semifinals, advancing to a rematch with defending champion Holy Spirit, on Saturday at 7 p.m, just when the Lions were poised for a breakthrough.
Scoreless through the first 24-plus minutes of the game, Heritage junior standout Lance Terry scored all 16 of his points between a fourth-quarter comeback and a 13-5 overtime run for the Hawks in
a mirror image of his production in Heritage's second victory over Trinity after also trailing big at halftime and completing a comeback with 16 points in that game.
A basket by Terry to begin Thursday's extra session broke a 40-40 tie and the Hawks - who had an atypical first four quarters from the free-throw line went 8-for-8 in overtime split between attempts by Terry and Kasen Jennings.
It turned a game where Heritage trailed by as many as 13 points into an eight-point win.
'[There was] not a lot of panic,' Heritage School head coach Mark Lieberman said of heading to halftime still down 25-18 at the break. 'I don't give big speeches. With us it's culture, it's fundamentals, it's practice, it's every single day. We make it uncomfortable at practice.'
If not for Jake Canter's game-high 17 points, 14 of which came through three 
quarters, Heritage might not have survived this comeback attempt against a Trinity lineup bent on a breakthrough win. 'We had the perfect plan,' Lions head coach Will De la Cruz said. 'It was working great, but they fought back.' The Hawks certainly were feeling some heat after falling behind quickly 13-5 in a first-quarter effort by Trinity that mirrored its fast start in a state quarterfinal victory over Deerfield- Windsor to reach its first GISA semifinal.
Tyler Whitfield again had eight points in the opening quarter for the Lions, who benefitted from 24 Heritage turnovers, and managed to get six players on the scoresheet even while waiting for point guard Preston Davis to return from an ankle injury suffered early in the game.
While everything was going right for Trinity, a perfect storm for the Hawks had standouts Lance Terry and 6-foot-8 sophomore center Ebenezer Dowuona on the bench through a 25-18 deficit at halftime with a combined five fouls.
Trinity center Erick Valdez had at least five rebounds at the break, but the Lions only had two free throws to show for Heritage's foul trouble in the first half, attempting just three shots from the line in 40 minutes.
Instead, Shamari Reed - coming in off the bench for the injured Davis - got hot by connecting on two three-pointers in the second quarter that had four Trinity players hitting field goals.
The Lions' lead had dwindled to 33-27 by the end of the third, which is right where Terry began his scoring effort - and in a hurry.
A layup was followed by consecutive steals, one that produced another basket and another that set up a free-throw to pull Heritage to within a point.
The lead then changed four times over the final 4:53 to set up overtime, with Jennings unable to get an inside shot to go with 1.9 seconds left.