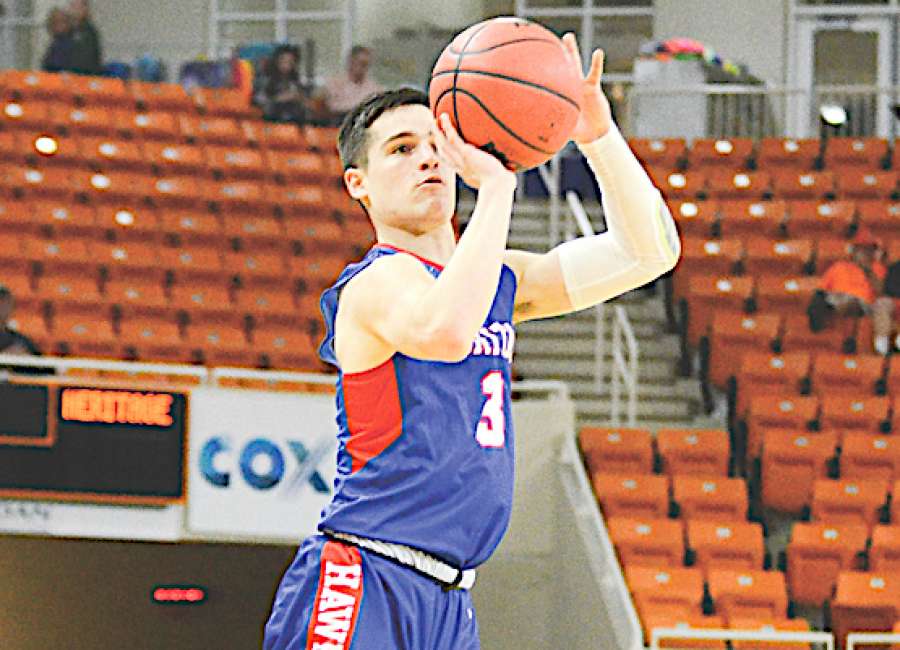 By CHRIS GOLTERMANN, CowetaScore.com
There's a reason that The Heritage School's boys basketball staff referred to senior Jake Canter this season as their 'Captain America,' a moniker bestowed by assistant Joab Jerome.
But it goes beyond Canter's accuracy from three-point range, which was capped off in Saturday's GISA Class AAA state championship loss to Holy Spirit by sinking seven shots in a 21-point performance.
They included four in the opening quarter that helped the Hawks jump out to an early lead before the defending champion Cougars stormed back with the force of an Infinity Gauntlet. (You'll find out next month at the theater).
Most nights during the 2017-18 season, though, Canter was the fourth scoring option during a 23-8 season that ended with the program's second straight state runner-up performance. He was surrounded by other 'heroes' and according to his head coach, willing to provide a key component with his leadership as one of just two seniors on the roster.
'He's become a leader at the school. Everybody loves him,' Hawks head coach Mark Lieberman said following a 57-51 loss in Saturday's GISA final at Mercer. 'I don't like to brag about any one of our kids over another, but losing him, I mean it's Captain America.'
God, family and team - the latter pair nearly inseparable - and soon country with both the Coast Guard and Air Force academies each pursuing his basketball abilities, follow much like a personal mantra in that order.
And a red, white and blue uniform certainly helps with the image.
Canter, however, was more of Cap's alter ego Steve Rodgers prior to his injection with a Super Soldier Formula, as an eighth-grader back in southern Indiana as Lieberman arrived at Floyd Central while still recovering from the tragic death of his infant son from SIDS.
It didn't take long for Canter to make an immediate impression.
'This high school job opens up and he'd come to every workout as an eighth grader,' Lieberman said. 'He's about the same size [now].'
Their paths headed in separate directions soon afterward, however. Lieberman resigned after one year and took an opening at Heritage while making the move to Georgia, a bit closer to previous high school roots coaching five state championship teams at Monsignor Pace High in Miami Gardens, Fla., four as head coach among 338 victories.
Canter, meanwhile, stayed in contact with Lieberman despite playing his first two varsity seasons at Floyd Central when he and his family, which includes younger brother John, made a decision.
'So at the end of the [2015-16] school year, his dad says I'm relocating down there so Jake can be under your tutelage,' Lieberman said after the final. 'I'll get emotional about it later, but they moved their whole family so he could play for me.'
The senior admits battling some jitters when he took the floor for his first varsity game under Lieberman wearing Heritage's red, white and blue and getting a bit ahead of himself in the season opener.
'I was nervous. He's going to laugh, but my two quarters of my junior year [I had] six turnovers. Every day my junior year, he'd be like, you remember that game?,' Canter joked, before returning to a persona more fitting the fictional Cap. 'He just wants the best for us. He know what it takes to be a great player. He's been around great players. He knows we're good players, but he wants us to be great.'
As a senior, Canter has improved on his 7.5 points-per-game average as a junior in an offense that has been led by junior Lance Terry and sophomore teammates Kasen Jennings and Ebenezer Dowuona.
While not always needed to contribute double digits, Canter's state tournament efforts in 2017-18 included 10 points in a first-round win over Westfield and a game-high 17 in Heritage's semifinal win in overtime over Trinity where the senior helped carry a stagnant offense prior to the Hawks' late heroics from Terry and company.
'Just these two years with these guys, I can't explain how great it's been. Playing for the Lord first and foremost, but these guys have been my life these past two years,' said Canter, who previously lived 20 minutes north of the Ohio River and a short trip to Louisville. 'All the hard work we've put in these last two years. Nobody works harder than us.'
Lieberman, who worked as an assistant at the University of Louisville and left prior to its more recent troubles with the NCAA, has instilled as much a collegiate atmosphere with his staff, especially during the high school season in a county where basketball is beginning to become a priority despite still lagging in participation behind the three major sports with football and baseball.
'It's seven hours of school, weight training, an hour of that, an hour of film, [and] two hours of practice every day,' Canter said. 'He molds us. We play under his plan and it works.'
Somewhat overmatched on paper against Holy Spirit, led by three high Division I prospects, the Hawks played to their strengths in Saturday's championship, hitting six 3-pointers in the first half - one more than they had in all four quarters of a previous meeting against the Cougars in this year's Region 1-AAA championship.
But seven turnovers in the second quarter and a resulting five-point effort that included just one field goal, had Heritage on the ropes.
'Team wise we knew we had to clean some things up especially with our defense in transition. We knew that had to stop,' Canter said, equally deflecting some of the attention from his first-half effort afterward. 'One guy's working shots one night, we go to him. We make a mistake, we hold each other accountable without jumping on him without bringing him down. We lift them up by being positive, but we hold each other accountable.'
As much as he's been a soldier on the court the past two years, Canter's emotions welled at the conclusion of Saturday's game, equally signifying the end of his varsity career.
'It's been an incredible two years. I wouldn't be who I am today without coach. He's made me the leader I am. I wouldn't have been like that if I ended up where I was,' Canter said, still flushed between perspiration and a few tears. 'It's been tough, but it's been the best year of my life.'