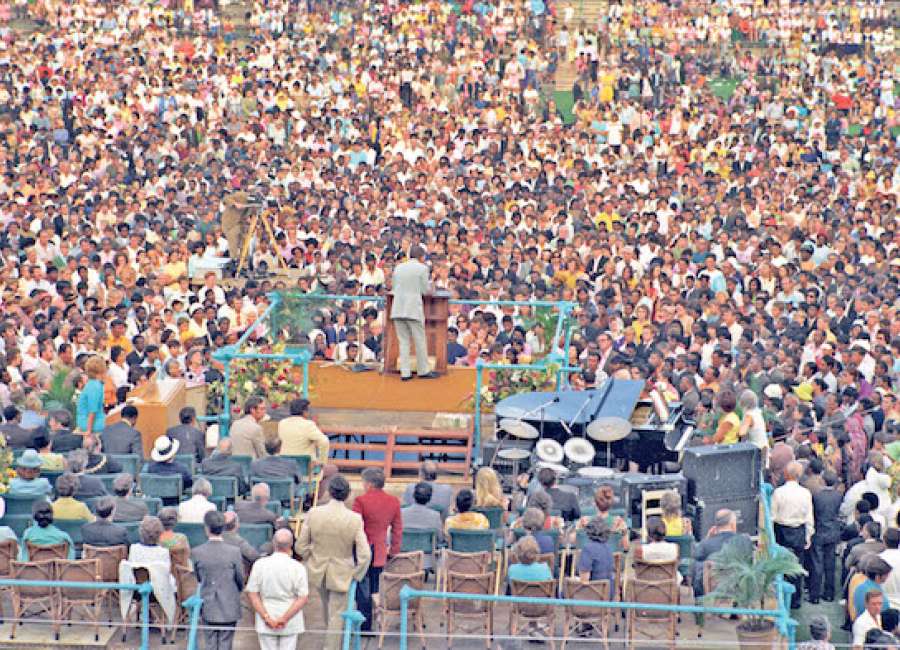 Photo courtesy of the Billy Graham Evangelistic Association
Newnan resident Ronald Richardson says he will never forget Billy Graham.

"My wife accepted Christ at a crusade in Jacksonville, Fla. in the late 60's," he said. Beverly Richardson died in 1988, but her husband still remembers the Graham crusade which led her to a spiritual epiphany.
Billy Graham lived almost a century and spent much of it touching lives with a vibrant, positive Christian message. His death at age 99 on Feb. 21 leaves a well-organized ministry that will continue to provide evangelism and outreach around the world.
He led three crusades in Atlanta, and his ministry also sponsored a crusade in Coweta County with Franklin Graham as the preacher.
The day he died, a commentator on "Here and Now" on NPR referred to Graham as "the most widely heard Christian evangelist in history."
"Heaven has gained yet another saint, while we here on earth have seen our world grow darker," said Greg Chaffin, who lives near Grantville.
Graham, a Baptist, reached across denominational lines. He also insisted his crusade meetings be open to all people – including multi-racial gatherings in the southern United States and in South Africa when that violated social mores.
Graham was a non-partisan who became known for relationships with every U.S. president from Harry S. Truman to Bill Clinton. 
"If I had to say one word about Dr. Graham, I would say love. And he represents to me what I think Christianity ought to be about," said Lynda Robb, Lyndon Johnson's daughter.
 
In a video recorded before his own death, Sterling Huston, who served as director of Billy Graham Crusades for many years, recalled, "When Billy Graham described how he wanted to be remembered, the word was faithfulness – faithfulness to God, faithfulness to his calling, and faithfulness to his family."
Graham died at his home in Montreat, N.C. On Wednesday and Thursday, his body lay in state in the U.S. Capitol – the fourth time that honor was conferred on a private citizen.
Graham led crusades in Atlanta in 1950, 1973 and 1994. Some 311,000 people attended the five services at the Georgia Dome in 1994.
Graham crusades were known for having high-profile public figures participate. Former Pres. Jimmy Carter joined Graham at one of the 1994 crusade services. Music was provided at the 1994 meetings by Andre Crouch and by Johnny and June Carter Cash.
The crusade includes a Love-in-Action program with attendees bringing canned goods, personal care products and items for babies to the services.
Coweta churches organized to connect with the 1994 Atlanta crusade, and members of some local churches sang in the crusade choir. A community rally was held in Newnan prior to the Atlanta meetings with Bill Moore speaking.
Moore, then pastor of Tenth Avenue Baptist Church in Philadelphia, had been co-chair for the Billy Graham Crusade in Philadelphia. Choirs from First Baptist Church of Newnan and Newnan Chapel United Methodist Church sang at the Newnan rally.
Similar efforts took place in conjunction with the Graham crusade at East Coweta High School. Counselors were trained, and a combined choir sang. Among the musical guests was Ricky Skaggs.
The Coweta area has extra impact from the Graham organization because Grover Maughon, a senior crusade director for the Billy Graham Evangelistic Association, lived in Newnan for several years. George Beverly Shea, who often sang at Graham events, traveled to Newnan in 1992 to sing at the funeral service for Maughon's wife, Martha, at First Baptist Church in downtown Newnan.
Franklin Graham took part in Grover Maughon's funeral seven years later. Franklin Graham also has had a lasting impact in Coweta through the continuing local participation in Operation Christmas Child, which is coordinated by Franklin Graham's ministry, Samaritan's Purse.
Area residents remembered ways Billy Graham and his ministry organization touched their lives. 
"My sister, Beverly Rhodes, and I were in the Billy Graham Crusade Choir at Tallahassee, Fla. in the 1980's," Patti Phillips said.
Phillips said "just to know we were there" was thrilling. She described the experience as "very worshipful."
"Growing up we never missed Billy Graham when he was on TV," Susan Morrell recalled. "He was the leader of God's army. So many have been saved in front of their TV's, thanks to him being a shining light."
Chaffin had a message to Graham's family: "I would simply like to say thank you for sharing him with the world. May God the father and Jesus Christ, his blessed son, continue to give you peace.