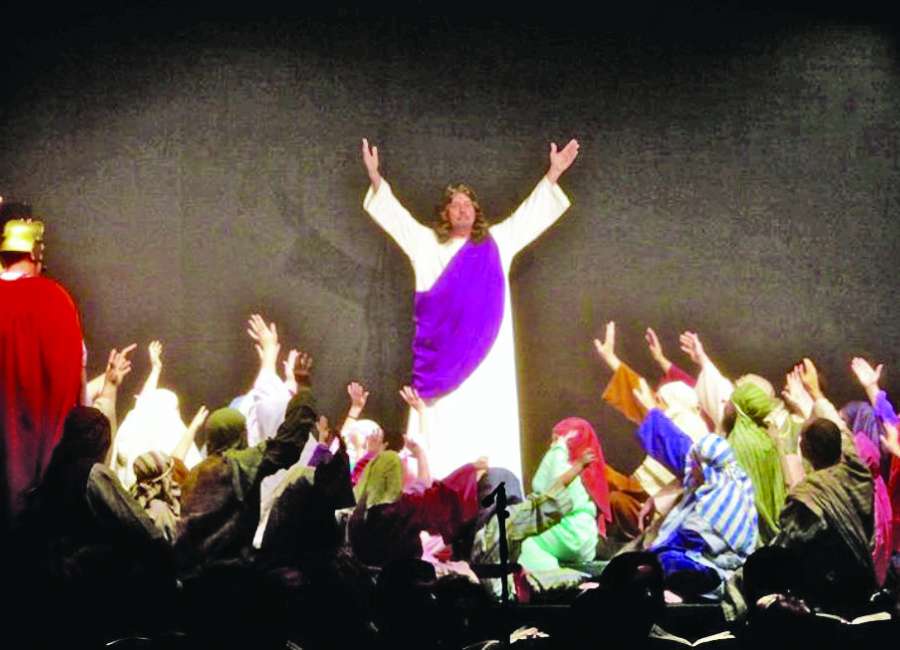 Today is Good Friday, when Christians reflect on the crucifixion of Jesus, and Sunday is Easter, when churches celebrate the resurrection.

From now through midday Sunday, area churches have busy schedules. Services are planned, along with some musical programs. Many churches will hold a sunrise service, recalling the pre-dawn visits to Jesus's empty tomb told in the New Testament.
Foundation Christian Church will be serving up some waffles to start Easter Sunday. The church, which meets at Newnan High School, will hold its service at 10:30 a.m. but a Waffle House food truck with be on site at 9:30 a.m. offering free waffles.
After the service there will be an egg hunt – with 2,000 eggs – for the children.
Today, at least two churches are offering opportunities for prayer and reflection. Central Baptist Church in downtown Newnan will have its sanctuary open from 10 a.m.-noon, when a service will be held.
The Meditation Labyrinth at Moreland United Methodist Church will be open today from 11 a.m.-2 p.m. and 5-8 p.m.
Moreland Methodist will also have a drama, "Shadows of the Cross," that will be presented today at 7 p.m. in the fellowship hall. "The Life, Death and Resurrection of Jesus Christ," a play, will be staged at Church of God of the Union Assembly, 3821 W. Hwy. 34 at 7 p.m. today and Saturday.
Three churches will be joining for a Good Friday service at 7 p.m. at Allen-Lee Memorial United Methodist Church in Lone Oak, 7 p.m. Al Smith, pastor of Clark Chapel United Methodist Church in Luthersville and a member of the Coweta County Commission, will be preaching.
Today's schedule also includes an egg hunt at 8 p.m. at Welcome Road Baptist Church.
Other events on church calendars for today include:
• Stations of the Cross, St. George Catholic Church, noon.
• Good Friday Service, Cornerstone United Methodist Church, noon.
• Good Friday Prayer Service, First United Methodist Church, Newnan, noon.
• Stations of the Cross, St. Paul's Episcopal Church, noon.
• Good Friday, Freeman Memorial United Methodist Church, Peachtree City, noon.
• Community Good Friday, Holy Trinity Catholic Church, Peachtree City, noon.
• Seven Last Words, St. George Catholic Church, 1 p.m.
• Tenebrae, St. George Catholic Church, 2 p.m.
• Spanish Live Stations, St. George Catholic Church, 3 p.m.
• Liturgy of Good Friday, St. Paul's Episcopal Church, 7 p.m.
• Good Friday Service, Sargent Baptist Church, 7 p.m.
• Good Friday, Resurrection Lutheran Church, 7 p.m.
• Passion/Veneration, St. George Catholic Church 7 p.m.
• Seven Sayings from the Cross, Change Church, Grantville, 7 p.m.
Several churches are having egg hunts on Saturday. Macedonia Baptist's hunt and Spring Festival will be from 10-11:30 a.m. for toddlers through sixth grades. Games and crafts will follow the hunt.
In case of rain, Macedonia's hunt will be held in the activities building.  
Other egg hunts scheduled for Saturday are at St. George Catholic Church on Roscoe Road, 10 a.m.; Cathedral of Christ the King near Sharpsburg and Resurrection Lutheran Church on Lora Smith Road, 11 a.m.; Sunnyside Baptist Church, Greenville Street, 1 p.m.; Haralson City Park, sponsored by First Baptist of Haralson and Sharpsburg Town Park, 105 Main St., sponsored by Sharpsburg Baptist, 2 p.m.; Freeman Memorial Methodist, 2:30 p.m.; and Fellowship Baptist Chapel, 1788 Tommy Lee Cook Road, Palmetto, 3 p.m.
The Blessing of Easter Food and Baskets is set for noon Saturday at St. George Catholic Church. Christ Our Shepherd Lutheran Church in Peachtree City will hold its Easter Vigil at 6 p.m. A bilingual Easter Vigil will be at 8 p.m. at St. George, and the Great Vigil of Easter will be at 8:30 at St. Paul's Episcopal Church, which is also on Roscoe Road.
First United Methodist Church of Newnan, Newnan Chapel United Methodist Church and Newnan Presbyterian Church will hold a joint sunrise service on Sunday at 7 a.m. at the Greenville Street Park.
Other sunrise services scheduled include, 6:45 a.m., First Baptist, Haralson, breakfast to follow; 7 a.m., East Newnan Baptist, Macedonia Baptist/breakfast, Sunnyside Baptist/breakfast, Sargent Baptist Church/breakfast, Moreland Methodist/breakfast, Luthersville United Methodist Church/breakfast, Grantville First United Methodist, Change Church/Grantville; 7:25, Word of God Lutheran; 7:30 a.m., Freeman Memorial Methodist.
An Easter Breakfast will be held at Resurrection Lutheran Church from 8:30-9:30 a.m. The Men of RLC will be preparing scrambled eggs, pancakes, bacon, sausage, fruit, coffee and juice.
There will be an Easter Fellowship Coffee in the fellowship hall of FaithCreek United Methodist Church, 2331 Highway 29 North at 9 a.m. and an Easter covered dish breakfast at Liberty Christian Church at 9:15 a.m.
Egg hunts on Sunday are set for 9:30 a.m. at Hopewell United Methodist Church, Tyrone and following the Easter program after the 10 a.m. service at Providence Baptist Church, Summers-McKoy Road. There also will be one at St. Paul's Episcopal Church following its 10:30 service at Griffin First Assembly/Newnan on Jefferson Parkway after the Illustrated Easter Message at 10:45 a.m.
Butterflies will be released during Sunday school at Moreland Methodist at 10 a.m.
"How Beautiful: He Paid the Debt I Owe," a cantata, will be presented at Emory Chapel United Methodist Church, 2677 Highway 34 West at 10 a.m.
There will also be special music at Central Baptist Church's 10:55 a.m. service. Central will have a string quartet. Paul Lisborg will play the trumpet, and Carmen Skaggs will be the soloist.
  
Bethel Christian Church in Heard County is holding its Spring Revival at Easter. There are services today at Saturday at 7 and on Sunday at 9 a.m. The church is located at 260 Armstrong Mill Rd., Franklin.