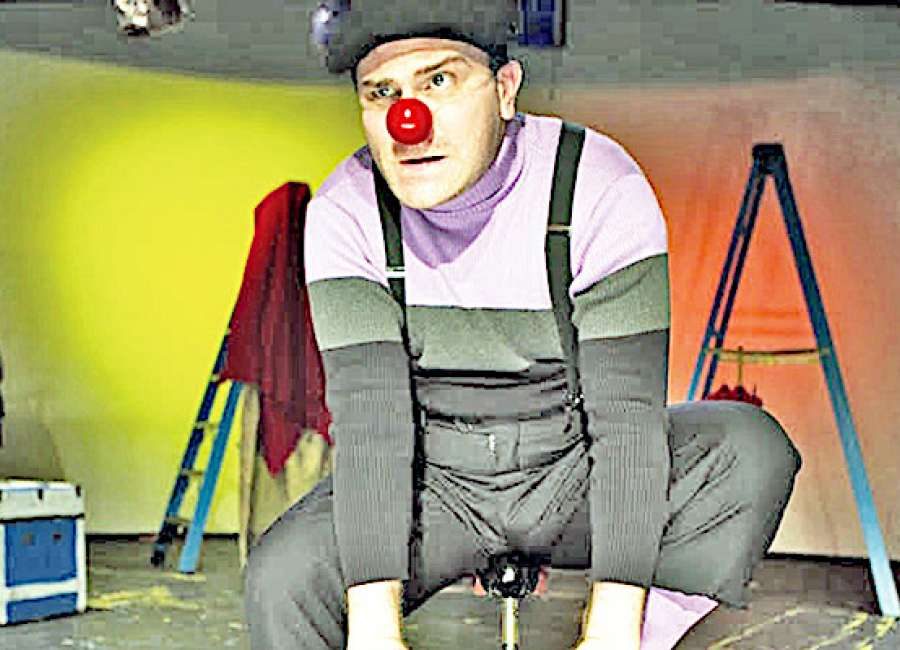 By TAYLOR ROBINS, taylor@newnan.com
Drawn to performing, Newnan native Mike Funt found his passion in being a clown and has grown his passion into something that others can benefit from.
"Performing is the thing that I've always been good at, so I've always naturally been drawn to it. I've always loved really great comedic performers, so I've always connected to them," Funt said. "As a result, I've always tried to bring this understanding of life and sort of interpretation of life to people and kind of let them laugh at all our foibles and things that we take too seriously."
Funt has done theater, theme parks, voiceovers, stand up comedy and improv. His inspirations are Dick Van Dyke, Bill Irwin, Charlie Chaplin, Buster Keaton and classic cartoons like "Looney Tunes."
He recently taught a clown workshop in Newnan, where he grew up, and performed in "Peter and the Starcatcher" at Newnan Theatre Company.
The last showing of "Peter and the Starcatcher" is today at 3 p.m.
"It's been pretty good and people seem to really enjoy the show," he said. "It's a really funny show but there are also some tender parts to it, and some pointed parts as well."
Funt said the show is interesting "because it's a funny show but it's such a broad spectrum of funny."
"There's big silly slapstick parts," he said. "There's also smart literate clever parts as well. It's just a really fun show. It's been a really fun and great experience."
After living in California for the past 12 years, Funt said he enjoyed being back in Newnan.
"I haven't been back in about four years," said Funt. "This is the longest stretch I've been here since I've moved away. I grew up in the downtown area, so it's nostalgic to walk around Court Square. It's also interesting to see how things have changed, all the restaurants and boutique shops and coffee shops. That stuff wasn't there when I was here."
Funt became involved with the Newnan Theatre Company at the age of 14. He performed, directed and wrote for a few shows. After getting his feet wet there, Funt attended Valdosta State University before moving to California and starting his own performance group, Four Clowns.
"I'm the artistic director, and I also have a managing director, and we kind of pick what we want to do," Funt explained. "And then we produce about three shows a year on our own. We partner a lot with other, bigger companies."
Funt said he hopes to grow his company by adding an outreach element. He said he wants the company to start performing for nursing homes, children's hospitals and VA hospitals, along with taking humanitarian trips.
The performer is not new to relief efforts. Funt recently came back from Puerto Rico, where he partnered with Clowns without Borders to bring joy to the children of the area. Funt said the experience was "intense," and that he was amazed at the children's resiliency.
"Some of them go to school where they have a generator for half of the day, and return to homes that don't have electricity or water," he said. "Some of them don't have roofs still."
The island was hit by Hurricane Maria in September of last year. Funt and Clowns without Borders stayed in Puerto Rico for 10 days.
"I've always been a person who has to go and see things," said Funt. "For me it doesn't resonate to just read about it. I've always been a person who wants to connect with those people and bring back what I've seen to people who have the means to support."
He said he relished being able to "connect with people of all walks of life."
"Recently, with the shape of the world and the climate, I wanted to do more of that kind of thing that I'm good at (performing)," Funt said. " I don't have a lot of money and I don't have other skills to bring to it but I do have this skill set. So that's what I want to do."