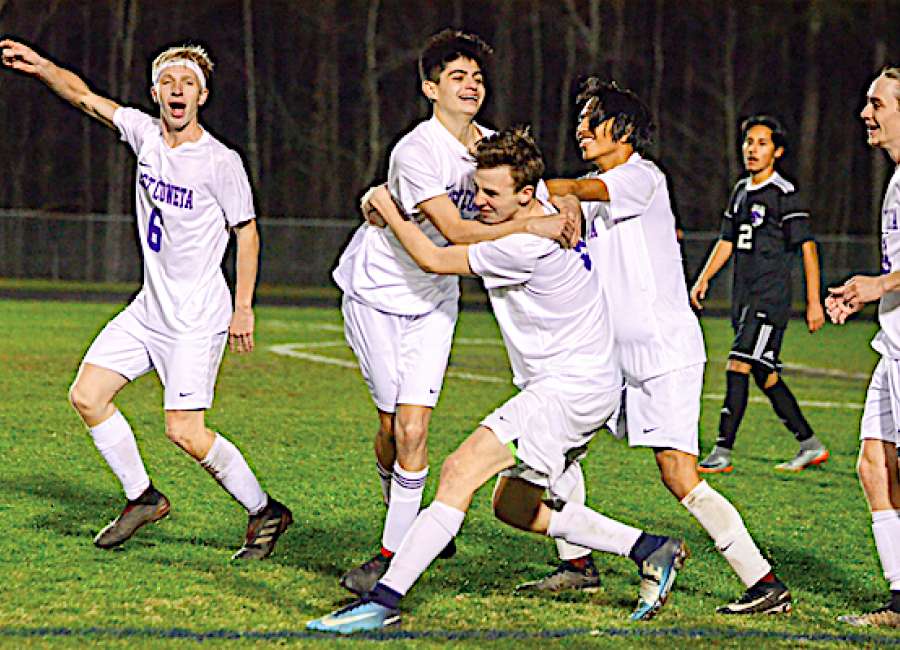 By CHRIS GOLTERMANN CowetaScore.com
East Coweta's soccer goalies came away with shutouts in Friday's non-region sweep of Chapel Hill at Garland Shoemake Stadium.
But for the most of 80 minutes, they were spectators of two dominating efforts that had teams maintaining control throughout while getting just about everybody involved.
Four Lady Indians each recorded goals in a 4-0 victory before five Indians added tallies of their own, including two from Tyler Stewart in the second half, en route to a 6-0 win. 
The Indians, meanwhile, struck first in the ninth minute of play after keeping the pressure on Chapel Hill's goal. The push began with Ty Harrison on right wing before a cross bounced around inside the six-yard before it was cleared right to Asher outside the 18. With the Panthers' keeper out of position, the senior quickly blasted a shot into a vacant net.
Both East Coweta teams added a second goal in the final 10 minutes of the first half to take 2-0 leads into the break.
The Lady Indians had a handful of earlier oppor- tunities go astray, hitting shots of both posts along with a pair of break ins off the left side by captain Adriana Garcia.
But the junior made true after a flick from teammate Hailey Johnson got past Chapel Hill's center back, sending Garcia alone on net before burying a shot for a two-goal advantage with 9:10 left in the first half.
Johnson added one of her own to close the victory on a rebound off a shot from Garcia who broke in along the end line from the left side. Prior to that, Emily Darnell's low, hard shot in the 62nd minute caromed off the fingertips of the Lady Panthers keeper and rolled in to push a comfortable three-goal advantage in front of keepers Abbie Chaves and Sarah Allen.
The Indians, meanwhile, scored four times in the second half to put their keeper, Sam Briggs, at ease.
Briggs had kept the shutout intact by handling a knuckleball off a hard shot that changed directions toward the right post prior to halftime. East Coweta had kept the pressure on Chapel Hill immediately after Asher's initial tally, with Francisco Duarte blasting a shot just under the crossbar and in front of the goal line.
Possession remained tilted in the Panthers end, however, with Ezra Rubenstein nearly getting his foot on a loose ball in the crease on a play that increased a chippy atmosphere between opposing lineups in a game that ended with red card issued to a Chapel Hill defender.
Harrison, though, helped East Coweta get on the scoreboard again before halftime on a rush that ended with a perfect volley from Jeffrey Redmon with 2:30 remaining for a 2-0 lead.
The Indians then put the game out of reach with three goals over a span of eight minutes while taking advantage of corner kicks. Ismael Aguirre's header found teammate Jesus Avila in the crease for a initial flick of his own before depositing a rebound into the right corner to push the score to 3-0 just six minutes into the second half.
Another serve off a corner found Stewart alone at the far side with time to fire a calculated shot through traffic into the lower left side of the net.
Less than a minute later, East Coweta's boys were back in Chapel Hill's zone again, with Stewart floating a high cross that was caromed off the hands of the Panthers' backup keeper and into the net.
With reserves working their way onto the field ahead 5-0, newcomer Manny Escobar poked in a rebound off a hard shot on net from teammate Chase
Manning to close out the scoring.
HIGH SCHOOL LACROSSE
Trinity Christian splits at Darlington 
Fresh off Tuesday's season-opening victory at home over Our Lady of Mercy, the Lions continued to roll into its inaugural year of varsity play, defeating Darlington 23-12 on the road.
A doubleheader featured the debut of Trinity's varsity girls program coached by Lauren Soulon. The Lady Lions came up short, however, in a 12-6 loss, while getting a chance to rebound Saturday against Lanier.
Both teams host Whitewater on Monday.
HIGH SCHOOL TENNIS
Newnan drops pair in trip to Bremen
Newnan tennis line-ups both received vic- tories from its No. 2 and No. 3 singles players, but fell short in 3-2 losses on Friday.
Turner Scarborough and Harris Bass earned victories for the Cougars, while Sasha Harris and Aja Sparks picked up wins for Newnan's girls.