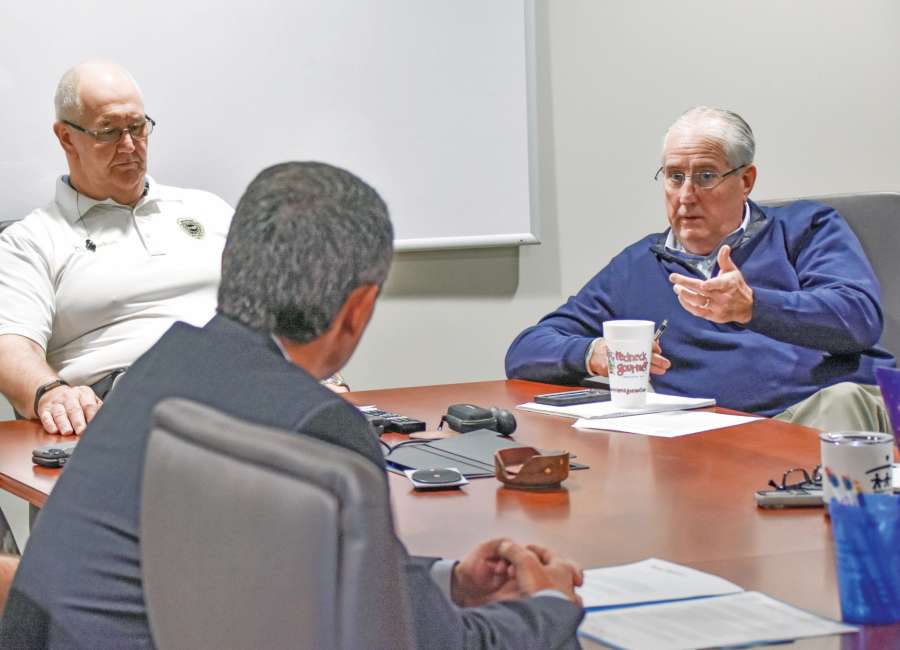 Strong personal connections, regular interaction with students and reinforcing the "see something, say something" rule may have played a part in de-escalating several incidents involving threats to Coweta County schools last week.

In the case of a 17-year-old East Coweta High School student whose loaded 9mm gun was taken from him without incident Thursday by Principal Steve Allen and school resource officers, a deliberate attempt over time to build a school climate of trust was a key element, according to Coweta County Superintendent of Schools Steve Barker.
"As a principal, Steve builds relationships with students," Barker said. "In a school that size, you'd be surprised how many kids he knows by name. In his announcements each day, he talks to the students about 'see something, say something.'"
With more than 3,000 students, East Coweta – the sixth largest high school in Georgia – also relies on the presence of two longtime SROs. Allen, Lt. Rodney Ison and Lt. Vince Meadows worked quickly to squash the threat because of their shared and overriding concern for the safety of students and staff, Barker said.
""It wasn't a long-term plan, a devised plan," said Barker, a former high school principal. "You understand a lot of ways handle things, even if you don't draw it up in advance. You understand one another, and that helps."
With the help of Ison and Meadows, Kenneth Terrell Bullard was isolated and disarmed within minutes of the notification – long before much of the student body and staff were aware of the threat, according to Barker.
"(Allen) got the individual in the least populated area and had him disarmed before anybody else in that school really knew what was going on," Barker said, adding, "There was never anyone in danger while they were in the process."
Coweta high schools operate like small colleges, Barker said, which makes for a unique learning experience, but also requires the diligence of everyone from students to custodians when controlling entry and access is impractical.
"We have online learning, apprenticeships and dual enrollment," Barker said. "We also can run several schedules on one campus. We didn't decide that in the past few years – that's been 20-plus years in the making with our college and career academy. But there are tradeoffs for that. When your high school's a city block with 14 or 15 buildings, it comes with the inability to do certain things in terms of one point of entry and one exit. So it becomes even more important that you have that trust factor, those relationships and ownership of that environment."
Sheriff Mike Yeager said that while he understands the tendency to second-guess decisions about school safety, trust should extend to the school system and law enforcement.
"A situation doesn't even have to happen and we're talking about what's the best path to take from this," he said. "The public, and especially parents, need to trust that. This isn't all new to us. We're constantly thinking, and this school system is constantly thinking, about what else they can do."
Administrators and law enforcement often have more at stake than people realize, Barker said.
"We have many of the people on the decision-making team, me included, who are sending kids to school in our district every day," he said. "I know the same is true for law enforcement. It's easy to forget sometimes that there are many, many people in the system who are sending their children to school."
Open and frequent communication between parents or guardians and students not only helps identify potential safety concerns, but it also reminds students that the legal consequences of their actions at school can drastically change their lives.
In the East Coweta incident, Bullard is charged with terroristic acts and threats and with carrying a weapon in a school.
One juvenile – a former student who called in a threat specifically targeting Evans Middle School on Friday – was arrested in the Savannah area, charged with terroristic threats. Students at Newnan and Northgate high schools will face charges stemming from school-related incidents last week as well.
"The district attorney's office takes very seriously crimes involving weapons on school grounds and any terroristic threats made relating to schools," said Herb Cranford, district attorney for Coweta Judicial Court. "Students must be able to receive their education in a safe environment and their parents and the community deserve to know our children are safe at school."
Cranford said he appreciates the work of Yeager, Barker and Newnan Police Chief D.L. "Buster" Meadows, and that his office intends to work alongside law enforcement to protect students and teachers. Cranford warned that penalties will be severe for those who threaten that safety.
"Anyone who would consider taking a weapon to school or making a threat regarding a school should know that doing so is felony which carries a prison sentence," Cranford said.