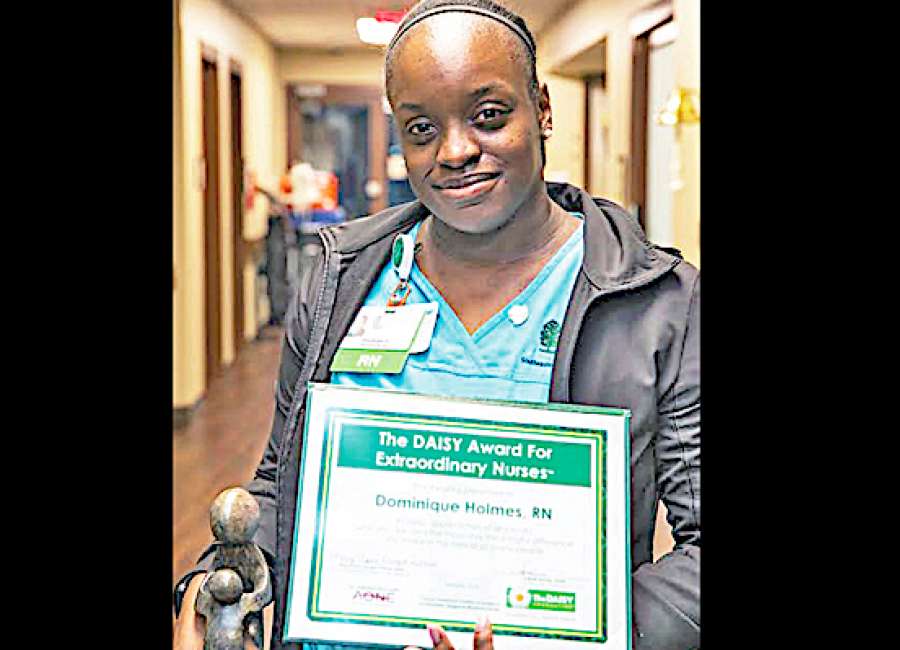 Registered Nurse Dominique Holmes of Sharpsburg always makes sure her patients come first as she walks the hallways of the Cancer Treatment Centers of America in Newnan.

Recently, some of those same patients expressed their appreciation and nominated Holmes for the national DAISY Award.
Holmes recently found out she won the prestigious award.  
"When they called my name for the DAISY Award, it was a huge surprise," said Holmes. "I was really excited and blown away to know that I was nominated by two patients … this was completely unexpected. I am extremely grateful and joyous for the acknowledgement."
DAISY, which stands for Diseases Attacking the Immune System, is a national award that recognizes extraordinary nurses who go above and beyond to provide care to patients and show compassion to a patient's family, according to www.daisyfoundation.org .
Winners of the DAISY award can be nominated by their colleagues or patients.
Holmes works with post-operative patients in CTCA's advanced surgical recovery program.
The Sharpsburg woman received her degree in nursing from Columbus State University.
Holmes has worked in the oncology field for seven years, but said she initially planned to work in the labor and delivery department.
"I had a nephew born three-months premature. My family and I spent those three months driving back and forth from Birmingham, Al," she explained. "While I was there, I witnessed the nursing and innovation of medicine, which is what drove me into nursing.
"I'd say that I chose nursing, but oncology chose me … There were some nurses that took me under their wing and taught me some of the things you can't learn in school," Holmes added.  
Her nephew is now 13 years old and shares his story of survival.
Similar patient testimonies are another reason why Holmes enjoys her job - but she admitted at times her work can also be a challenge.
"I get to meet different people every day. Everyone has a different experience and their own story. Learning how they were diagnosed and their life story is one of the greatest parts of my job," she said. "But working in oncology does get hard. It's hard when you can't fix their (patients) problems … it's hard when they get bad news. It's hard when anyone gets bad news, but especially when the patients have children and haven't come to terms with their diagnosis yet."
While Holmes is excited about winning the DAISY award, she is also taking all the recognition in stride and remains focused on her patients.
"Growing up I knew I wanted to help people. I thrived on helping people and got fulfillment from it," Holmes said. "This job allows me to do that, while making a difference."
Holmes said she plans on getting her Oncology Certified Nurse (OCN) certification.
The registered nurse also aims on starting a "clinical ladder project." She will research and present to her peers evidence-based findings about nursing-related subjects, such as overcoming a challenge, sickness or a disability.