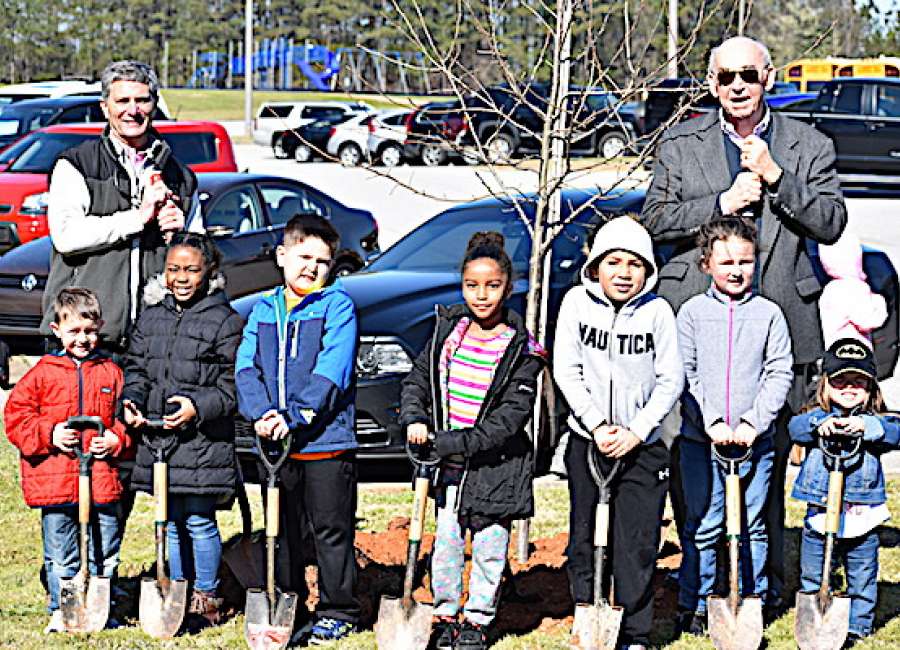 To celebrate Arbor Day, Newnan Mayor Keith Brady and representatives of the city's Beautification Department and the Newnan Tree Commission visited six local elementary schools to help teach kindergartners about the importance of trees.
After a welcome and introduction from Mayor Brady, Travis Cliett, labor supervisor for the city's Beautification Department, led an interactive discussion with the students on the importance of trees, different types of trees, and how to plant and care for trees. 
A tree planting ceremony also was held, during which students helped the city officials plant a tree on the school grounds to honor the kindergarten class. A plaque will be installed to commemorate the date and class. Students are encouraged to help take care of "their" tree and watch it grow as they grow.
"Arbor Day hopefully brings the beauty and significance of trees to the public's attention," said Mike Furbush, the city's landscape architect and arborist, who said city officials look forward to the annual ceremonies. "The kids are quite enthusiastic, and it's a lot of fun."
Tree planting ceremonies were held at Newnan Crossing, Atkinson, Jefferson Parkway, Ruth Hill, Elm Street and Welch elementary schools. Now in its 17th year, the Arbor Day program also featured a visit from Smokey Bear and representatives from the Georgia Forestry Commission, who presented each kindergartner with a small dogwood tree to take home and plant.