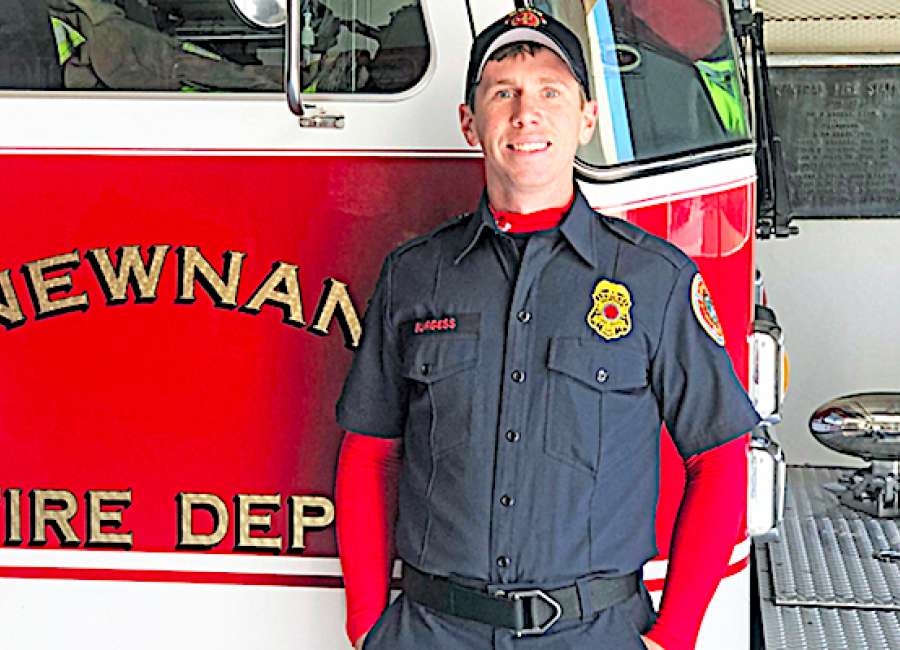 After completing a grueling six-day, 60-hour course, Moreland native and firefighter/ EMT Nic Burgess has made history for the Newnan Fire Department. 

In early March, Burgess was one of 24 firefighters from around the country to graduate from the Georgia Smoke Divers program. 
It was not only a personal achievement, but placed Burgess in the record books as being the first firefighter from the Newnan Fire Department to complete the course. 
"This program was the most challenging and rewarding experience of my life, Burgess said. "I am thankful for the support and guidance from God, my family, NFD co-workers, and friends. I one hundred percent would not have made it through the program without them." 
The Georgia Smoke Divers program is an intense course in Dalton, Ga., for experienced firefighters. A person must first qualify for the program before being considered as a candidate for the class. 
Burgess said hundreds of people competed in the qualifying round. He was one of 35 chosen for the Smoke Diver program - and was accepted on his first attempt to take the course.
"Every day was challenging and demanding. It was the hardest thing I've done by far," Burgess said. "But I wanted to better myself as a firefighter, push my limits and better my skills in the profession I chose to do." 
The Smoke Diver program pushes firefighters to their limits and further trains them in self-survival, firefighter rescue, advanced search and rescue, thermal imaging, emergency procedures, teamwork, discipline, team leadership, situational awareness and decision making. The group also learns how to function within the Incident Command System.
"The program … teaches you to keep trying even though you think you cannot," Burgess explained. "It pushes you past the point of exhaustion, both mentally and physically, it is at this point the program puts you through a series of drills that simulate actual fire ground operations." 
 
The Smoke Diver course includes drills to simulate challenges firefighters face in their line of work, such as battling structure fires, multiple-alarm fires and multiple fires within a single shift. 
  
Burgess said they were tested on the Self-Contained Breathing Apparatus, search-and-rescue methods and removing an "injured firefighter" from a dangerous environment.  
According to Burgess, during the final test each firefighter was given one bottle of air and searched a three-story building for nuts and bolts. Everything had to be found in the correct order or else firefighters would have to start the drill over again, with whatever amount of air they had left.
Thirty-five firefighters started the Smoke Diver program; only 24 were left standing on the last day - including Burgess. 
"I'm bringing back things that will make me a better firefighter, a better husband and a better person," Burgess said. "I know I can take on challenges, not be afraid to fail and push past my limits." 
"I was very happy for him," said new Newnan Fire Chief Stephen Brown. "I actually called him that night to congratulate him. It's a heck of an accomplishment - especially since he's the first in our department. He put us on the map."  
Burgess has been with the Newnan Fire Department for three years. 
He was born and raised in Moreland and graduated from Newnan High School in 2006. 
Burgess attended Jacksonville State University and received both a bachelor's and master's degree in emergency management and homeland security. 
Now that Burgess is a part of the elite Georgia Smoke Diver Association, he plans to help instruct the program. 
The course is only offered two times a year in Dalton.