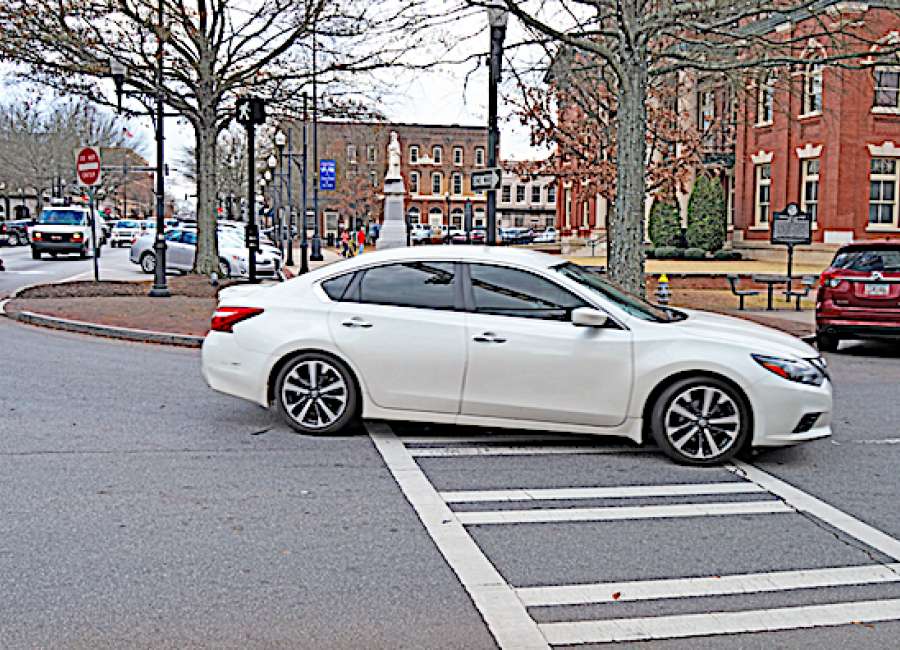 Norma Haynes has called Newnan home for almost 81 years. 

She says she loves the city, especially the sector surrounding Court Square. But Haynes says she dislikes the "racetrack" on the streets encircling the downtown area.
"I have seen mothers strolling their babies and having to literally run to try to keep from getting hit, even when they have the light for the crosswalk," Haynes said. "Our town is thriving, and it is thrilling to see the activity which takes place night and day around our downtown. But it should not be a racetrack. It should be a place that pedestrians can unhurriedly cross a street when the light tells them it is okay to walk. They should never have to run to keep from getting hit."
 
Newnan City Councilman Rhodes Shell said he also has made a mad dash across the streets surrounding Court Square. 
 
"I've almost been hit three or four times," he said. "(The street) in front of Vinylyte (Records) is the worst. People speed by and don't look … they don't observe that pedestrians have the right of way."
 
"You take your life in your hands, even though you have the light to cross in the crosswalk," Haynes said. "Automobile drivers fly around the corners in front of the Redneck Cafe, the record shop, the Alamo and in front of Oz Cutlery.  They have no regard for people trying to cross the street."
 
The speed limit on both Jefferson and Jackson Streets is 35 miles per hour. 
Both Haynes and Shell say they would like to see the speed limit reduced to 25 miles per hour, but that won't happen without permission from the Georgia Department of Transportation. 
Jackson and Jefferson Streets are state highways, also known as U.S. Highway 29, through downtown Newnan. 
  
"We've tried numerous times to lower the speed limit, but the state would have to do that," said Shell. 
Some towns, like Palmetto and Whitesburg, have been successful in reducing the speed limit on a state highway through the downtown areas, Haynes said.  
 
Newnan Police Chief Buster Meadows has officers patrolling the area and is aware of speeding issues. 
But sometimes, it's the pedestrians that are at fault, he said.   
"One problem we have is people crossing in between vehicles, instead of using the designated crosswalks. They're already in the middle of the street before drivers see them," Meadows said.  
According to the Georgia Governor's Office of Highway Safety, motorists "must remain stopped to allow a pedestrian to cross the roadway within a crosswalk … or when the pedestrian …  is within one lane of the roadway on which the vehicle is traveling or onto which it is turning." (GA Code 40-6-91).
 
The codes also state, "Every pedestrian crossing a roadway at any point other than within a marked crosswalk or within an unmarked crosswalk at an intersection shall yield the right of way to all vehicles upon the roadway unless he has already, and under safe conditions, entered the roadway." (GA Code 40-6-92).
 
Meadows said both drivers and pedestrians need to be on alert for each other. 
 
Meanwhile, Haynes says she would like to see pedestrian crossing signs and a lower speed limit in the near future. 
 
"... I love our downtown so very much and I always have," she said. "I want everyone to enjoy it safely as much as I do."