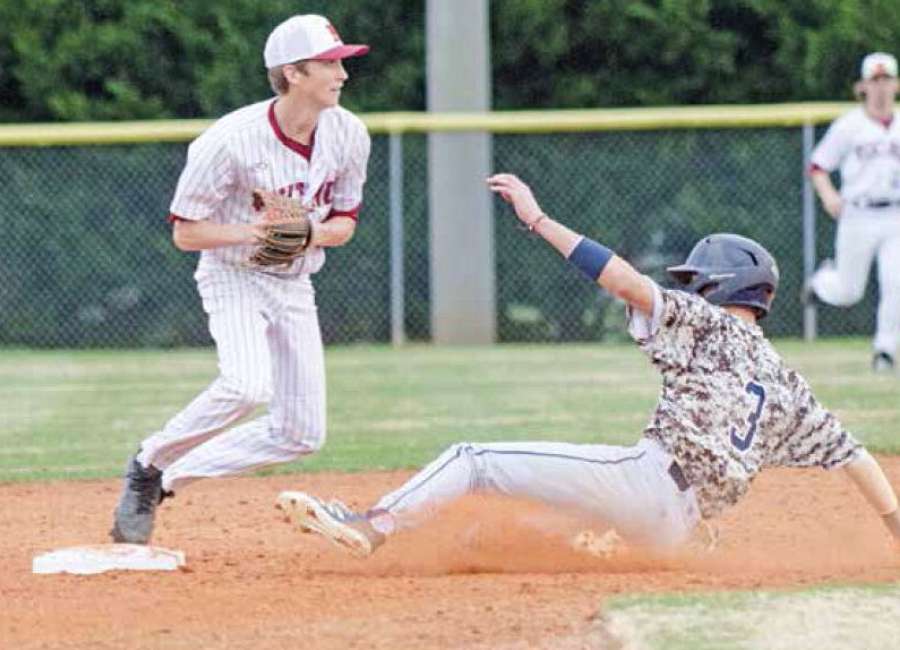 By Chris Goltermann / Coweta Score
Pitching and defense held up for the Vikings, who made the most of a 1-hit, eight-strikeout performance from a trio of right-handers to hold on for a slim 3-1 victory in the only meeting of county lineups this season.
Northgate made the most of a two-run rally in the third and manufactured an insurance run in the bottom of the sixth to win its fourth consecutive game and hand Cougars their first loss of 2018.
'We had a couple of situations where our pitchers got in trouble and they got out of it,' Northgate head coach Todd Herrington said.
It wasn't easy. Despite being held to a lone single in the top of the first, Newnan put multiple runner on base in each of its last three at-bats, including loading the bases in both the sixth and seventh, only to have the Vikings pitch out of the jam.
'For the fourth game of the season, it was a competitive playoff atmosphere,' Cougars head coach Marc Gilmore said. 'It's intense. Those kids are in the fire. When you get to the playof fs, good first round matchups and the second round then on, that's what those games are like.'
Northgate, which took a 2-0 lead through three innings behind sophomore starter Ryder Willard, turned the game over to reliever Donovan Devane in the sixth.
Devane loaded the bases with a walk and two hit batsmen, but consecutive strikeouts retired the side.
A pair of one-out walks to Newnan in the seventh brought on Viking senior shortstop Will Queen, who despite hitting a third Cougar with a pitch in two innings to again load the bases with two outs, got fellow All-County standout Will Wilbanks to bite on a fastball for a gameending strikeout.
'I knew he was a good hitter and all, so I just wanted to live away. I wanted to keep him off balance but I couldn't throw my curveball for a strike early in the count so I fell behind,' Queen said, who on a 3-2 count, saw catcher Andrew Baldwin signal fastball from pitching coach Lee McDermott. 'I was thinking curveball in my mind, but when he threw down fastball, I knew coach was right. So I just threw it where he called it, and it ended up working out.'
Gilmore could only tip his cap in Northgate's direction after finding a way to keep his team's bats in check.
'Credit to their guys. They wore us out at the plate. I get there's going to be days that you don't hit,' Gilmore said. 'We had two chances and we had the guy at the plate that we want [in the seventh]. I know Will's going to get it done more times than he won't.'
Pitching equally kept Newnan within range, with starter Jake Martin yielding two runs, one earned, in three innings .
Junior southpaw Jaxon O'Neal struck out four over the final three innings, allowing a leadoff single to Viking senior Connor Fortner in the sixth.
It was enough, however, for Northgate to manufacture an insurance run.
Fortner stole second, moved to third on a sacrifice bunt and scored when Newnan senior Hamilton Schubert, who had the Cougars' only hit of the game, chased down a foul ball near the right-field fence for an diving play, but with no chance of getting a relay to home in time to avoid the sacrifice fly off the bat of senior Noah Aaron, who connected for Northgate's first hit of the game in the second inning.
The Vikings finally broke through with two hits in the third to jump ahead to stay. Baldwin, a sophomore, fought off an 0-2 pitch for a bloop single to short center- field for a leadoff hit in the third that ignited Northgate's early 2-0 lead. Junior Shawn Ragan followed with a sharp single to left and both runners came in to score after moving up on junior Dalton Brooks' sacrifice bunt prior to a throwing error and a groundout by Fortner. 'We have a lot of senior talent, but a lot of younger guys are stepping up into big time roles,' Queen said. 'Everybody's contributing right now.' Despite an off night at the plate, the Cougars drew five walks to go with three hit batsman.
Neither Martin nor O'Neal surrendered a free pass on the mound as Newnan fell to 3-1 overall this season heading into Thursday's trip to Whitewater. The Wildcats dropped a 12-5 decision on Tuesday at East Coweta. 'Newnan played hard. They're battle tested,' Herrington said of the Cougars. 'They're hard to get out. Coach Gilmore does a great job with those guys over there. They play the game the right way, and it's good to play people like that.' Northgate, which was dealt some bad news this week with the loss of senior right-hander Corbitt Cimadevilla indefinitely to a wrist injury suffered on a slide into third, was coming off two solid wins last weekend in games played at Whitewater. The Vikings defeated Veterans 6-2 and the host Wildcats 6-3 while continuing to rebound from a season-opening loss to Shaw. 
Up next for Northgate is a non-region home game against Harris County on Thursday. 'This early in the season, we're working guys at different positions, changing the batting orders up,' Herrington said. 'Which is good, because we have some depth.' 
VIKINGS 3, COUGARS 1