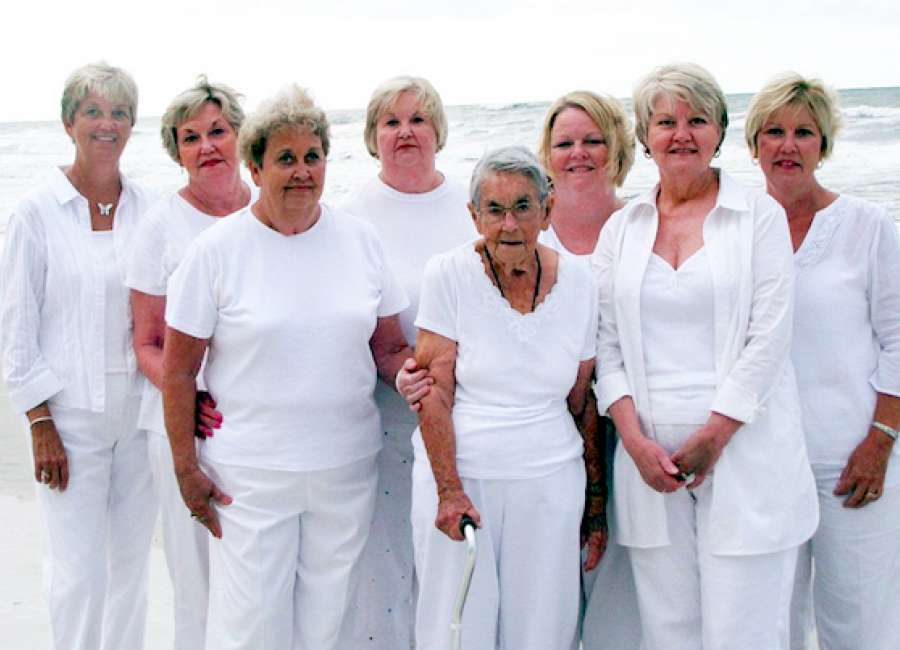 Twelve years ago, seven sisters decided to leave behind a legacy for their children and grandchildren, in the form of a cookbook. 

Martha Hale, Joyce Harlin, Ellen Hubbard, Becky Ott-Carden, Willie Todd, Bobbie Williams and Shirley Williamson pulled old family recipes and added some of their own to the collection. 
The recipes were compiled, typed and bound into a cookbook titled, "The Sisters Family Cookbook." 
The books were handed out as Christmas gifts to their loved ones later that year. 
Never in their wildest dreams did the seven sisters imagine how popular those cookbooks would become - or the positive impact the books would have on folks around the world. 
More of the sisters' story will be featured in Sunday's edition of The Newnan Times-Herald. 
Below are a few of the women's favorite recipes from the "Sisters Family Cookbook" and the "Sisters Family Cookbook: Second Helping." 
•••
Apricot Glazed Chicken 
This recipe was contributed by sister, Joyce Harlin. According to Joyce, this recipe for apricot glazed chicken is low in fat  - one chicken breast equals 273 calories. 
Ingredients:
½ cup Ketchup
½ cup Apricot Spreadable Fruit
1 Tbsp. Canola oil
2 tsp. Lemon juice
2 tsp. Minced garlic
1 tsp. Hot pepper sauce (can add more for taste)
1 tsp. Ground pepper
¾ tsp. Salt
6 (7 oz.) Bone in, skinless, chicken breast halves
Recipe: 
Line a shallow roasting pan with foil, spray foil with cooking spray and set aside.
In a microwave safe bowl, combine all the ingredients - except the chicken. Microwave mixture on high for 90 seconds, stirring once. 
Dip chicken into mixture and place on roasting pan. 
Pour remaining sauce over chicken.
Bake uncovered at 350 degrees for 45-55 minutes. Baste chicken at least once during that time. 
Serve! 
•••
Too Easy Cherry Cobbler
The title says it all!
Ingredients: 
2 (21 oz.) Cans of cherry pie filling
1 (15 oz.) Can of pitted, dark, sweet cherries in heavy syrup (drained)
¼ c. All-purpose flour, divided
½ tsp. Almond extract 
5 Pieces of white bread, trimmed
1 ¼ cup Sugar
½ cup Butter or margarine, melted
1 Large egg
1 ½ tsp. Grated lemon rind
Recipe: 
Stir together pie filling, cherries and two tablespoons of flour.
Stir in almond extract.
Place in lightly greased (or sprayed) 8-inch square baking dish. 
Trim crusts from bread, cut each slice into 5 stripes each. 
Arrange bread strips on top of cherries.
Stir together sugar, melted butter, egg, grated lemon rind and 2 tablespoons of flour in separate bowl.
Pour mixture over bread strips. 
Bake at 350 degrees for 35-45 minutes, or until golden brown and bubbly. 
Serve while warm.
•••
Bobbie's Famous Pimento Cheese Spread
This recipe was contributed by sister, Bobbie Williams in the "Sisters Family Cookbook: Second Helping." The cookbook was published in 2008, about two years after the women's first cookbook. Hang on to your hats - this spread is spicy!
Ingredients: 
1 (10 oz.) can, Rotel original diced tomatoes and green chilies, drained 
1 cup Mayonnaise
1 tsp. Worcestershire sauce
½ tsp. Salt
2 (8 oz.) blocks Sharp Cheddar Cheese, shredded (Pre-shredded cheese is not recommended for this recipe)
1 (4 oz.) jar Chopped pimentos, drained
Recipe: 
Stir together diced tomatoes and green chilies, mayonnaise, Worcestershire sauce and salt in a large bowl. 
Fold grated cheddar cheese and chopped pimentos into the mixture. 
Serve with crackers or on sandwiches.