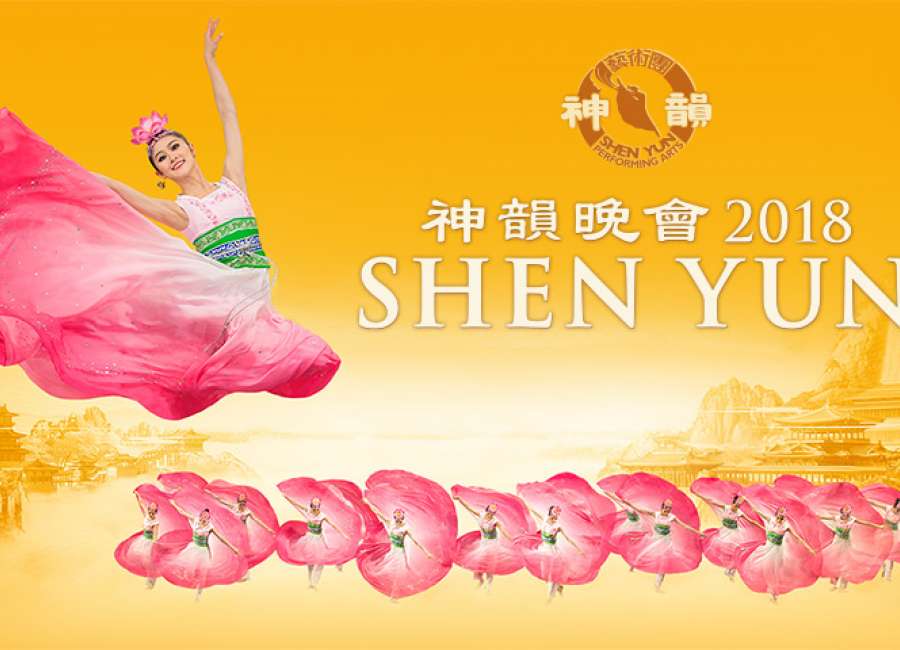 Shen Yun, a dazzling display of Chinese culture, is coming to the Atlanta area in April, sponsored by a religious group that has undergone great persecution in China.

Shen Yun, which features Chinese music, dance and costumes, will be at the Cobb Energy Performing Arts Centre from April 4–8. The project began in 2006 when a group of Chinese artists came together in New York with a vision of preserving the best of China's cultural heritage and sharing it with the world.
Information on the Shen Yun website stated the organizers "drew courage and inspiration from their shared practice of Falun Dafa." Falun Dafa, which is also called Falun Gong, is "a spiritual discipline common to all of Shen Yun's artists."
According to the website, "The company's repertoire regularly includes important works shedding light on the plight of believers like themselves in communist China today."
Falun Gong was first introduced to the public in China in 1992 by the founder, Li Hongzhi. By 1999, Falun Gong attracted about 100 million people. Most of the growth was by word of mouth, and the group began to be persecuted by Chinese authorities.
Falun Gong has been taught in Coweta County. A decade ago, the Chinese government's persecution of followers of Falun Gong made headlines. The media coverage has largely gone away, but followers of Falun Gong – and supporters of religious freedom – say the persecution continues.
There is no known Falun Gong group in Coweta County, although Atlanta practitioner Robert Lu lectured on Falun Gong and demonstrated the spiritual practice at the Newnan-Coweta Public Library in December 2000. At that time, Lu said the practice has its roots in Buddhism.
Dr. Yang Jianli, founder and president of Initiatives for China, talked about the issue of Falun Gong persecution in 2011 in conjunction with a walk held to highlight the problem.
"The issue of human rights is not political. It is not situational. It is not fashionable – something that can be given and taken away by whim. It is the very bond between humans and their Creator. Human rights give us dignity and purpose," Yang said at a New York rally.
Lu said when a person who had previously been ill or immoral had a major lifestyle change because of Falun Gong, friends and family took notice. Many began following Falun Gong teachings themselves. In the first seven years of its existence, Falun Gong grew to an estimated 100 million practitioners.
Chinese media reportedly began attacking Falun Gong in 1996. Efforts by Falun Gong followers to explain the practice two years later were ignored. 
"In China, they don't allow anyone else to speak out," Lu said.
On April 23,1999, Falun Gong practitioners were beaten by government forces. A group of 10,000 practitioners subsequently went to Beijing. 
"They tried to appeal to the government leaders to get this resolved," Lu said, adding they were not successful.
In 2000, Lu said he believed Falun Gong was chosen to be made an example. 
"They wanted to use this to stabilize their power," he stated. "Because Falun Gong is a peaceful group, they will not return a fist or even say a bad word back."
This pacifist stance, Lu said, made the group attractive to some opportunistic government leaders. Rather than seek to squelch a true dissident group, which might respond with terrorism, they chose to attack a peaceful movement without political aims.
Lu, who grew up in China, described Falun Gong not as a religion but as a "high level cultivation practice system." Falun Gong combines physical exercises with readings that have a spiritual component. 
"The principles in Falun Gong are truthfulness, compassion and forbearance," according to Lu.
The practice teaches people "to try to do the best you can," he said.
Lu said it may be hard for people from a belief system other than Buddhism to focus on Falun Gong, but noted people from many different backgrounds have followed the practice. 
"Some people believe in Buddha. Some are Christians. It will bring people closer to God," he said.
The Falun Dafa Association of Atlanta, which sponsors the periodic Shen Yun performances in the Atlanta area, has as its mission preserving and promoting traditional Chinese culture by introducing Falun Dafa/Falun Gong and Shen Yun to the general public.