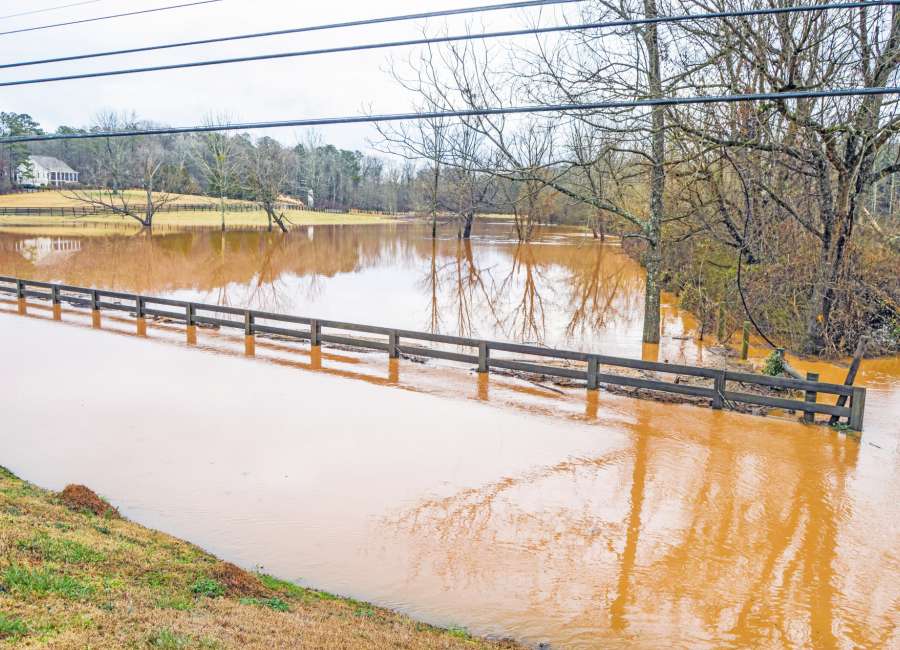 Mother Nature put on quite a show Wednesday morning as strong storms rumbled through the county.
Strong winds, lightning and heavy rains battered the area for close to two hours, leaving some low lying areas flooded.
The National Weather Service briefly issued a tornado warning for the southern half of Coweta County around 9:15 a.m.
Coweta County Emergency Management Director Jay Jones said it was a doppler indicated tornado and no damage was reported.
The bad weather blew through at an opportune time as Jones, government officials and disaster related organizations throughout Georgia, educate the public this week during Severe Weather Awareness week.  
Connie Hensler, executive director of the Central Midwest Georgia chapter of the American Red Cross, said people should remain prepared at all times. That includes putting together a disaster relief kit.
"Keep supplies on hand: water, snacks, flashlights and batteries. If you already have a kit, go through it and rotate in fresh batteries and new bottles of water and snacks so they don't go bad," she said. "It's a good time to assess if you have a fire-proof safe and make copies of important documents, such as birth certificates. This gives you a jump start, should something happen."
"Be prepared for the possibility of being without power or able to get food or medicine for at least 3-5 days during a weather disaster," Jones added.
Jones and Hensler both suggested creating plans for fire and weather emergencies, sharing them with loved ones and practicing those protocols on a regular basis.
State Insurance Commissioner Ralph Hudgens urged homeowners, renters and business owners to make a list of all valuables, furniture and electronics, plus photograph or videotape the items.  
Hudgens also recommended folks check their insurance policies, understand what type of coverage they have and make sure it suits their needs.
But one of the best ways to remain one step ahead of a storm is to stay informed.
In addition weather sirens, the county will soon sound the alarm using "Code Red," a reverse 911 system.
According to Jones, people can sign up for the service or download the app to their smartphone.
"We can use it to tell folks to boil their water, stay off icy roads or alert them if there's a tornado warning," he said. "The Code Red app will be a big help to everybody."
The American Red Cross also offers a severe weather app that people can download to their phones.
"It has audible alarm that goes off if there is a warning in your area," Hensler said. "You can also program other zip codes into it and get alerts for relatives who live in other states. You can call them, make sure they get to a safe place and then make sure they're okay.
"People seemed more inclined to take action now," she continued. "Maybe it's because we've had so many weather-related situations happen in the past few years, people are saying, 'Lets be ready.'"
The American Red Cross and the Code Red apps are free, said Hensler and Jones.
Both executive directors also recommended people buy a weather radio for their home.
Severe Weather Awareness week ends on Feb. 9.
For more information, including weather preparedness checklists, or to download weather alert apps, visit redcross.org or ready.ga.gov.