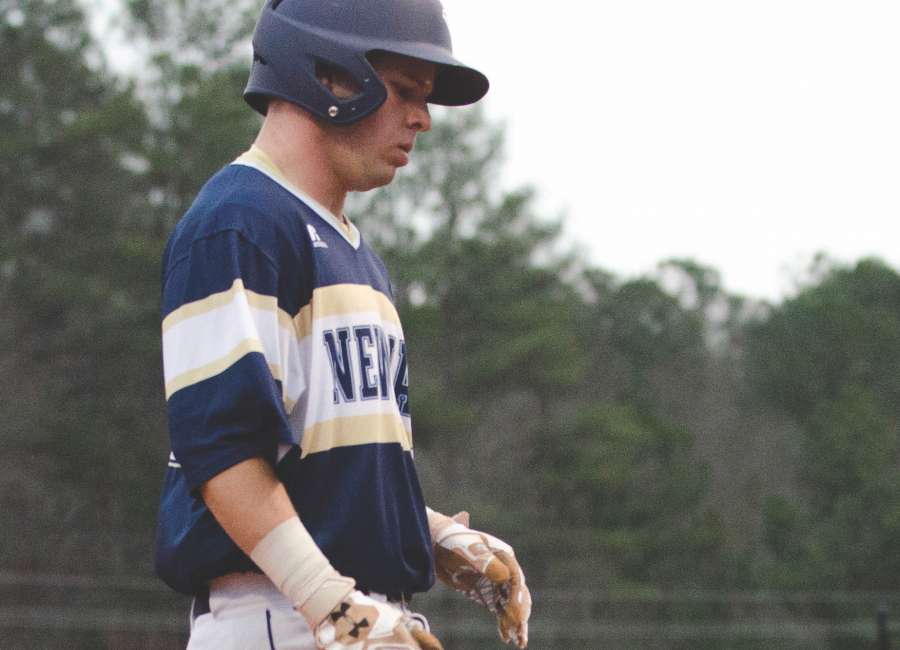 By CHRIS GOLTERMANN - CowetaScore.com
When Newnan head baseball coach Marc Gilmore gave his seniors a chance to pick a single word to be its theme for the 2018 season, only one seemed to best fit the scenario facing the Cougars this spring.
"Compete."
Even with a dozen upperclassmen on the roster, there aren't many positions set in ink heading into Monday's season opener at home against Northside-Columbus.
Coming off last year's runner-up finish in Region 2-7A, Newnan returns three regular position players and three pitchers that threw at least four innings during a 17-15 season that ended with a first-round playoff loss to Lassiter.
They include Columbus State signee and All-County outfielder Will Wilbanks, who is coming off a junior year where he batted .349 with team highs of 13 doubles and four triples.
The Cougars were hit hard by a graduating class that included All-County selections K.D. Satterwhite in center field, Jacob Snellgrove and William Strickland on the mound, along with infielders Eric Russell, Bennett Rowan and Ben Matistic.
"We're trying to fill a lot of holes. The good thing is that competition brings out the best in everybody," Gilmore said. "When you have to go out and compete every day, it keeps the guy in front on his toes and its keeps the guy behind him on his toes moving forward. That to me is gonna be the mindset we keep the entire year."
Last Friday's scrimmage saw the Cougars battle Starr's Mill in an 8-7 loss in a game where Newnan led 6-1 after four innings before beginning to substitute in mass, with Wilbanks opening the year with two doubles, one to each side of the field.
Senior Peyton Cooper, one of just three Cougars that threw at least four varsity innings last season, was the first of seven pitchers used by Newnan in the effort off with a scoreless first and junior Logan Hudson closed out the seventh by needing 10 pitches.
It'll be a constant audition for Cougars, through. Along with Cooper, only juniors Jake Martin and Jaxon O'Neal threw innings for the varsity.
Newnan's staff combined for 16 walks in the scrimmage, as much a sign of the adjustment of newcomers to the varsity. At the plate, however, Gilmore was pleased with the Cougars' plate approach in an effort that included an RBI by junior catcher Max Wilson.
"It's hard to get into the flow of the game when you're running a new pitcher out there every inning. I thought for it to be this part of the season, we swung the bats really well," Gilmore said. "Everyone who went out there took some good healthy swings."
In addition to Wilbanks, the Cougars return senior twins Elliott and Hamilton Schubert, with Elliott returning to shortstop and Hamilton slated to play outfield and pitch.
Wilson, a junior who can play catcher or first base, is among those pushing for playing time while competing behind the plate with senior Josh Perry.
"Max, you can tell has been in the weightroom. When I see a guy start putting balls out, that's when I go, OK," said Gilmore.
Wilbanks is equally versatile while capable of playing either corner outfield spot or third base, where senior Karston Dye is penciled into start the season in hopes of keeping his bat in the lineup.
"He's gonna get the first shot. He played there all last season," Gilmore said. "It's like an old coach once said one time, 'If you can hit, they're going to find a place for you to play. And if you can hit, I have to find a place to play for you."
The 12 seniors also include second basemen Lucas Mapp and Austin White, who join junior Mason McKibbon at the position. Jacob Blair is among at least five players who can step in at first with Wilson, juniors Tucker Barnett, Nick Crossing and Lyle Johnston.
Along with Wilbanks a group of senior outfielders also include Nick Bowie and Trip Fallon, while James Hawk joins Cooper among senior hurlers.
"We've got a lot of unproven guys, so I expect some bumps in the road," Gilmore said. "The thing that we've got is our seniors they were in the fire last year for 32 games. They've been there, they've seen it. They've worked extremely hard to get better to put themselves in the best opportunity to succeed. Early in the season I'm going to hold them to a high standard and I think their going to hold each other to a high standard."
While rival East Coweta, which lost all but one starter, may not be the preseason region favorite for the first time in several years, Gilmore sees Westlake as the team to beat after the hire of former Dutchtown head coach Kelcey White. 
The Lions return 6-3, 177-pound shortstop/pitcher Myles Austin, an Alabama commit who is known to throw in the low 90s.
"They're going to be the real deal this year," Gilmore said.