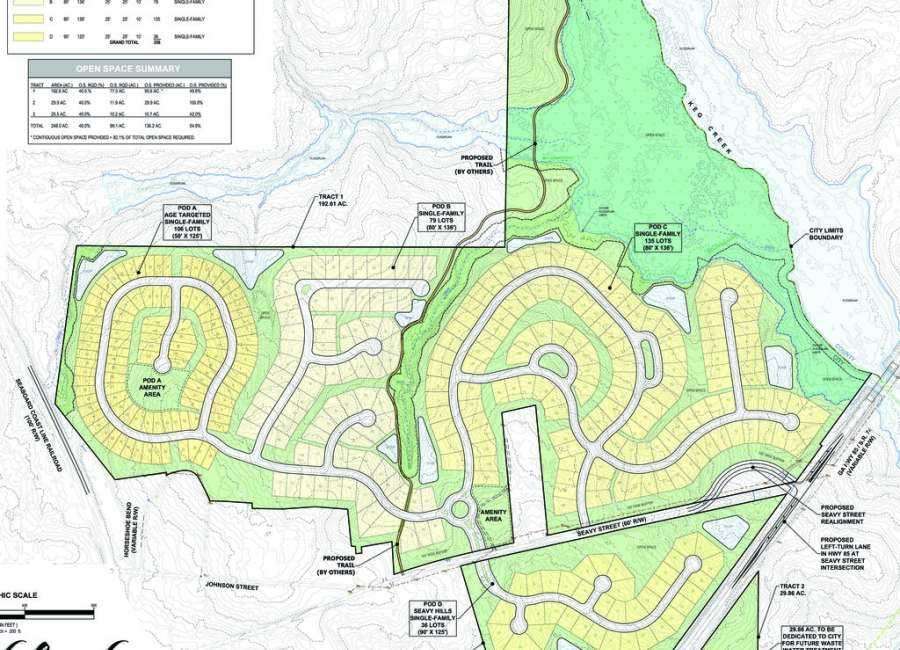 The Senoia City Council has approved a preliminary plat and a development agreement for the Keg Creek Landing subdivision on Seavy Street.

Under the agreement, the developers have to improve the intersection of Seavy Street and Ga. Hwy. 85/74, but not until issuance of the 223rd building permit for a home in the subdivision.
The subdivision, which is located on both sides of Seavy Street, will have a total of 356 lots, thanks to a density bonus granted by the city. The bonus of 133 additional lots was granted in exchange for the developer, Brent Scarbrough, doing the intersection improvement and donating a 30-acre site nearby for the city's future sewer treatment facility.
Without a density bonus, the subdivision could have 223 units. That's why the decision was made to time the intersection improvement with the construction of houses over and above the base density, according to Mayor Jeff Fisher.
The sewer treatment site, located nearby on Hwy. 85, was initially considered to be a less-than-desirable site for the future plant, based on an initial review by a consultant. But now, it is considered the best available site, according to Fisher.
The developers will also do a traffic signal warrant analysis to determine if a traffic light is needed at the intersection. The warrant study will be done when the subdivision is 50 percent complete, said Richard Ferry, the developer's representative.
The Georgia Department of Transportation, which controls Ga. Hwy. 85/74, will determine whether or not a traffic signal is "warranted," or if another type of traffic improvement should be built.
According to Ferry, a $300 fee will be collected on the sale of each lot, and that money will go into an escrow account to pay for the future traffic signal. If GDOT determines a signal isn't needed, the money will be returned to the developer.
The agreement also requires a 100-foot buffer between the right-of-way of Seavy Street and the lots in the subdivision.