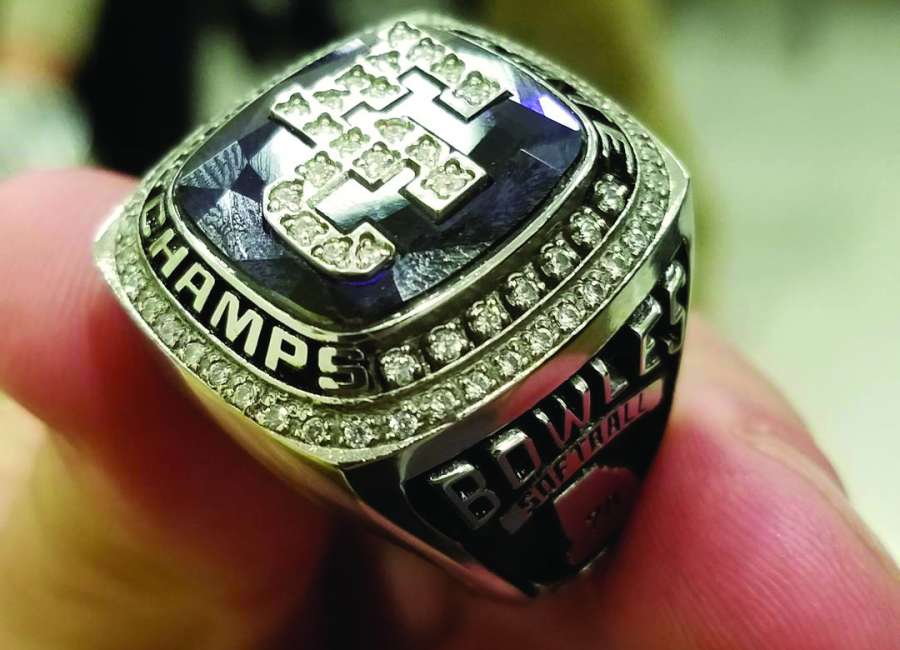 As the story goes at East Coweta High, there was a two-week delay on the delivery of the Lady Indians' state champion- ship softball rings by their supplier — to its sincerest apologies.
Depending on who you're talking to, however, there's a difference of opin- ion why.
"They said they couldn't put 36-0 on there," said East Coweta assistant and pitching coach Mark Bowles, "cause they said they said that was impossible."
(Wink, wink)
Balfour came through with the delivery of said rings on Tuesday to the delight of 24 players and four coaches, along with a full sized poster for each player of the design created by the Lady Indians to celebrate this year's perfect season which ended with a GHSA Class 7A state title.
The real reason, though, for the slight lag was wait- ing for the purple stones to arrive from Germany, which include a unique bevel for a once in a life- time achievement for a high school softball player.
"They did it. They earned it. I got to be along for the ride," East Coweta head coach Franklin DeLoach said. "They picked out every little detail about that ring. All I did was give them my ring size. That's how uninvolved I was in that process."
The design of the ring, which was coordinated by the players and led by a group that included seniors Olivia Davis, Ashlynn Gunter and Rachel Vaughan, includes 24 stones inside the 'EC' letters, one for each member of the state championship team. On each side were  even more stones, signifying seven innings and Class 7A — the state's highest classification.
The Lady Indians' sea- son also included 24 shut- outs over an endless list of accolades and statistical marvels during the 2017 season that had East Coweta allowing three or fewer runs over all 36 games, only two of which were decided by a single run. "It's a special group of girls," DeLoach said while overseeing Wednesday's baseball practice where the Indians are going through an influx of new faces. 
"This is a great bunch too and they're working hard. But you don't have a group like that one come through here every year." 
By CHRIS GOLTERMANN CowetaScore.com