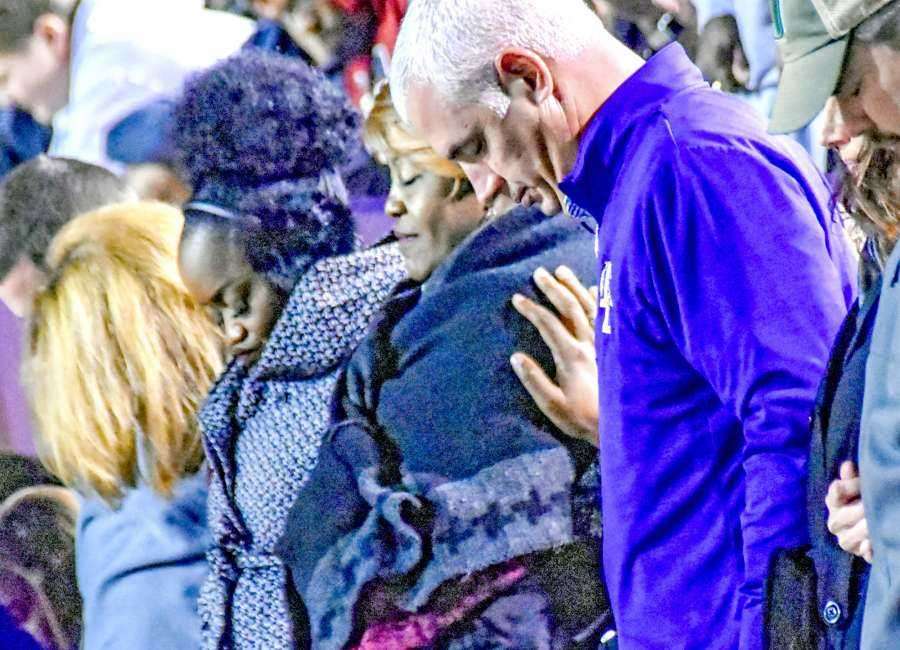 A new religious protection bill has been introduced in the Georgia State Senate – and it's named after Coach John Small.

Small, football coach at East Coweta High School, said Thursday that he didn't know anything about the bill, which was introduced Monday, until Wednesday night. That's when Sen. Matt Brass, R-Newnan, told him about it.
The "Coach Small Religious Protection Act," SB 361, was filed by Sen. Michael Williams, R-Cumming. Sen. Marty Harbin, R-Tyrone, and Sen. Josh McKoon, R-Columbus, whose district includes all of Meriwether County and part of Troup County, are among the bill's the five co-sponsors. Williams is a candidate for governor.
The bill specifically outlines that students and teachers have religious rights at school.
Small, who was named ECHS head coach in January 2017, was thrust into the spotlight at the end of the 2017 football season when a national atheist organization, the Freedom from Religion Foundation, objected to the prayers that took place before ECHS football games.
Small wasn't leading prayers – players or volunteer community coaches were doing that. But he was praying along with them.
After the Freedom from Religion Foundation sent the school system a letter condemning Small's actions as violations of the First Amendment, school board attorney Nathan Lee put out a letter clarifying what school system employees and volunteers can and can't do when it comes to prayer. Students have complete freedom of religious expression, but employees aren't supposed to lead or participate in prayers, according to Lee's letter.
Brass said he found out about the bill Wednesday afternoon when a capitol staffer texted him and asked if he had seen the bill.
On Thursday, Brass spoke before the Senate about it. He didn't talk about the merits of the bill, but rather the actions of Williams in naming it after Small.
"When you go drop a bill on someone and you name it after them and they're still alive – I would encourage you to talk to them first," Brass said. "If you're going to sign off on that bill I would encourage you to maybe reach out and meet that person."
Brass said that only one of the six signers had met Small. "I thought I'd take this time to briefly introduce you to him." Brass spoke briefly about Small and suggested senators could Google the issue to find out more.
"Too often we get in these campaigns and get wrapped up in politics and we forget to do what's right," Brass said. "And simply here, it's build relationships by communicating with people. When you don't, you undermine the very thing we're trying to protect and that is our faith."
The first part of the bill deals with students who incorporate religious themes in their school work – including writing and art.
It states that "a local school system shall not discriminate against students or parents on the basis of a religious viewpoint or religious expression. A local school system shall treat a student's voluntary expression of a religious viewpoint, if any, on an otherwise permissible subject in the same manner the local school system treats a student's voluntary expression of a secular or other viewpoint on an otherwise permissible subject."
It specifies that students "may express their beliefs about religion in homework, artwork and other written and oral assignments free from discrimination based on the religious content of their submissions."
Students already have the right to incorporate religious themes in school work, under the First Amendment. SB 361 would simply put those rights explicitly into state law.
The bill states that school system employees can share religious materials with other faculty and employees in the same manner and at the same time that they could engage in nonreligious expression and discussions, and that employees can sponsor religious clubs in the same way that employees can sponsor nonreligious clubs.
It adds that employees can participate in voluntary student-initiated and student-led prayer when invited to do so by students, "provided that the participation is in the faculty's or employee's personal capacity and not as a representative of the school." Employees are also allowed to wear religious clothing and decorate their desks with religious symbols.
SB 361 states that, when employees are not required to be on campus or are not acting as a designated representative of a school, they may "engage in religious expression and share religious materials to the same extent that other individuals are permitted to do so."
The bulk of the bill, however, deals with student speakers at school events. It sets out a regimented process for randomly choosing speakers for school-related events. Some speakers may only be chosen from students who hold specific "positions of honor based on neutral criteria."
The bill has been assigned to the Senate Education and Youth Committee, where it will likely undergo changes before going before the full senate for a vote. Brass is a member of the committee.
Williams' office sent out a press release on the bill's introduction, but did not respond to phone and email requests for comment on Thursday.
In the press release, several other complaints against Georgia schools by the Freedom From Religion Foundation are mentioned. A complaint was lodged against Heritage High School in Catoosa County for partnering with Nicamerican Missions to send students to Nicaragua to build a school, and another was filed against Ringgold High School for allowing students to create crosses for the county's Festival of Flags celebration.
Williams called his bill "much needed protection for Georgia faculty members and students who incorporate their religious beliefs into their daily lives. The Supreme Court has held for over 50 years that religious beliefs don't end in the school parking lot."