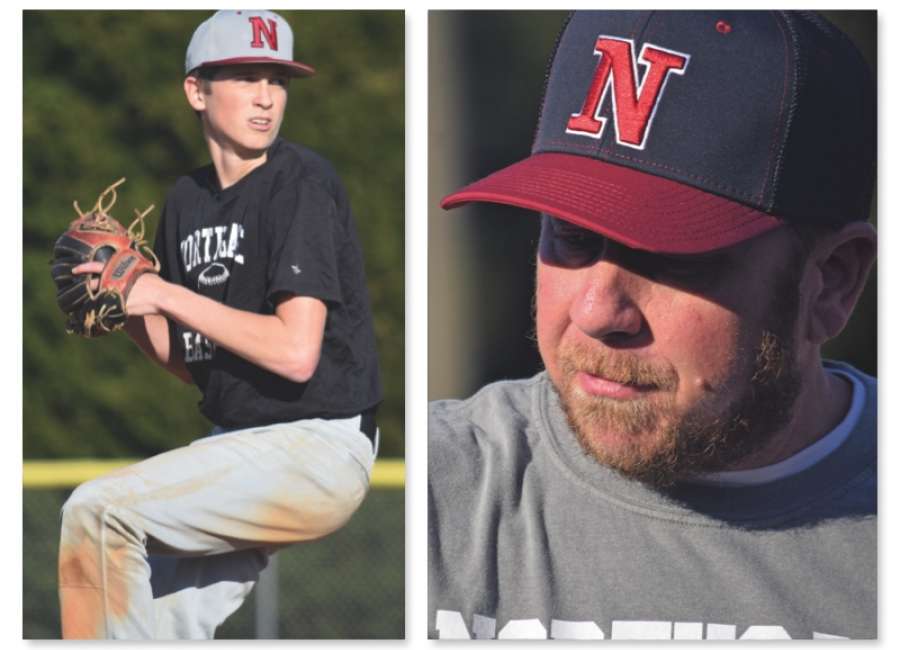 The Northgate Vikings baseball team might have made the playoffs last season, but head coach Todd Herrington knows there's room for improvement after his squad posted a disappointing 15-16 record overall and a 11-5 record in Region 5 6-A.
A year ago, Alexander won the region title with a a 15-1 region record. South Paulding finished second in the league standings with a 14-2 record.
Northgate's 11-5 mark was good enough for third place, while Creekside made the playoffs with a 10-6 record.
"Last year was a challenge, Herrington said. "We found our way into the playoffs. We struggled during our preseason. We played a really competitive non-region schedule. We found our way a little bit, but then we got really hit hard by the flu. Six starters went down during the heart of our region."
Northgate's roller coaster season officially came to an end when it was swept by Northview in the first-round of the Class 6-A playoffs.
The Vikings went into the playoffs riding a four-game winning streak, but in between, Northgate also suffered through a couple of multi-game losing streaks.
Northgate, however, has put last year's season in the rearview mirror,
The Vikings bring back eight seniors, but Herrington is still trying to finalize a starting lineup.
"We think we have some talented pitchers," Herrington said.
The pitching rotation will include senior right handers  Corbitt Cimadevilla, Alex Cawood, Will Queen and Donovan Devane.
Junior right-handed pitchers Dalton Brooks, Robert Smith and Andrew Washington also bring depth to the pitching mound.
A year ago, Ryder Willard started games on the mound for the Vikings as a freshman.
Herrington said he will fill out his infield lineup based on how the team is doing offensively.
"We will try and work in who are best nine offensive guys are," he said. "We are fortunate to have guys who can play multiple positions."
Cimadevilla and Dalton Brooks will share time at first base, but other guys could also play the position.
When not on the mound, will can play second or third. Donovan Devane and Eric Henderson can also play one of those two positions.
Senior Chase Bevil will play shortstop for the Vikings.
Sophomore infielder Christian Dyer can play just about anywhere in the infield.
Junior Shawn Ragan and Robert Smith are set to play at third base for the Vikings.
"Any of those guys we can interchange at different positions," he said. "That's why we play this non-region schedule. We are still trying to find our identity and see where everybody fits."
Three catchers are slated to play for the Vikings this season, including Conner Mask, Andrew Baldwin, and Matthew Henderson.
Connor Fortner, Noah Aaron and Sam Jennings bring experience to the outfield.
Will Horne, Washington, Cawood, and Willard can also play in the outfield when not pitching.
Senior Jack Eskew is the only lefthander on the team and can pitch, play the outfield or first base.
Northgate begins the 2018 season on Monday in  the season-opener at Shaw High School.
It's the first of several non-region games that includes a three-game showcase next weekend at Whitewater starting Friday when the Vikings play Spalding and Veterans on Friday and Whitewater on Saturday.
Northgate then opens the home portion of the schedule with four-straight non-region games starting with county rival Newnan (Feb. 20), Harris County (Feb . 22), Mcintosh (Feb. 23) and Sandy Creek (Feb. 28).
The Vikings go back on the road and play in the Augusta area against Greenbrier and Pierce County on March 3.
The Vikings open the Region 5 6-A  two-game series against Mays. The first game will played at  Northgate on March 5. Northgate travels to Mays on March 7.
During spring break, Northgate has a non-region home doubleheader scheduled for April 6 against East Coweta.
"It's a work in progress for us," Herrington said. "That's why we are playing a tough non-region schedule;
2018 Schedule
Feb. 9 (F) Hardaway (Scrimmage) Hardaway HS 4:15 (No Lights)
Feb. 12 (M) Shaw Shaw HS 4:15 (No Lights)
Feb. 16 (F) Spalding Whitewater HS 5:30
Feb. 17 (Sa) Veterans Whitewater HS 5:00
Whitewater Whitewater HS 7:30
Feb. 20 (Tu) Newnan NGHS 5:55
Feb. 22 (Th) Harris Co. NGHS 5:55
Feb. 23 (F) McIntosh NGHS 12:00
Feb. 28 (W) Sandy Creek NGHS 5:55
Mar. 3 (Sa) Greenbrier Greenbrier HS 11:00
Pierce Co. Greenbrier HS 2:00
Mar. 5 (M) *Mays NGHS 5:55
Mar. 7 (W) *Mays Mays HS 5:30
Mar. 8 (Th) Columbus NGHS 5:30
Mar. 9 (F) *Tri-Cities NGHS 5:55
Mar. 10 (Sa) Northside Columbus Northside Col. HS 1:00
Mar. 12 (M) *Tri-Cities Tri-Cities HS 5:55
Mar. 14 (W) *South Paulding NGHS 5:55
Mar. 16 (F) *South Paulding S. Paulding HS 5:55
Mar. 19 (M) *Alexander NGHS 5:55
Mar. 21 (W) *Alexander Alexander HS 5:55
Mar. 23 (F) *Creekside NGHS 5:55
Mar. 26 (M) *Creekside Creekside HS 5:55
Mar. 28 (W) *Langston Hughes NGHS 5:55
Mar. 30 (F) *Langston Hughes L. Hughes HS 5:55
Apr. 6 (F) East Coweta (DH) NGHS 12:00
Apr. 9 (M) *New Manchester New Manchester HS 5:55
Apr. 11 (W) *New Manchester NGHS 5:55
Apr. 18 (W) *Douglas Co. Away 5:55 (DC field is not on campus)
Apr. 20 (F) *Douglas Co. NGHS 5:55 Senior Night