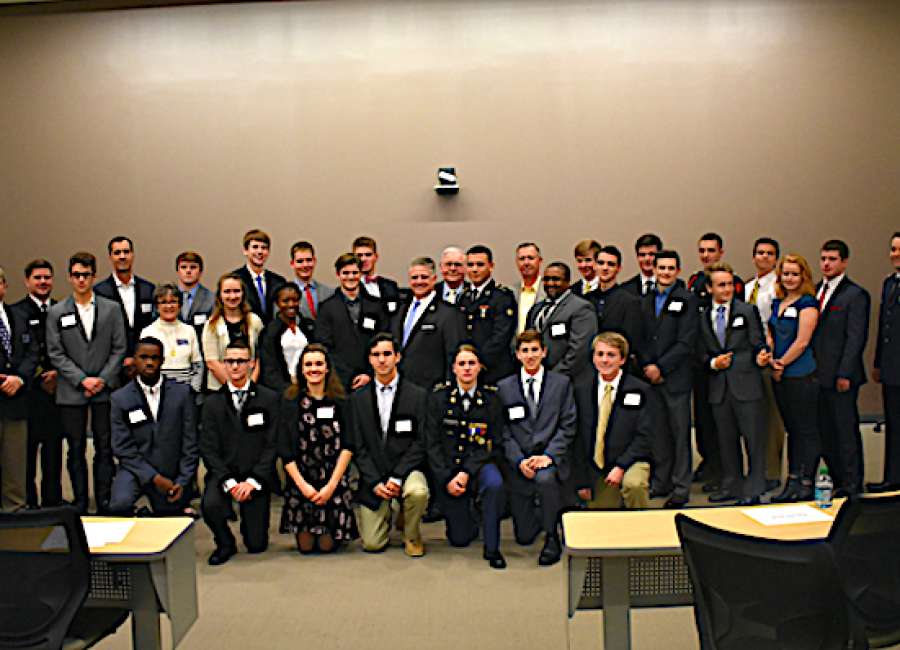 By TAYLOR ROBINS, taylor@newnan.com
Congressman Drew Ferguson hosted the 3rd Congressional District Military Academy nomination ceremony at the University of West Georgia's Newnan campus recently.

"When I think about this great nation and I think about the things that I love in this country," Ferguson said as he started off the ceremony last Friday. "Without question, the number one thing for me is our freedom. The freedom to be who we want to be. To live our lives the way we want to. To invest in a business, education, whatever we want to do and most importantly raise our children the way we feel is right in the faith that we choose we can do. That is something that is so important."
Forty high school students were recognized and received nominations to military service academies. 
"It is sometimes the greatest sacrifice any of you or anyone can make," Ferguson said about joining the military service. "That is giving up yourself for the betterment of this nation. And it is, in my opinion, it is truly humbling to me to be able to stand here in front of you today and say thank you for that willingness to commit to that level of service. It is truly something that we are all very grateful for."
Nominees averaged a 3.93 GPA, a 1270 SAT score and a 29 ACT score. Most also participated in three varsity sports and five clubs, some as officers. 
Of the 40 nominees, seven are Eagle Scouts; 27 have part-time jobs; 29 are members of church youth groups; 31 participate in at least one community service organization on a regular basis; and 15 are JROTC members. 
Nominees include William Brown, Ryan Cockes, Ka'Leah Davis, Jakob Dawson, Eric Neal Donevant, Paris Evans, Haley Farmer, Christian Fontanez-Virella, Claire Goins, Nicholas Greiff, Benjamin Griffith, Nicholas Handley, Samuel Hicks, Liam Holliday, Liam Hullstine, Eduard Hurtado, Jarrod Jackson, Chase Evan Jarck, Darryl Langford, Jonathan Lewis, Keoni Macayan, Shawn Matthews, Jake McMahon, Brianna Moore, Jacob Parry, Nathan Price, Wyatt Matthew Redmond, Cameron Rothley, Donald Sener, Julia Sizemore, Eugene Smith, Amanda Stephens, Luke Turner, Kathryn Ward, James Weldon, Liam West, Isaiah Wilkins, Harrison Williams, Will Witherow and Eric Woods.