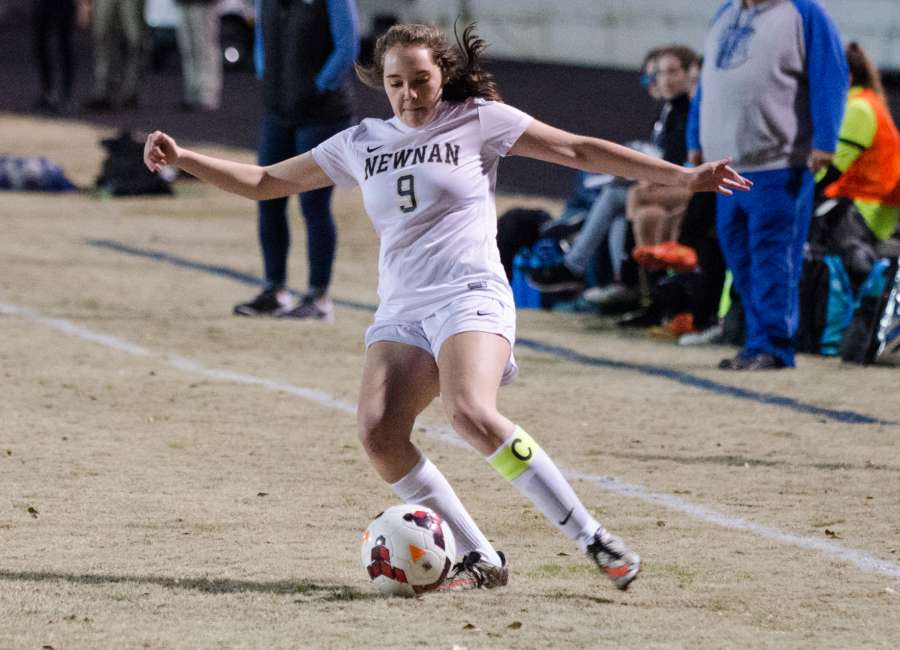 By TAYLOR ROBINS - taylor@newnan.com
Soccer and academics both have played a big part in Newnan High senior Hannah Marriaga's life.
Just months until walking across the graduation stage, Marriaga has been named soccer captain and valedictorian of her class.
Marriaga was officially named Class of 2018 Valedictorian on Jan. 22.
"School has always been a priority for me," she said.  "And it's never been a burden. Soccer has really contributed to my performance in school. I feel like there's so much I can take away from soccer and put towards school. I always been a very driven person. I get stuff done and I do it to the best of my ability. Just because you get out what you put in. So I can't give up. School has always been a challenge that I was willing to take up. And I enjoy it."
Named a senior captain for the Lady Cougars this season, Marriaga recorded an assist in the team's 10-0 scrimmage win over Locust Grove on Thursday at home while getting set to start the 2018 season on Tuesday at Douglas County.
She has equally successfully juggled athletics with academics, running cross-country in the fall in addition to soccer in the spring. Along with a full AP course load as a senior, Marriaga has a 4.0 GPA along with an ACT score of 31, putting her in the 97th percentile of the nation's students that take the standardized test.
"I would like to say that I studied for so long but I actually didn't," she said about her ACT score. "I think I studied for about two weeks. I focused on the math part of it. And I kind of just did it by myself. I didn't get a tutor. I got some practice books and just did practice problems."
Newnan's girls program is coming off a 14-4-1 season that included a trip to last year's Class 7A state tournament as Region 2 runner-up.
"This year being a senior and being captain I'm so much more excited for soccer season," said Marriaga. "Already it's been so fun. I'm really excited to play with the team. No matter how crazy the season gets, especially everything being a senior, I know I'm going to get everything done."
In order to keep a balance between athletics, school work and sleep, Marriaga rises at 4 a.m. to do her homework. While she describes it as a  "horrible" habit, it has worked in her favor.
"Don't worry," she joked, "I make up for all my sleep on the weekend."
Despite being still undecided about her college choice, Marriaga's list includes both Georgia and Georgia Tech while planning to pursue a career in medical research.
She's also decided to let her soccer career, which began at age 4, come to a close following the 2018 varsity season.
"I think I'm going to continue with academics and go that route," said Marriaga. "I think that's what makes this season so bittersweet. It's my last official season of soccer and I've done it my whole life. It's not like I'm giving anything up, it's just coming to an end. Its sad but at the same time I'm going to make the best of it."
Marriaga describes herself as a hard worker that is excited about her leadership position with soccer, and blessed to represent of class as valedictorian. Although such was surprised to gain such a high honor, Marriaga has learned to not underestimate herself.
"I put in a lot of time into studying and if I didn't study I wouldn't be where I am academically," said Marriaga. "I definitely feel like I had to work at soccer too. I guess I just push myself to try to get better everyday."
At a time when multisport athletes are in decline, Marriaga chose to add cross-country, using it to "stay active and keep practicing."
It's also allowed her to go the extra mile in soccer, creating a work ethic that carries over between the field and the classroom.
"I stay after practice a little bit to work on stuff that I need to do. I always ask questions and see what I could do to improve," she said. "Soccer has definitely contributed so much to my academics. I give so much credit to soccer. It taught me to get comfortable with being uncomfortable.
And while she may be preparing to close out one career as an athlete, the lessons learned hope to carry over to college and beyond.
"Unfamiliar things are thrown at you just like in school as they are in the game and you have to learn how to adapt to them," Marriaga said. "Soccer gave my the drive and determination to keep going. You can't just give up. You always have to find your way out of a problem just like you would in school."