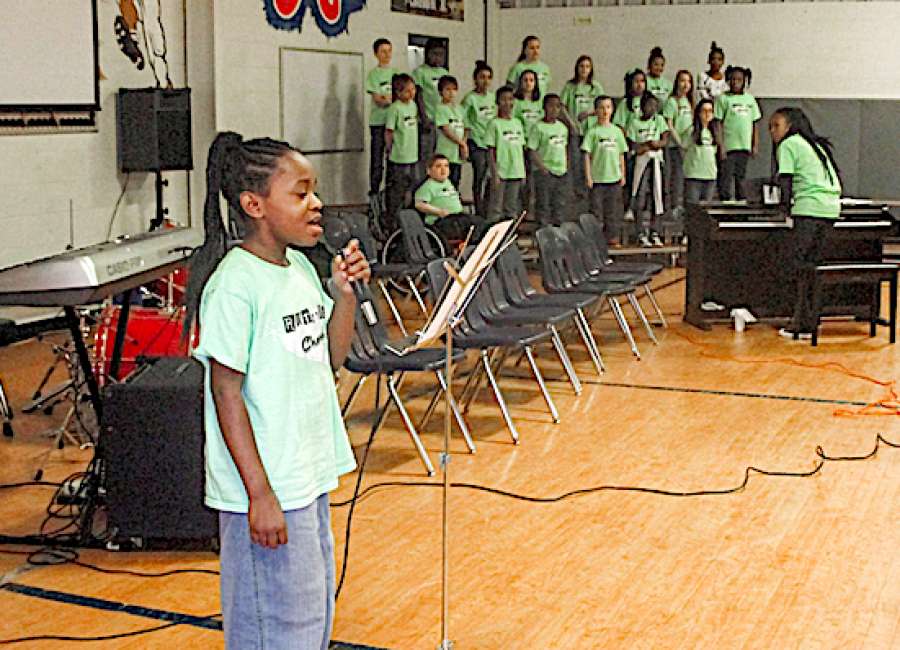 Visitors arriving for the annual Black History Program at Ruth Hill School on Thursday morning noticed multiple police cars in the school parking lot.

Once they were inside, the visitors were hustled to the cafeteria to wait until the school was no longer under lockdown as police searched the area for a suspect. The program – which featured music, dance and encouraging words from a local attorney and judge – was delayed about 45 minutes.
The delay meant some younger students had to leave part way through the program because of the lunch schedule. Doug Moore, director of operations and school safety for the Coweta County School System, came to the school during the program.
Dr. Aaron Corley, principal of the school, referred briefly to the delay as the program began.
Corley spoke of "the accomplishments of African-Americans and their impact on our nation's history." He also pointed to achievement of African-Americans in "the arts, sciences, sports and every other aspect of American culture."
Rufus Smith Jr., a Newnan municipal court judge and local attorney, encouraged students to be themselves and to remember they are creating the next chapters in history. He pointed to a graphic on display in the gym and noted those pictured – Sojourner Truth, Dr. Martin Luther King Jr., Thurgood Marshall, Harriet Tubman, Booker T. Washington, Barack Obama – found success through service.
"Believe in yourself," Smith said. "Be the best you. Who are you to deny the world you?"
He told the students they have potential to do great things. "I look out, and I see wonderful, skilled, talented people," he said.
"Protect your thoughts. Protect your minds," he said. "You get the privilege of controlling what you think."
Smith said thoughts are the roots that lead to actions and success.
Smith began his talk with references to his grandparents, Lora and Margaret Smith. Lora Smith was a Coweta County farmer, and Margaret Smith was a midwife. Rufus Smith Jr., born in a hospital, was unique in his family because he was not delivered by his grandmother.
His invitation to speak at Ruth Hill was a homecoming of sorts. Smith started school at Northside Elementary and came to Ruth Hill as a third-grader. "I was younger than most. I had started to school early," he said.
He wore glasses that made it clear that he had vision problems, and he endured some teasing from peers because of that.
When Smith was a fifth-grader, Ruth Hill was integrated for the first time. He remembered that students were put in groups, and he was put in the B group for average students. He decided, having been chosen for the average group, to be average.
"I didn't do much homework. I did just enough to get by," Smith said.
That changed when he got to know Alfred Eason, "a teacher who thought enough of me to care, to challenge me." Eason told Smith he was not average and pushed him to excel.
In high school, Smith spent a summer working at William L Bonnell Company. "It was hard work. You worked long hours. It was taxing," Smith remembered.
That experience also motivated him. "I wanted something better for myself," he said.
As a high school student, Smith got up early to run 3-4 miles before heading to school. He was on the Newnan High track team and aimed for – and got – a track scholarship to Albany State.
Smith earned his history degree from Albany State College, now Albany State University, in 1982. His Juris Doctor degree was earned in 1986 from the Walter F. George School of Law at Mercer University.
Smith's wife, Torrice, accompanied him to the program at Ruth Hill. He was introduced by Newnan Mayor Pro-Tem Cynthia Jenkins, who was last year's speaker.
Jenkins noted Smith is "the first African-American to hold that position," referring to the municipal court judgeship.
The Ruth Hill Chorus, under the direction of Tiffany White, sang "Lift Every Voice and Sing" and a spiritual, "Gonna Ride Up in the Chariot."
The Smokey Road Middle School Sixth-Grade Chorus, directed by Denise Meacham, sang a South African hymn, "Siyahamba," and a spiritual. Oscar Prado directed Smokey Road's band in two jazz numbers, and the award-winning YKPhi step team drew laughter and applause from the approximately 430 students for their spirited performance.