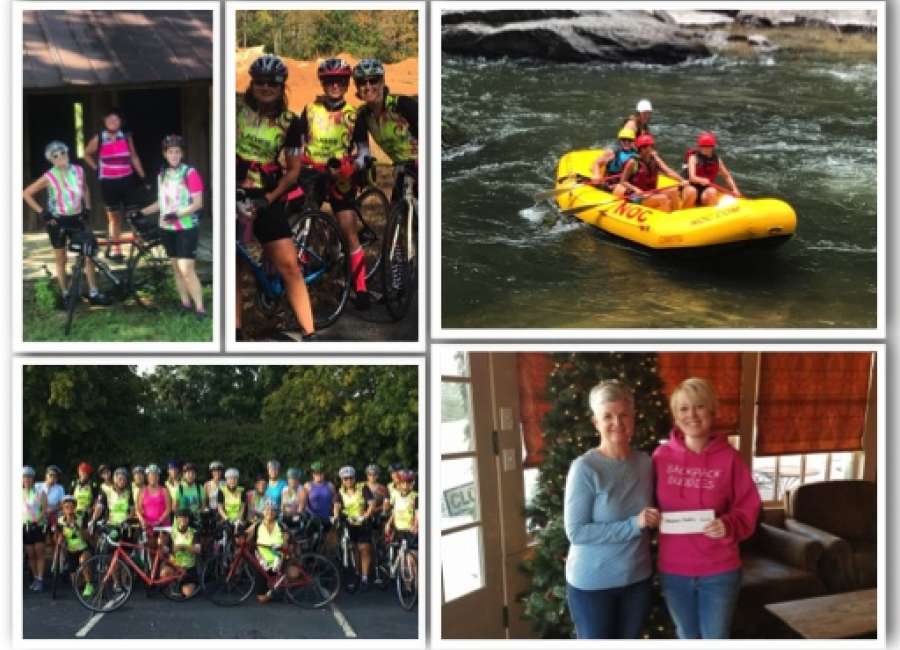 Cycling is a passion for Tia Boyce.  
The local woman relishes the time when she can pedal her bike on the meandering and scenic back roads of Coweta and Fayette Counties.
While Boyce enjoys solo trips and riding with her husband, the number of people pedaling beside her on the picturesque cycling excursions has grown exponentially. 
Boyce is the president of the Ladies on Spokes, a non-profit Christian women's club that promotes the sport of cycling in Coweta County and the surrounding community.
The group has nearly 100 members and rides four to five times a week.
The outdoor expeditions are tailored to riders with different cycling abilities, Boyce said.
"We have beginners, faster riders, slow riders, people who can ride 50-60 miles per day and some who can only do nine miles a day. We try to meet the needs of all the ladies," she explained. "We are a group of ladies from all different backgrounds and ages. We have ladies who are in their 30s and some in their late 70s."
Ladies on Spokes was founded by Barbara Aldred in August of 2008.
Boyce joined the organization almost two years ago, as she and her husband trained for a hiking trip through the Grand Canyon.
Susan Stitt, of Senoia, spotted the cyclists on one of their many riding adventures and was drawn to the group's camaraderie.
"They were always laughing and seemed to be having a wonderful time," she said. "I bought a new bike and joined in on all of the fun."
In addition to day trips, some Ladies on Spokes members participate in larger rides and races.
Boyce said about 20 cyclists traveled to Florida for the "Sea to Sea" ride, pedaling from Ormond Beach to Tampa over a span of three days.  
The women also take a break from their bikes and enjoy other outdoor activities, such as kayaking, hiking and whitewater rafting.
While Boyce was excited to join the group's regular cycling expeditions, she was more amazed by the women's encouragement and support.
"I'm doing a Bible study now with two other ladies from the cycling club. I never would have known about the Bible study, if it weren't for the group," Boyce said. "When someone is sick or hurt, we take them meals. When someone is down, we try to love on them."
"As an empty-nester, Ladies on Spokes has been an unexpected blessing," Stitt added. "It's unusual to make so many new friends at this stage of life, but I'm doing it while riding my bike among the beautiful scenery of Coweta and Fayette counties."
The Ladies on Spokes support reaches beyond the group's inner circle. They also donate their time and money to help local charities.
During the Christmas season, the ladies volunteer and collect gifts for children in need during the Helping Hands Holiday Dinner in Fulton County.
In early January, the Ladies on Spokes donated money to three area charities: Backpack Buddies of Georgia, the Fayette Pregnancy Resource Center and the Fayette Care Clinic.
"Our membership fees cover group expenses, our website and any gatherings we have, such as, an ice cream social and our new members cookout. Any excess we have at the end of the year, we look to see what local charities we can help out," Boyce said. "We try to find charities where every little bit helps out and organizations that have a bigger need."
The Ladies on Spokes are preparing to welcome new members on April 14 with their annual "Spring Spinoff."
The fresh faces will learn more about the club and participate in either a 9-mile, 22-mile or 30-mile ride.
Anyone interested in joining Ladies on Spokes or want more information, visit their website, www.ladiesonspokes.com.